Video: Watch Art Papas' Engage 2016 Keynote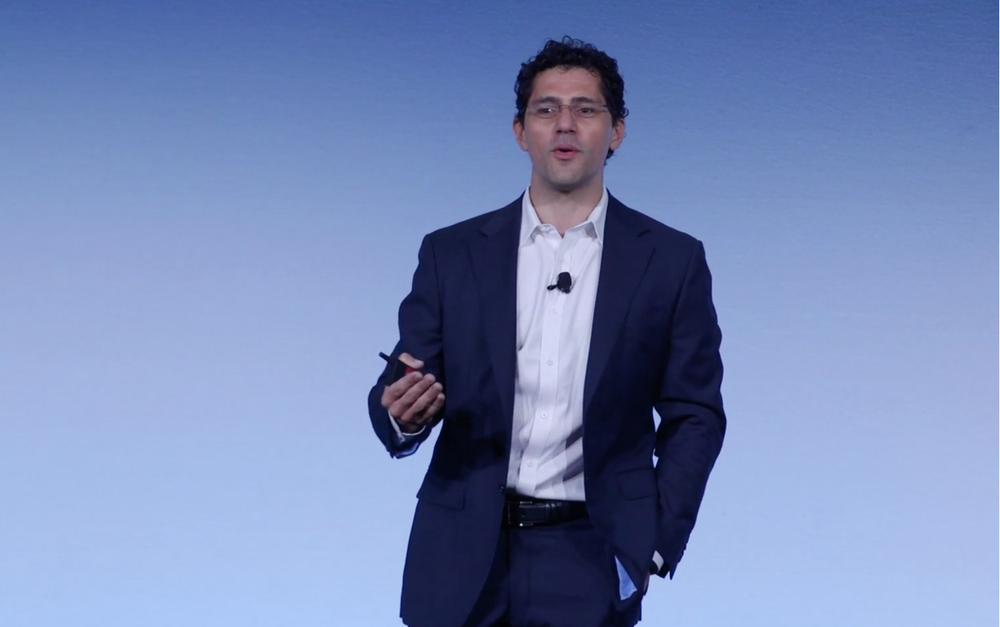 Can you feel it? Engage 2017 is only months away and we couldn't be more excited about it. To celebrate the rapidly approaching occasion, watch Art's keynote from 2016—the first time it's been made public since Art presented it last year. Don't have time to watch the video right now? Whet your appetite with these three takeaways from the speech along with some 2017 updates.
Transparency Makes for More Accountable Businesses
Businesses are being held accountable in ways they never were before. Social media and online review platforms have amplified word of mouth. Good news spreads fast, and bad news spreads faster.
B2B software buyers can visit software review sites and find out what it's really like to be a Bullhorn customer. Prospective hires can read employee reviews on Glassdoor. Employees and customers have more power than ever to learn everything before they make a purchase, and are more empowered than ever to do so.
You can think of your customer experience like a train. The train looks good. It's nice and clean. Everything's working. Then, someone doesn't return a customer's message. Or one employee leaves a bad review on Glassdoor. So, a little spot of graffiti shows up on the train.
What happens next is everything. A little graffiti isn't a big deal, but if you ignore it instead of quickly cleaning it up, the train quickly gets covered in graffiti.
What's the solution? Technology alone isn't the fix, but it can play a role to warn you about the graffiti to which you need to pay attention.
What Does This Mean in 2017?  
Relationships and the customer experience are even more important now than they were in 2016. Businesses are getting better about embracing technology as a means to manage and build those relationships. You may have made some efforts to improve the experience you provide to your customers, but the next step is to really leverage the tools available to you to do an even better job than everyone else.
---
Robots Are Here, but They'll Never Replace Relationship Builders
In the 1960s, staffing wasn't a major industry. Contingent staffing is now a $120 billion business.
Another industry that was in its infancy just a few decades ago? Robotics. Art has been interested in the rise of robots for years, but recent developments in particular have profound implications for the jobs market. Robots are sophisticated, they can learn, and they're often better at performing jobs than the humans who have traditionally done them. Robots are already replacing accountants, telemarketers, and factory workers.
That may sound alarming, but there's a silver lining: Robots won't ever take the place of humans for relationship building. When people get bad medical news or need help finding a new job, or need advice about improving their business, they want a human's help.
What Does This Mean in 2017?
Artificial intelligence and other emergent technologies are still a lightning rod for innovation, panic, and excitement. Staffing firms should embrace these technologies, not run from them. AI and automation help staffing firms to do their jobs better—the technologies don't replace recruiters' value, however. Innovative firms that leverage automation, predictive analytics, and other forward-thinking tools are in the best place to succeed no matter what happens going forward.
---
Create a Mission People Want to Get Behind
Just about every company has a mission and core values, but does it actually mean anything to your employees? When you feel over-worked and exhausted, it's easy to come to work, look around, and wonder what the mission really is. Maybe you hear talk about core values, but you don't really see them in action.
Gallup research shows companies need a mission people want to get behind — beyond getting a summer home for the boss. With tools like Glassdoor, they can find a company with a mission in which they believe, and check reviews from real employees to ensure the mission is sincere.
If you're a nonprofit, it's easy to clarify your mission and rally people around it. But how can for-profit companies define a meaningful mission?
At Bullhorn, we came up with a mission that really resonated: Create an incredible customer experience. We also created new core values that are designed to reflect the behavior we want from employees. These values are based on what we've learned over the past decade about what customers like and what makes them want to come back and do business with us again. We got really specific about what to do — and what not to do. We score people on those core values every quarter.
The results have been profound: The customer experience index went off the charts, sales went through the roof, Bullhorn's NPS grew, and the employee experience went way up — Bullhorn used to have a 3.0 score on Glassdoor, and now has a 4.5.
"For me as a leader, I feel better about what I'm doing. I get my energy from this. It's really rewarding. Culture isn't just touchy-feely; it's about actually running a better business," Art said.
What Does This Mean in 2017?
 It wouldn't have been much of a mission if our mission had changed—creating an incredible customer experience is our number one priority and our reason for existence. Since last year's keynote, we've developed new solutions and resources to help you create an incredible experience too, for both candidates and clients.   
---
What to Expect from Art's Keynote at Engage 2017
Throughout his keynote last year, Art emphasized the need for strong relationships. Relationships are only more important today. Art will speak about the relationship economy and the steps businesses can take to succeed in it.
Engage is the ideal event for exploring the opportunities and challenges associated with accelerating your business growth in the new relationship economy. You'll learn to build better business relationships and more effectively engage customers, candidates, and employees. We'll explore the impact of emerging technologies on relationship-based businesses. Now celebrating our 10th year, Engage brings together practitioners and innovative business leaders in B2B services industries including Staffing and Recruiting, SaaS, and Consulting, but is still intimate enough that you'll see some of your favorite staffing friends. 
Subscribe to the Staffing Blog
Subscribe for trends, tips, and insights delivered straight to your inbox.