Winning new business in 2023: Lessons learned from staffing leaders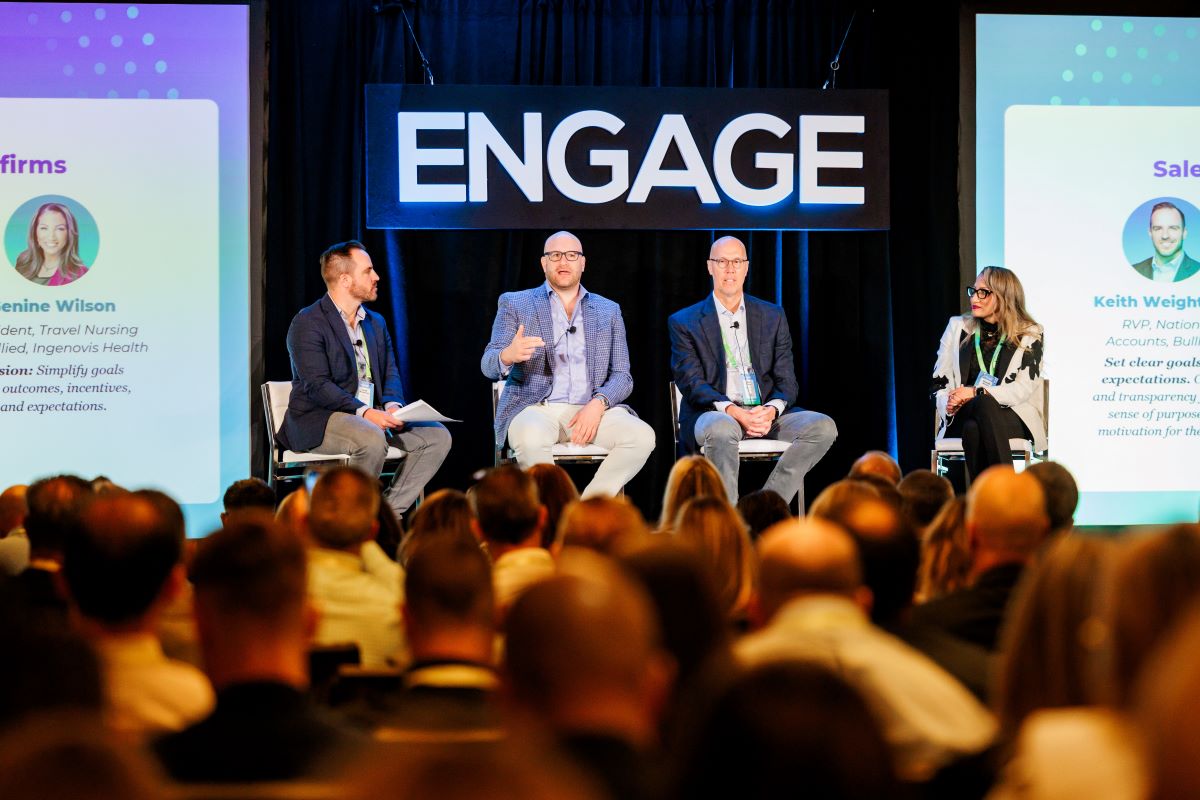 "The pendulum in the industry swings quickly and rapidly," said Triage Healthcare President Ken Tracy at Engage Boston 2023. Just as the staffing industry has changed in the last year, so have staffing professionals' priorities and challenges.
In last year's GRID Industry Trends Report, over 2,000 industry professionals from around the world had their focus on acquiring candidates. This year, due to an uncertain economy, pricing pressures, and reduced job requisitions, firms are widening their focus to include the other side of the equation: clients.
To talk about this shift, Bullhorn's Keith Weightman sat down with Tom Gimbel, Founder and CEO of LaSalle Network, and Genine Wilson, President of Travel Nursing and Allied at Ingenovis, along with Tracy. In a lively panel discussion, they shared their strategies for building a team that will beat the competition and improve client relationships. 
But first, let's unpack the challenges facing staffing firms when it comes to winning – and retaining – new business.
A client-focused market
Winning and retaining clients come with a range of internal and external challenges, according to this year's GRID Industry Trends Report. But when it comes to bringing on new business, staffing firms cited the competitive landscape as their top challenge, followed by tight client budgets.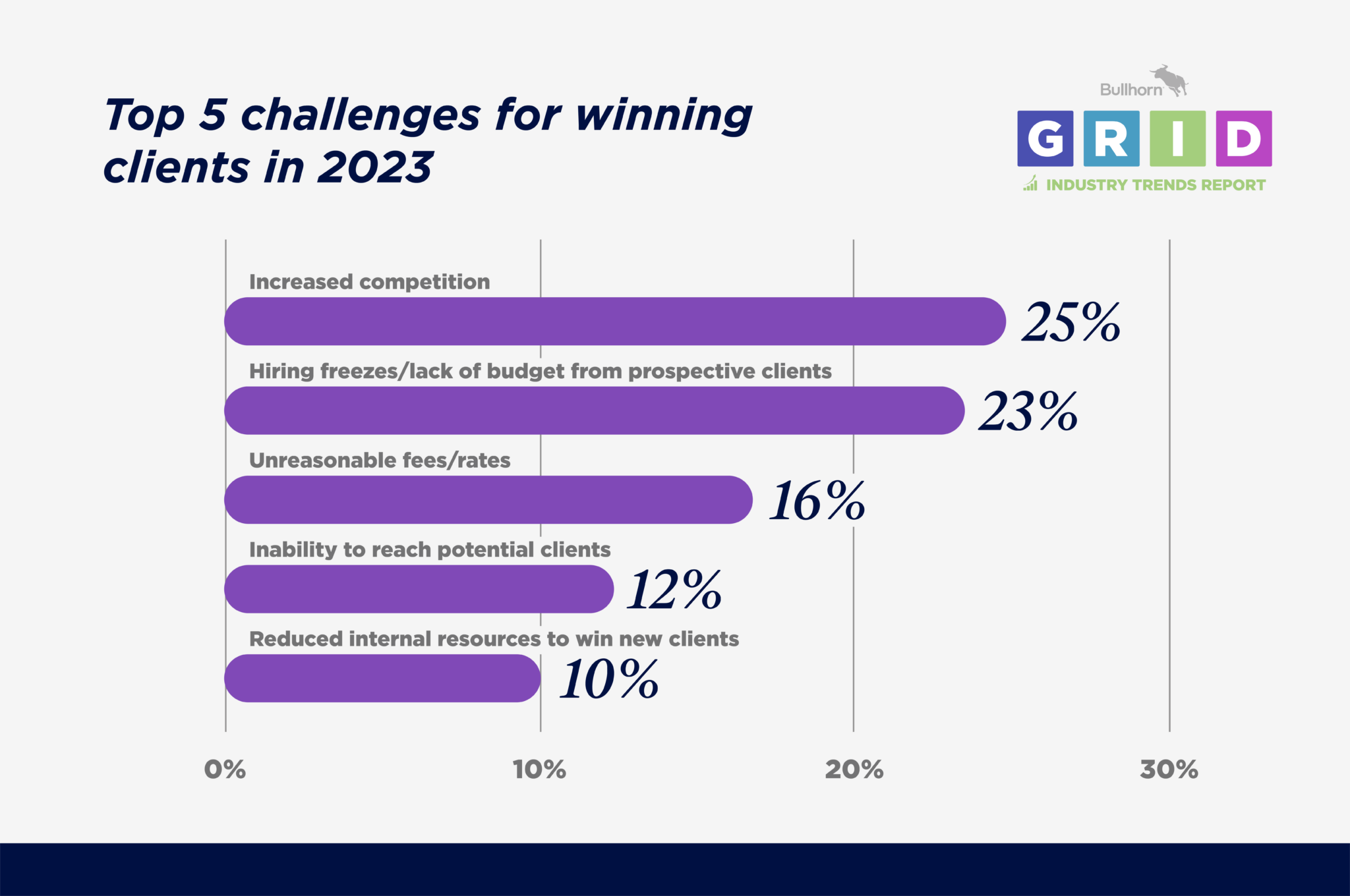 Unreasonable fees also landed in the top three but with one caveat: firms that struggled in 2022 were twice as likely to cite unreasonable fees as a top challenge than those that fared better. 
But the focus isn't just on winning new business. To stay the course amidst a tight market, staffing firms must also maintain their current client relationships. The biggest hurdles for holding onto existing clients are challenging requisitions and an overall reduction in reqs, according to respondents.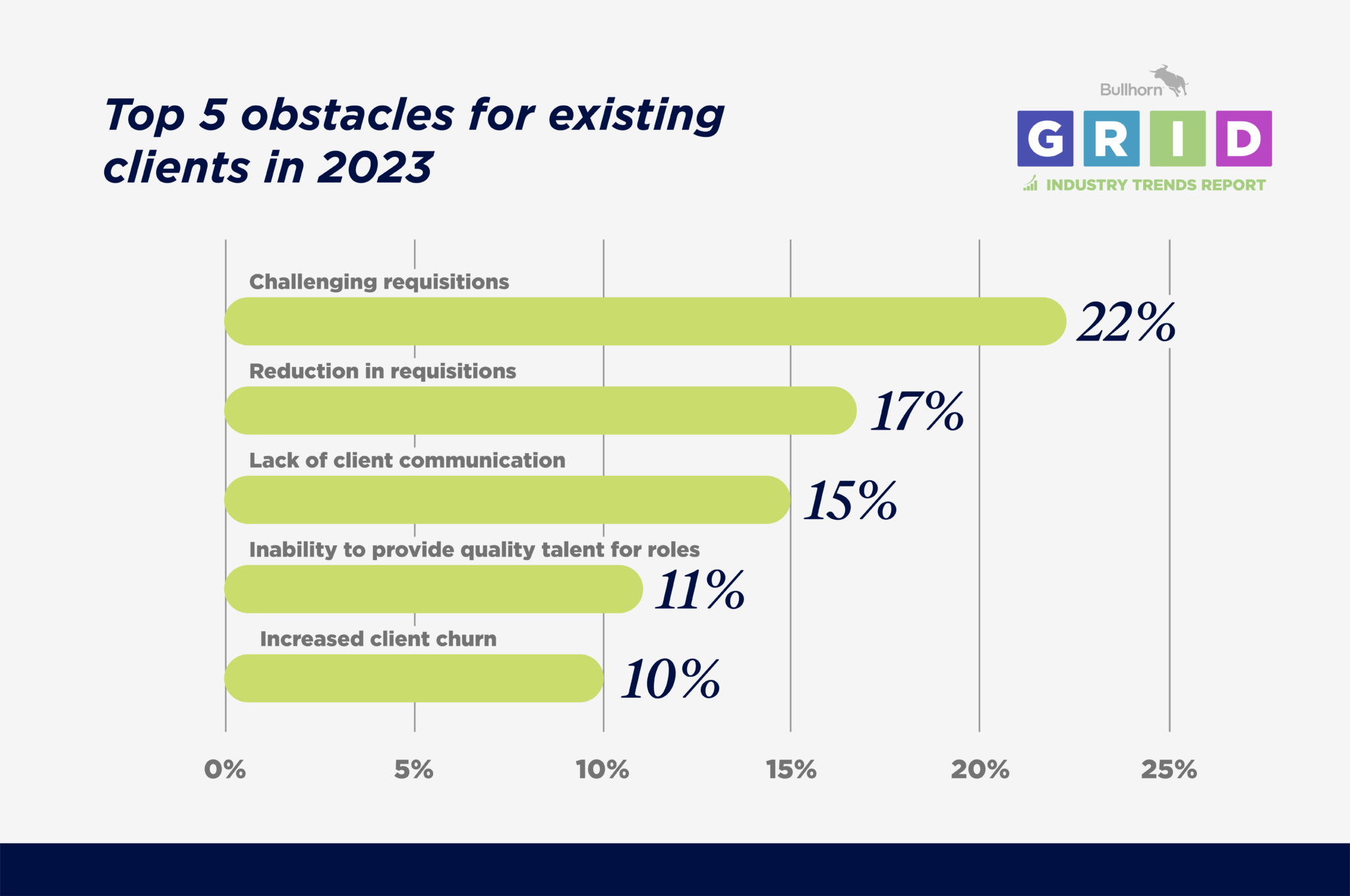 However, beyond requisitions, these challenges speak to the varied needs of clients, from requiring top-tier talent to relying on consistent communication.
Altogether, this creates quite the balancing act for staffing firms. How can alignment within your organization help win more business and build stronger relationships with your clients?
Building a winning team
It all starts with your team. Each of our panelists at Engage Boston spoke on the importance of building a team aligned on purpose and culture.
"Culture will impact production," said Tracy. When bringing on new hires, he said, make sure you understand the top features of your organization's culture so you can determine if that candidate is a good fit.
Building a team goes beyond hiring; make sure you're investing in your people for the long run. "As your company grows, your expectations of people should grow," said Gimbel, adding that this applies to both new and existing team members. He also recommended building an incentive plan for your sales team targeted toward your desired results.
"Sales management is undervalued in staffing," added Gimbel, noting that organizations have an opportunity to retain staff by encouraging career growth. "If you invest as much money in developing your people as you do in marketing or technology, you'll be better off."
Doubling down on metrics
Regardless of the steps you take to reach your business goals, remember to measure your efforts. Measurement will look different for every organization, but it's critical to know what's working and what's not so you can stay on track to success.
Wilson recommends starting with basic KPIs like monitoring call volume, examining your sales funnel, and keeping track of your connections and conversions. "Regardless of what you're measuring, start with the end in mind," she advised. Determine the outcome you're trying to drive and work backward from there.
Wilson added that KPIs might even differ between individuals: "Find the specific formula for each individual. Maybe they aren't great on the phone and need a few more calls, or maybe they are incredibly charming on the phone. Each person needs the special sauce to find the ratios of where they need to focus their efforts."
Ultimately, there isn't one right or wrong way to track your business growth. "One size does not fit all," said Gimbel. "If your business is growing at a steady clip, you don't need to look for a secret sauce. You're already doing it."
Standing apart from the competition
To keep your clients satisfied – and stand out to new business – staffing firms should focus on differentiation. What sets you apart from the competition? Wilson noted that your team needs to understand three key questions:
Who are we today?

What have we learned?

What are we moving away from?
Aligning your approach helps define your team's vision and execute on it. Added Wilson, "There's nothing worse than asking your sales team 'what's your differentiator' and not getting an answer." 
Adapting to a new reality
With this shift in the market, your strategy may need to follow suit. What worked two years ago won't necessarily work today, Weightman noted. In order to change your approach, your team may need to shift their mindset and solve the problem differently.
Tracy noted that because of this shift, Triage has had to think outside the box. "We have to become innovators," he said. "The model we had before is still there, but without innovation, you will not continue to grow. We have to wake up thinking of new ideas."
Going above and beyond
In a candidate-driven market, firms needed to provide as much talent as quickly as possible – but the shift back to a client-forward market means staffing firms need to sell instead of serve. By going above and beyond, firms can build long-term, generative relationships with their clients, ensuring growth for years to come.
This is particularly true for those working in the healthcare space, Tracy said, where clients rely on staffing firms for far more than finding talent. "You're talking about credentialing, screening, placement, and management of the professional," he said. "You have to meet those client needs."
Wilson echoed these findings, adding that sales is "moving from a transactional space the last few years to being a consultant again." To best serve the clients you have now, she added, "it requires listening and understanding the needs of the industry today."
---
Want more insights from staffing leaders? Check out the Engage Boston Content Hub to see tips and best practices shared at this year's event.
Subscribe to the Staffing Blog
Subscribe for trends, tips, and insights delivered straight to your inbox.