7 Lessons Learned from 1 Billion Automated Tasks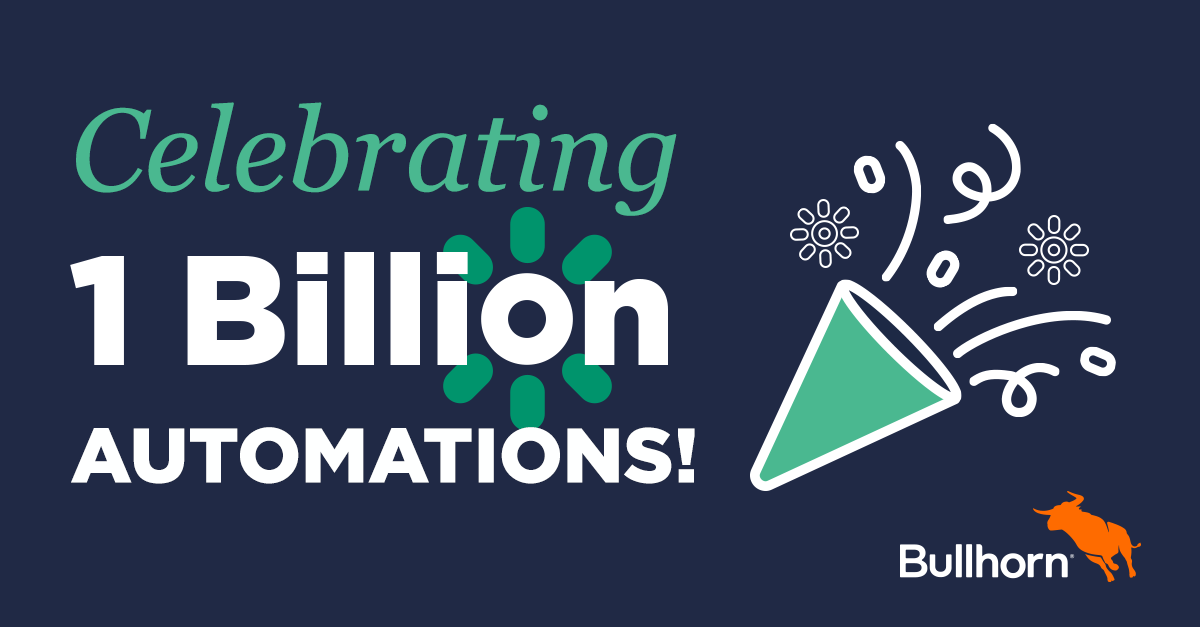 Bullhorn customers have just reached an incredible milestone: they've automated 1 billion tasks with Bullhorn Automation. That means 1 billion emails, text messages, surveys, field updates, notifications, and more are all taken off recruiters' hands, giving them more time to focus on building relationships with talent.
Firms that automate with Bullhorn see serious results, from more submissions to more redeployment opportunities. To talk about their own experience with Bullhorn Automation – and the lessons learned along the way – Bullhorn's own Ben Carter, Senior Director, Sales & Strategy, Automation & AI, and Billy Davis, Product Manager, Automation & AI, sat down with Mandy Walker, VP of Marketing at Motion Recruitment.
Watch the webinar recording here, or read our recap below.
Why automation?
Motion has been in staffing for over 30 years and only focused on permanent placements for the first 20 years. In 2014, they broke into the contractor side of staffing, and, said Walker, they realized that there was a cultural shift that differed from their experiences in permanent placement: engaging with active contractors to ensure they're having a great experience. 
More than four years ago, the Motion team was at Bullhorn Engage, evaluating automation vendors with the goal of engaging more deeply with candidates and contractors to increase redeployment. Within the first year, they were already achieving great results with Bullhorn Automation, which opened up their world. "If automation works to engage candidates," said Walker, "what else can we use it for?"
1. Start with your strengths
Implementing automation can be daunting. Even when you take the process step by step, it can be difficult to know just where to start. Walker said that Motion began with areas in which they believed they would get the biggest return on investment. For them, that was working with their active contractors. "They know you, they're on contract, and they're very likely to redeploy if you're staying in contact with them," said Walker. Starting with an area that recruiters saw value in automating also helped to tame any concerns about expanding automation into other parts of the recruitment journey.
Once they built a post-placement automation strategy, Walker and the Motion team replicated their process for their active candidates to ensure that they were converting through their placement funnel at a faster rate. From there, they've moved into inactive candidates to re-engage them, followed by campaigns for special events. Lastly, Motion rolled out automation on the client side, but only once they felt they had a good handle on automation as a whole.
2. Automate through the entire lifecycle
Motion Recruitment is focused on attracting, engaging, and ensuring a great experience for their candidates, as well as re-engaging candidates, contractors, and clients to bring them back into the pipeline – and they leverage automation in all of those points of the journey. "My words of wisdom would be to start with candidate and client communications because that's where you're going to see the biggest ROI," said Walker. 
In addition to engagement workflows for candidates and clients, Motion uses recruitment operations workflows, data hygiene workflows, and deepened reporting. Wherever they can, Motion is building automations in parallel with personal touchpoints throughout all aspects of the business.
3. Gather insights from candidates and clients
Another early automation use case for Motion was to track satisfaction and dissatisfaction from candidates as well as clients. Did contractors like their current placements? Were clients satisfied with the candidates being sent their way? Gathering those insights and then allowing recruiters to respond to those insights – and close more deals because of it – was a big win right away.
"It's important for recruiters to be able to gather these insights and respond to them," said Walker. "Otherwise," said Walker, "you're risking your candidate and client experience." 
4. Enhance your pipeline
Automation is about more than just candidate engagement; it can be used to enhance the marketing pipeline as well. Motion is currently leveraging tearsheets and automation to enhance their lead handoff process. 
Any time a candidate or client takes an action – for example, viewing or downloading a piece of content – those engagement points are tracked via automation. Then, those leads are sent through the pipeline to large tearsheets, from which the recruiters can actively source. As a result of this process, Motion has seen a 35% increase in placements from their sourcing team in the last nine months alone. If organizations can find inventive uses for automation beyond candidate engagement, they stand poised to see benefits in a big way.
5. Align your teams and stakeholders
For automation to be successful, it's essential to have teams working together, from marketing to sales to operations. Bringing any stakeholders involved in the candidate or client journey and identifying what you want the candidate journey to look like is crucial, said Walker. Motion held a number of strategy meetings to agree on which activities were to be personalized and which were to be automated. What did people expect to see with conversion rates, redeployment rates, and placement rates? What is an active or inactive candidate defined as? It was important for Motion to get everyone on the same page in order to execute automation successfully.
6. Keep your data clean
As Motion continues to grow and evolve their own automation strategy, they're looking to build an all-in-one candidate experience. But in order to keep expanding and integrating new technologies with automation, they need to make sure their database is pristine (i.e. containing accurate, relevant, and complete data on candidates and clients, with no duplicate information). "Right now, we're in the process of leveraging Bullhorn Automation for data hygiene and for data health," said Walker. Once their database is clean, Motion will be ready to leverage automation in even more inventive ways.
7. Use automation templates
Motion has hundreds of automations, and they've been using Bullhorn Automation for over four years, but when they're looking for new workflows, they look to Bullhorn Automation's blueprints and content. "Bullhorn Automation has done an incredible job of creating a huge library of communications and templates to send throughout the journey," said Walker. These templates are only the building blocks; the real magic happens when organizations like Motion Recruitment use them to supercharge their teams' productivity and ultimately create an incredible talent experience.
---
Want to learn what you can achieve with Bullhorn Automation? Check out our celebration of 1 Billion Automations, featuring more use cases, resources, and results.
Subscribe to the Customer Blog
Subscribe for trends, tips, and insights delivered straight to your inbox.