Building recruiting efficiency: How PrideStaff transformed their operations with Checkr and Bullhorn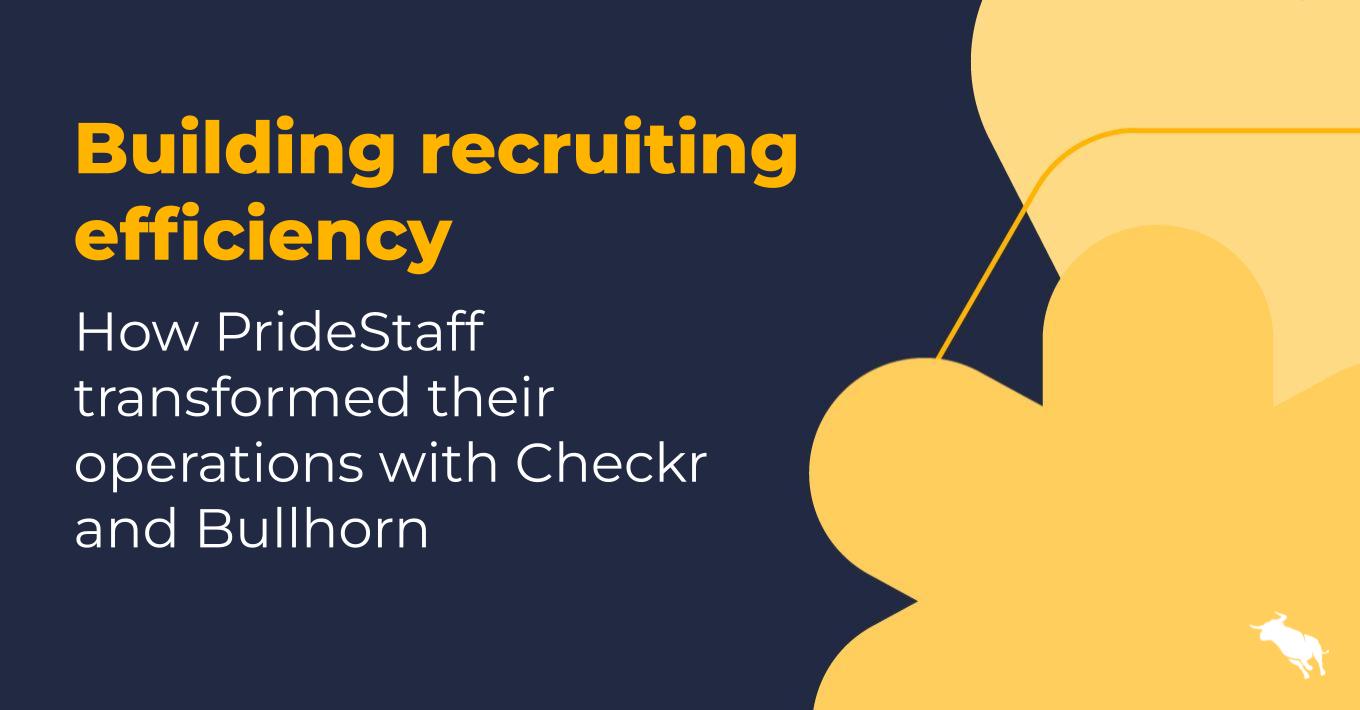 Filling roles quickly across state lines is often challenging—but essential—for staffing firms. Maintaining compliance with multiple local laws that regulate background checks can slow hiring, and juggling the requirements of dozens, hundreds, or thousands of jurisdictions creates additional manual work for recruiting teams.
Despite these obstacles, PrideStaff has been able to place over 30,000 candidates annually for their clients across 25+ states. How did they do it without sacrificing compliance or speed? By integrating Checkr into their Bullhorn dashboard and streamlining their background check process.
The employment screening team at PrideStaff recently shared with us:
How Checkr's innovative decisioning tools help speed background check review time, reduce potential hiring bias, and increase efficiency

How PrideStaff has accelerated hiring and reduced manual work by integrating Checkr directly into their Bullhorn dashboard

How the Checkr integration enhances the candidate experience during the background check process
Keep reading to learn how Checkr and Bullhorn can speed hiring, simplify compliance workflows, and reduce background check inefficiencies for your team. 
Streamlined internal processes reduce time to fill
How can staffing professionals ensure that time to fill isn't impacted by cumbersome internal workflows? Some 36% of HR staffing professionals say they don't have adequate technology to automate parts of their jobs, Forbes reports. For PrideStaff, ATS integration with Checkr was key to reducing manual work and streamlining internal processes.
The HR professionals in their local offices "live in Bullhorn," PrideStaff says. Thanks to Bullhorn's integration with Checkr, they can now order background checks without ever leaving the Bullhorn platform. All the information about the candidate is pulled into the Checkr tab within Bullhorn. "All PrideStaff's recruiters have to do is order the background check by selecting their office number, the work location, and the background check package they want—everything else is automated," says the PrideStaff team. "There's no re-entry of data, which helps improve efficiency, reduce turnaround time, and reduce human error."
"Before the integration, ordering background checks was much more time-consuming and manual," PrideStaff says. Their team no longer spends valuable time logging in and out of two different systems to order background screenings.
A better candidate experience enhances engagement
In a competitive labor market, the candidate experience can play a key role in offer acceptance. Some 81% of candidates say a positive candidate experience influenced their decision to accept a job offer, according to a 2023 survey by CareerPlug. 
One way to build trust and reduce candidate drop-off is to increase communication throughout the background screening process, a common cause of delays in the hiring process.
Before integrating Checkr into their ATS, PrideStaff's HR team was overwhelmed with candidate communication requests, such as status updates and document reviews, which slowed down turnaround time. Integrating Checkr with Bullhorn helps eliminate this problem by providing candidates with complete visibility into their background check status.
Checkr provides each candidate with access to a unique candidate portal where they can view the status of their background check, access a variety of resources, and get a copy of their background check report. Candidates can also use their portal to contact Checkr's candidate experience team if necessary. By answering candidates' questions, Checkr gives PrideStaff's HR team time to focus on more critical work such as adjudication.
Through the Checkr integration, PrideStaff can also communicate directly with candidates via email, phone, or chat. "After an offer of employment is made and appropriate forms are filled out, the office launches the background check and the candidate receives an email informing them the process has begun," they explain. "If additional information is requested, it can easily be added through the candidate portal; the email walks them through those steps. We have visibility into that and can even provide supporting documents if necessary."
Thanks to this integration, PrideStaff's average background check turnaround time has been shortened to two days.
Simplified adjudication workflows help manage risk
Background check litigation and compliance violations have cost US employers more than $174 million in the past decade, HR Dive reports. The Checkr integration with Bullhorn has streamlined PrideStaff's adjudication process, helping them maintain compliance. 
PrideStaff uses Checkr's Assess tool, which makes the adjudication process much faster and easier by reducing the need to manually sift through irrelevant records. "A lot of preapproved convictions, mainly driving records, return on background checks," the PrideStaff team says. "If a candidate has ten speeding tickets, we don't necessarily want to review each of those records."
They go on to note how Checkr helps filter reports and highlight the ones that require consideration according to PrideStaff's customization settings in Assess. PrideStaff has even customized Assess to alert them of pending charges or warrants attached to a ticket. "We can be helpful and let clients know the candidate may need time off for a court date," they explain. "We have time to be helpful in that way because we spend less time adjudicating."
PrideStaff aims to adjudicate background checks within two to four hours; on average, they're completed faster than that. "Assess helps us be consistent," PrideStaff notes. "We have a lot of background checks for a lot of different states, and we want to be uniform across our decisions." When adverse action is taken, they provide a pre-adverse action notice to the candidate; when the seven-day waiting period is over, Checkr can automatically follow up with PrideStaff's post-adverse action notice. "Checkr automates a lot of things for us, which makes our jobs easier and gives us more time for other things."
Checkr's user-friendly dashboard is another plus for PrideStaff. They say many vendors have "clunky" dashboards, requiring multiple clicks to access the background check and manual processes for adverse action. "Checkr has very few clicks," says the PrideStaff team. "It's also easy to read. Other vendors make you sift through lines and lines of data; Checkr shows each conviction in a certain color depending on how Assess has classified them [according to our customization settings]. That ease of use is huge for us."
Conquer your biggest staffing challenges with Checkr and Bullhorn
More than half of staffing and recruitment professionals say the impact of the talent shortage on the labor market is their biggest challenge for 2023, according to the American Staffing Association. As the staffing industry remains competitive and new legislation adds complexity to the background check process, turnaround time and accuracy will be critical to success.
Checkr's integration with Bullhorn is helping give PrideStaff a competitive edge. Streamlining your hiring workflow by adding Checkr to your hiring dashboard can improve your staffing organization's recruiting efficiency, enhance your candidate experience, and support compliance, giving your staffing firm the competitive advantage you need to succeed. Get started with the Checkr integration for Bullhorn today.

Subscribe to the Customer Blog
Subscribe for trends, tips, and insights delivered straight to your inbox.