Bullhorn and Sterling expedite healthcare hiring with a new automated credentialing feature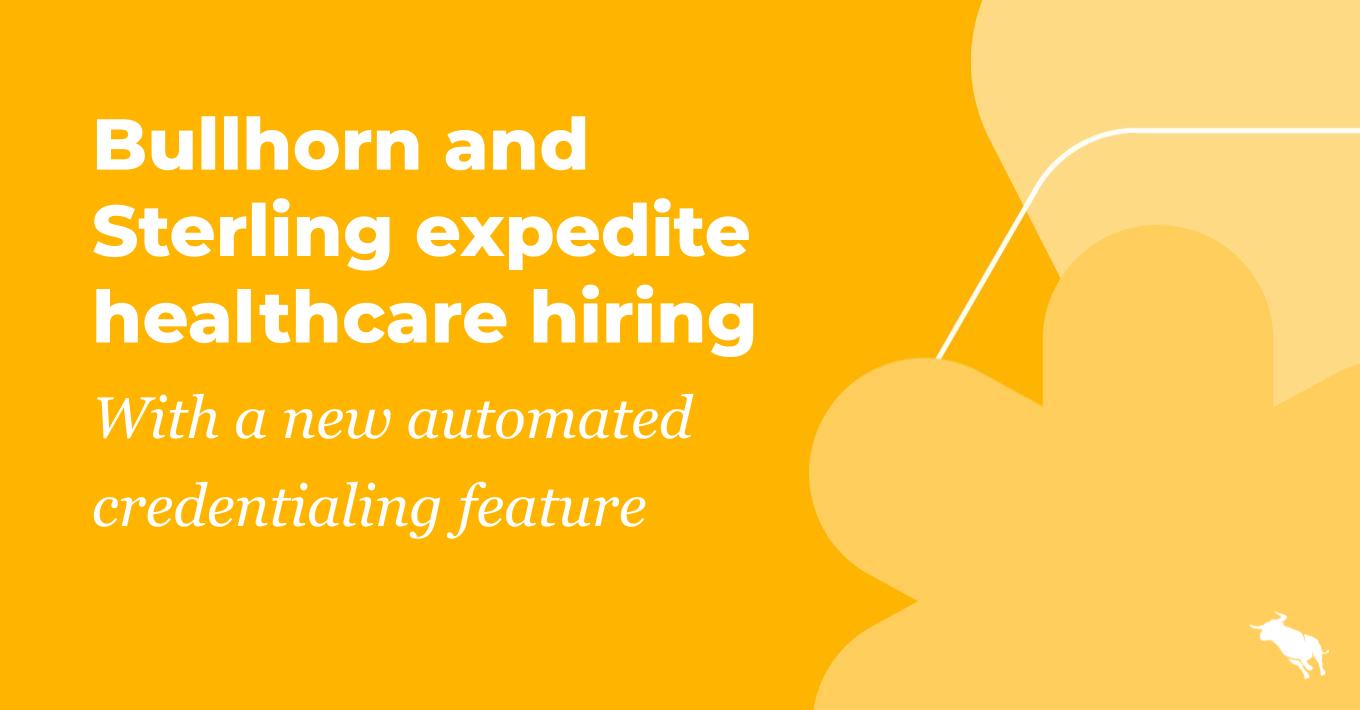 Healthcare hiring has become increasingly complex due to high turnover, the prevalence of travel in roles, and differing compliance needs in different locations. As a result, healthcare staffing agencies need a seamless credentialing process to make compliance easier and help their candidates start their new assignments faster.
Bullhorn and Sterling have partnered to debut innovative automated technology to help solve this problem. Together, they are the first to go to market with our credentialing automation solution, a game-changing capability for healthcare staffing agencies.
We introduced this industry-first feature on a recent session of Sterling Live featuring two leaders: Bullhorn's own Jason Niad, VP of Product Healthcare, and Ryan Garman, Director of Healthcare at Sterling. In our live discussion, moderated by Katelyn Brower, Social Media Manager at Sterling, they discussed the urgent need for this technology to quickly credential candidates, how it helps employers enhance the candidate experience, and the business benefits for healthcare staffing agencies. You can watch the recorded episode here.
Automated credentialing: A faster way to clear your candidates
In today's competitive hiring environment, the last thing healthcare staffing firms need is a cumbersome credentialing process holding back a skilled healthcare professional seeking to work at a new assignment. If the credentialing process is long and complicated, candidates will find another healthcare staffing agency that can make this process easier for them.
Niad outlined this issue by sharing his experience when he started his career in healthcare staffing: "We had filing cabinets in our office, many filing cabinets, and we had to get more of them because in order to get a candidate to start their new assignment, there's often a requirement checklist of sometimes 50 items a candidate has to complete."
"Every state has its own separate set of requirements, so every checklist is going to be very different," Garman added. "Without a technology solution, healthcare staffing agencies are tracking and maintaining all of this in Excel files…it's actually going to get even more complex, as candidates are still enjoying the travel nursing world."
With Bullhorn's built-in automation and Sterling's credential-level results functionality, healthcare staffing organizations can now reuse previously ordered credentials and only order the remaining credentials required for each candidate's assignment.
Benefits of automated credentialing
Improve speed

: Significantly reduce the time it takes to clear a candidate for start.

Reduce cost

: Lower your budget associated with credentialing and clear a candidate for start.

Enhance the candidate experience

: Delight your candidates with an enhanced candidate experience.

Become more scalable

: Make your organization more scalable and service more clients with fewer resources.
Bullhorn and Sterling partner to support healthcare staffing
Since 2010, Bullhorn and Sterling have worked together to help streamline the hiring process for clients and candidates. Our tight-knit partnership has successfully extended into the healthcare staffing space, enabling hospitals and clinics to hire at volume.
Niad gave a quick overview of how our new solution works: "At Bullhorn, we can set up credential lists of all the requirements that somebody might need to get to work. That old handheld checklist that used to be checked off on your desk now lives directly within the Bullhorn system. We can drive automations directly as tasks to our candidate base for them to engage with, such as uploading their information and providing their documentation. That enables Sterling to engage with the data in our system to drive the workflows needed. We're now centralizing and automating all of these pieces of the puzzle when it comes to credentialing."
Our enduring commitment to technology investment
Bullhorn is proud to support healthcare staffing companies as their ATS of choice. Our new automated credentialing solution tightly aligns with Sterling's commitment to continued investment in client-centric, innovative technology paired with a verticalized approach. 
Resembling the convenience afforded to consumers by digital wallets, our credentialing automation solution delivers its true value in the candidate experience.
Garman explained the business benefit of reusing and reordering credentials: "This means that you can very easily identify when credentials are set to expire when a candidate is out on assignment and automate that piece of it as well," he said. "Typically, you have to do at least a drug test, but in a perfect world, everything that the candidate did 13 weeks ago should be reused in their new assignment instead of having to reorder everything."
"What drives your revenue is the candidate experience, so it's important to invest in credentialing and compliance," Niad explained.
"You can be the greatest recruiter in the world," Niad added. "But if your credentialing and onboarding process is causing your candidates not to want to work with you again because it was such an arduous process, you're no longer a great recruiter. If you have this slow process that causes you to churn a lot of your candidates, you'll constantly look for new hires, and you're not going to have the high redeployment rate that everybody is striving for in this market."
Sterling will be exhibiting at HR Tech 2023. If you're going to the show this year, be sure to stop by booth #3229 and learn how to streamline hiring.
A win for both healthcare staffing and candidates
Niad wrapped up the discussion on Sterling Live by concluding, "We have a great product in place today, and we have great partners in Sterling and others on this journey with us. As we think about healthcare staffing, we think about the much broader concept of how we can get enough clinical professionals into the healthcare system to provide care. We offer healthcare staffing agencies the ability to break down some of these barriers around credentialing."
"Candidates need a seamless credentialing process to help them quickly take on work at their new assignments. This is a great path and a great starting point to provide an amazing candidate experience."
Visit Bullhorn for Healthcare's page to learn how automated credentialing can help your healthcare staffing agency to hire at volume today.
To schedule a call to demo Sterling and Bullhorn's automated credentialing solution live in a Bullhorn account, submit your information here.
Subscribe to the Customer Blog
Subscribe for trends, tips, and insights delivered straight to your inbox.