Emerging automation trends in executive search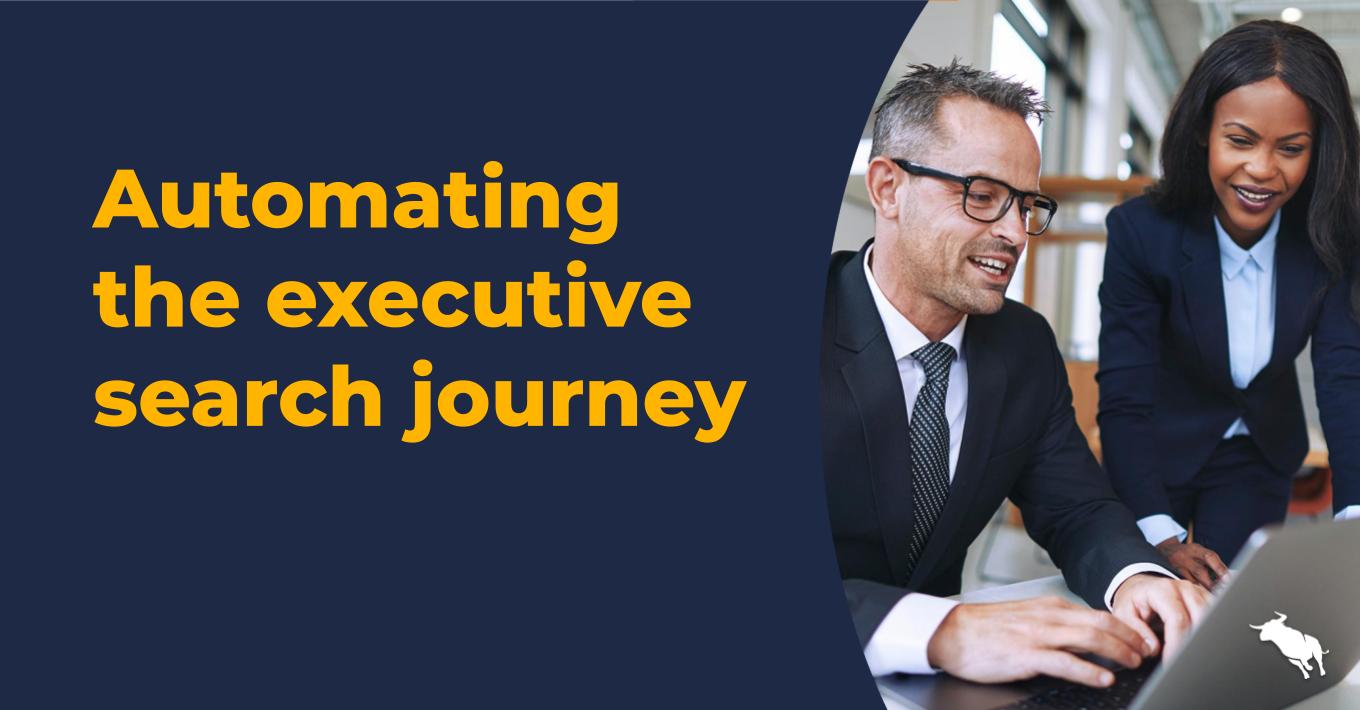 Along with the rest of the staffing landscape, the executive search has changed drastically in the past few years. As a result of economic uncertainty and a continuing talent shortage, requisitions are dropping, and the industry is becoming more and more competitive.
And yet, despite these headwinds, executive search continues to see incredible growth. In this year's GRID Industry Trends Report, 66% of executive search firms reported revenue increases in 2022. Furthermore, nearly four-fifths of executive search firms anticipate growth in 2023.
In the face of continued industry-wide challenges, why are executive search firms optimistic? It comes down to technology. Firms that digitized their data and leveraged automation were far more likely to report revenue gains in 2022. Although the adoption of technology and automation is low across all recruitment sectors, those using it well see the payoff. Firms with the highest revenue gains in 2022 were more likely to use automation and digitization than those who lost revenue. There's a huge opportunity here for executive search firms to use technology and see incredible growth.
Bullhorn's Ashton Moran, General Manager, Executive Search, Richard Watson, Manager, Global Account Management, and Eric Mateev, Sales & Strategy Manager, Automation & AI, break down the questions executive search firms are asking to take their business to the next level and uncover where automation can help.
Watch the webinar here, or read the recap below.
Trends in executive search
Bullhorn is deeply engaged with our executive search customers, and as such, we hear a few themes again and again in our conversations. What are the top challenges facing executive search firms today?
Increasing productivity
Executive search firm clients want results fast – and as such, firms are looking to accelerate the search process itself. At the same time, firms need visibility across their organization and want to keep the whole team up to date with every search. They also want to reduce manual labor and free up consultants to talk to clients and candidates.
Improving the candidate/client experience
The race for talent has been a priority for executive search firms for many years, but this year's GRID Industry Trends Report shows that winning new business is now top of mind. To expand their network, firms are using more sophisticated business development tactics, like email marketing platforms. Firms are also seeking more formal, actionable, and consistent feedback to improve their quality of service. Ultimately, they aim to ensure clear, consistent communication with candidates and clients.
Transforming your system into a single source of truth
Firms want to be able to trust their data they have to gain insights into their business and make informed decisions. They need to improve the data they store – and its quality – and keep it that way. Data privacy also plays a key role here; firms need to ensure they're staying on top of GDPR or CCPA. Even simple tasks, like keeping candidate contact details up to date, take time. How can technology help turn a simple database into a living network of executives?
The three pillars of automation
These three priorities of executive search firms are closely aligned with the three critical areas of focus for automation strategies.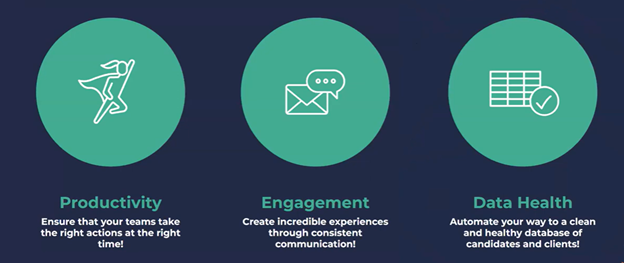 These three areas of focus don't stand alone. They complement one another: for your team to be productive and engage candidates and clients with the right message, you need to work with the right data.
We'll break down some use cases in which automation can help address the top challenges of executive search firms.
Productivity
Reduce busy work by automating repetitive, often forgotten tasks and ensure the right things happen at the right time. A few use cases include:
Proactively notify members of your business of key events in Invenias, like a

candidate progress status update

or

a client dropping off the radar.

Update fields and statuses and add journal notes on behalf of a consultant,

freeing up more time for truly engaging interactions.

Send regular communications or internal notifications for

check-ins and reminders to candidates and clients.
Engagement
Engage with candidates and clients throughout the search process, always keeping communication from slipping through the cracks. A few best practice use cases are:
Sending automated communications to clients and prospects that have not been active in 90 days and

ensuring your brand is not forgotten.

Send a candidate an email or text reminding them of key events, like

when an interview is booked, and reminding them again the morning of the interview.

Send surveys after a key event for real-time feedback from your candidates and clients, like

NPS feedback after a successful placement.
Data health
Improve the accuracy of your Invenias data by identifying inaccurate or incomplete records and automating the cleanup process. Some key use cases are:
Auto update Invenias fields based on time or activity, like

updating a client to At Risk if no engagement has happened in a certain number of days.

Upon completing an assignment,

update all remaining candidates to correct progress status.

Leverage survey responses to flow data back to Invenias, like

requesting up-to-date information from candidates and clients, including GDPR.
Automating the entire journey
There isn't just one way to leverage automation; it's a tool to leverage throughout the executive journey. Any step that requires high manual labor can be automated, from profile refresh campaigns to status notifications. There are hundreds of use cases for automation, from sourcing through redeployment.

Though automation is still fairly new to executive search, it's been part of recruitment for years, and we've seen tremendous adoption over the last few years. As more firms adopt automation, we're learning more about the market's demands and how we can help customers succeed with technology.
To date, Bullhorn has helped over 1200 customers in the wider recruitment space automate over 2 Billion manual tasks. Those firms see incredible results:
Up to 8.5 fewer days to placement

Up to 55% more likely to report major revenue gains

Up to 12% more placements
Imagine these gains in the executive search world. It's all possible with the power of automation.
---
Ready to get started? Learn how to connect automation to Invenias by Bullhorn by contacting your account manager.
Subscribe to the Customer Blog
Subscribe for trends, tips, and insights delivered straight to your inbox.