450 + Bullhorn implementations completed
As Bullhorn's largest global System Integration Partner, we've mastered the art of pain-free Bullhorn implementations.
We don't do 'lift and shift' – our team of experts use their deep knowledge of Bullhorn's capabilities and best practices to ensure that your system is setup not only for your current needs but can move with your business as you evolve. We can even customise it to solve your unique challenges.
We'll also support you with the critical (but often overlooked) change management aspect of your project so that your team are ready to go when go live day comes.
And the project doesn't end there – we go the extra mile by supporting you with post-go live care to ensure a seamless transition. You're in safe hands with Kyloe!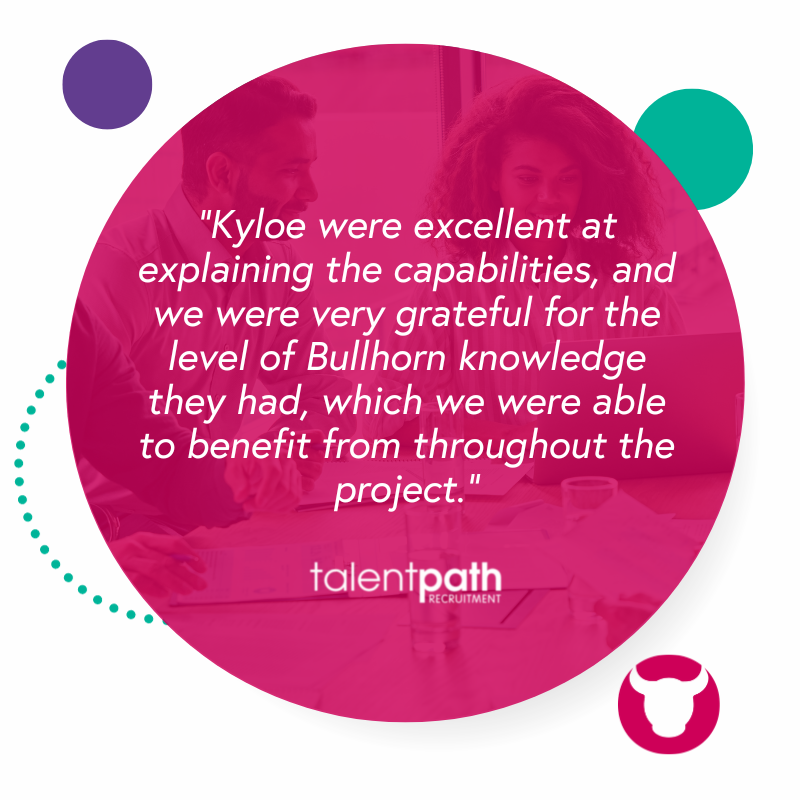 Acquisitions and divestments
Migrating data onto Bullhorn following a merger or acquisition, or splitting an existing database following divestment, can be a major job. Our data engineers have extensive experience of combining and splitting databases, without business disruption or loss of key information.
Consulting and process review
Our creative solutions are designed by our team of Bullhorn experts to solve your complex challenges, enabling you to unlock Bullhorn's true potential.
A truly custom experience, our consultants listen to your challenges, understand your goals, undertake a full workflow analysis. From there, we'll give you recommendations on how you can map Bullhorn to your business processes and suggest best practices for improved efficiency.
Let us know your pain points and we'll help you overcome them.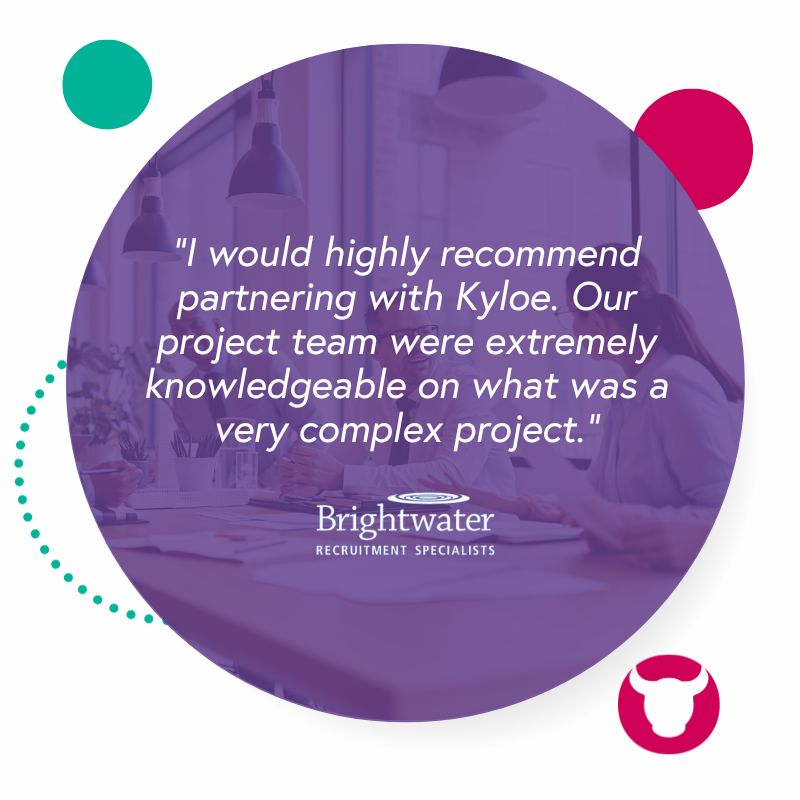 Data updates
As one of your most valuable assets, your database sits at the heart of your business, from sourcing candidates and tracking job status, to building relationships and improving candidate experience.
But for it to be useful, it needs to be clean. Get maximum value by tapping into our extensive knowledge about data best practices, Bullhorn capabilities, and data engineering possibilities.
Whether you need to import data into Bullhorn safely and securely or would like to update the data you already have in there, we can help.
In a rush? To help make the data update process faster we've used our years of knowledge to create Kyloe DataTools, which enables us to roll out your data updates at unmatched speed.
Solutions include:
One-time data updates
Field and skill-code remapping
De-duplication
Data quality analysis and cleanse
Post go-live uploads / system merges
Bullhorn to Bullhorn copies
Clean up ahead of automation
Data health checks
Integrations
Join up your processes and integrate systems within your business.
We provide project management, configuration and system alignment services for clients looking to utilise one of Bullhorn's pre-built integrations in the Bullhorn marketplace and we can help you integrate external applications like Xero and Hubspot with Bullhorn.
Bullhorn Automation enablement and management
Whether you need help getting setup on Bullhorn Automation or need expertise to get maximum value from your existing investment, our Bullhorn Automation experts can help.
When you choose Kyloe for Bullhorn Automation, you get the advantage of our deep knowledge of the recruitment industry, and the capabilities of automation.
If you're new to Bullhorn Automation we'll go through the full system setup and branding with you. This includes:
Joint automation build calls
Analyse workshop
Metrics review
Fundamentals of Bullhorn Automation training
Knowledge quiz
For those already using Bullhorn Automation, save on your internal resource by working with one of our dedicated experts. Our management package includes process review and recommendations, automation build and management, data management and cleansing.