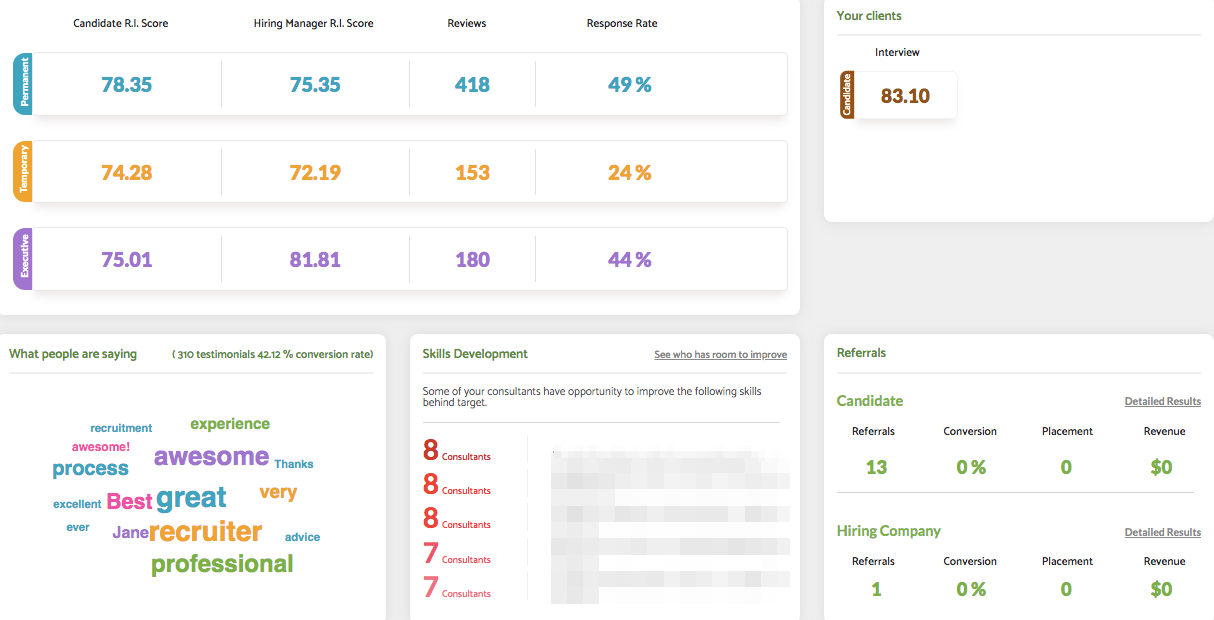 The Recruiter Insider Difference
Recruiter Insider is managed from a simple, visual dashboard requiring no configuration or technical administration skills.
All results are automatically collated and measured, providing you with immediate insights and benchmarking results, both within your business & to the industry. Recruiter Insider is a customer data insight and analytics platform to help you better understand the performance of your whole agency down to each individual consultant.
With over 200 recruitment specific metrics, you'll know exactly where they are succeeding, where they are struggling and how you can help improve them.

Automated, Relevant and Timely Candidate & Client feedback
Draw on the strength of the relationship that each consultant develops with their candidates and clients with branded and personalised feedback pages and better understand how engaged everyone is in the process.
Purpose-built for the staffing industry, we assess the experience every individual consultant provides with up to 90 skills across Permanent, Temporary and Executive search.
With unique data logic built-in, candidates and clients are only asked to provide feedback on what is relevant to them, helping you better understand how each consultant can directly improve their own skills and the quality of service they provide.
Testimonials, Candidate & Client Referrals
Automatic collection of testimonials from candidates and hiring managers is a great way to share good news with the team. With a click of a button, publish any testimonial to your website using our customisable widget and you can share your success with everyone.
Provide an exceptional candidate experience and be rewarded with a quality candidate you can place and generate more revenue!​ Have your clients recommend someone within their own business or elsewhere and help drive new business revenue!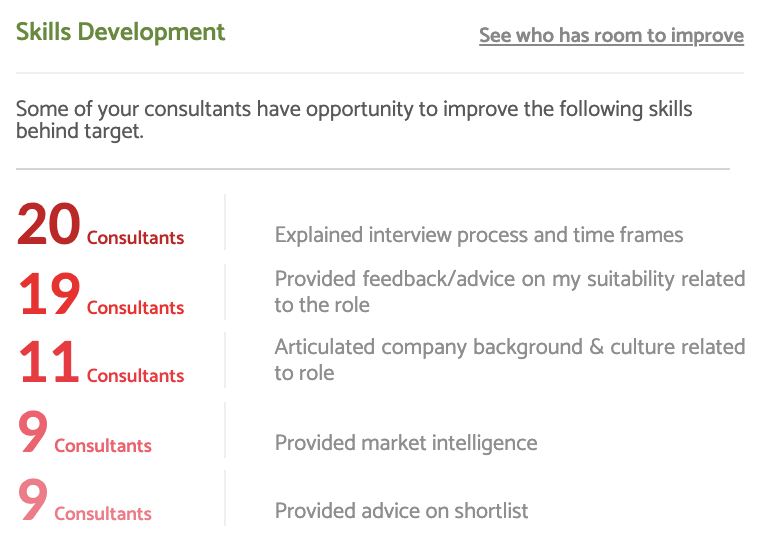 Skills Development - Shine a light on your blind spots
Traditional methods of collecting candidate & client feedback only lets you know whether they would recommend you or not. If you have areas to improve, you don't know what they are.
With Recruiter Insider not only are you shown what areas need improvement, but specifically who needs to improve, what part of the process they need support on and how much training and development they require.
Real-Time, actionable insights, allowing you to remove the "gut feel" and action what's real.

Brand Representation
We provide you with the ability to impact and improve the relationships with your clients by providing you with an insight into how you represent them specifically on every job as well as how your candidates found the interview experience with the hiring managers after their interview.
Back up what you say and provide data at an unparalleled level.

Flight Risks – Don't fly blind
The only replacement you should be making is, not knowing, with knowing. Identify Flight Risks before your rebate/replacement period has even started and get on top of one of your biggest blind spots.
Based on candidate feedback, we notify you immediately when a candidate identifies as a risk, allowing you to act sooner rather than never/not knowing/later.
We collect candidate and client feedback throughout the hiring process, differentiated by work-type and aligned to each individual consultant. This allows you to identify which consultants might need help at a particular stage of the process and what specifically they need help with and how much help they require.