25+ Inspiring Speakers Are Coming to Engage 2016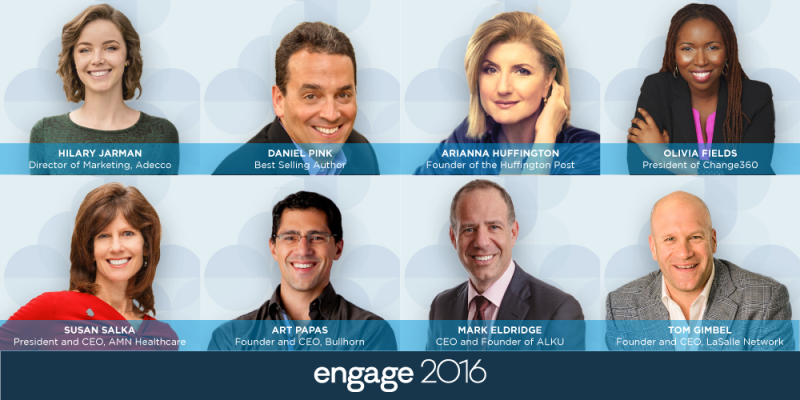 After much anticipation, we're thrilled to announce the speaker lineup for Engage 2016!
More than 25 innovative business leaders, industry experts, and practitioners are set to speak at Engage this June. And with keynotes from The Huffington Post's Arianna Huffington, best-selling author Daniel Pink, and Bullhorn's very own Art Papas, it's an event you won't want to miss.
See the full list of Engage 2016 speakers here.
Engage is a one-of-a-kind event where speakers and attendees alike explore the many opportunities and challenges that come with accelerating business growth. Senior leaders, industry influencers, and prominent professionals from a wide variety of industries come together at Engage and dive into how to build better customer and employee relationships and boost business performance as a result.
Here are just a few of the many stellar speakers who'll take the stage this year at Engage:
You can check out the full agenda and discover more speakers and sessions at engage.bullhorn.com. Stay tuned for more information about the great speakers from this year's lineup, and be sure to register now to get the best rate – prices go up on May 1st!
Subscribe to the Staffing Blog
Subscribe for trends, tips, and insights delivered straight to your inbox.