Make it happen in 2023 and beyond: Highlights from Engage Boston 2023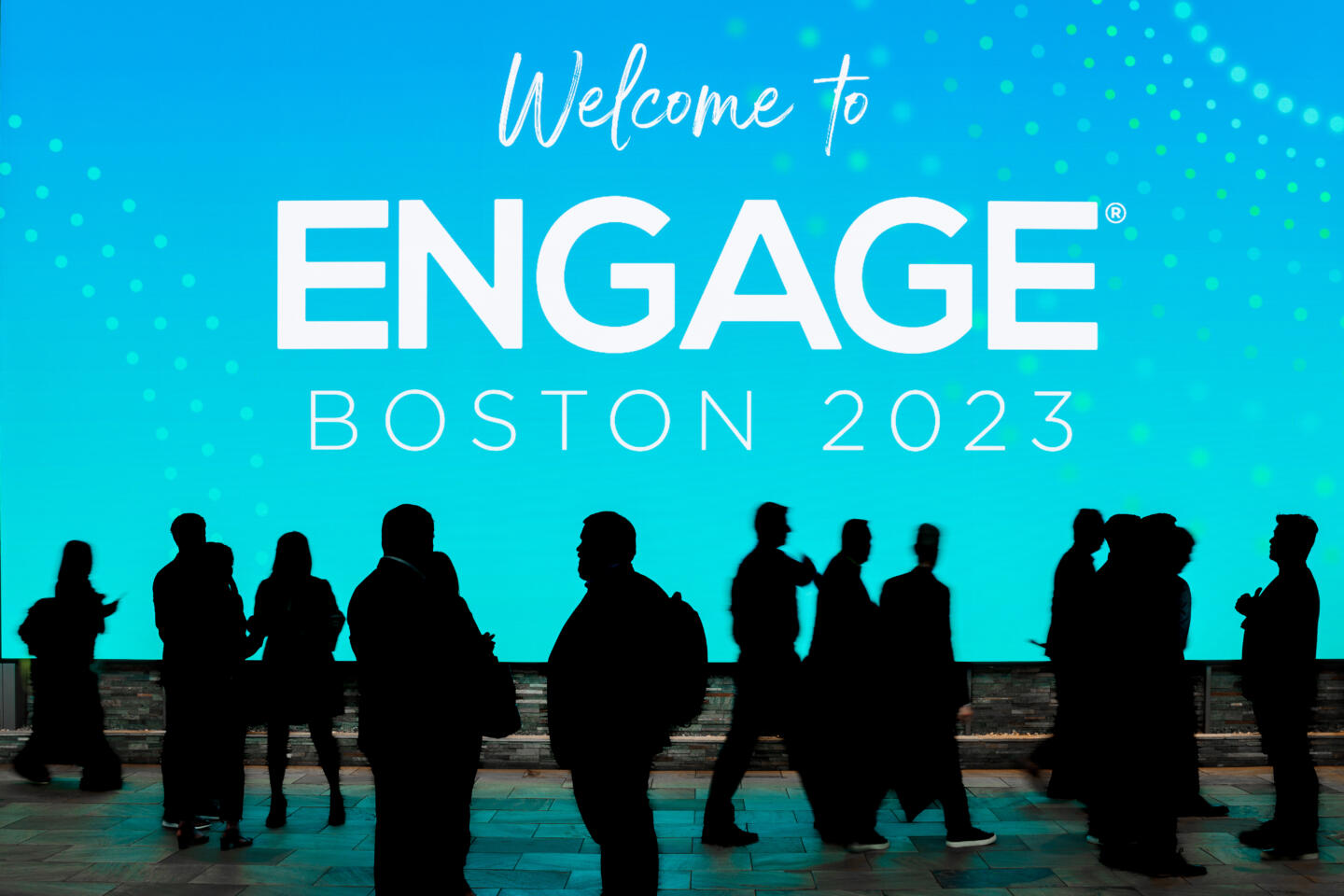 Springtime in Boston means flowers, (usually) good weather, baseball games…and Engage! Bullhorn Engage Boston 2023 brought together 1,000 staffing industry pros, 60+ speakers, and 40+ Bullhorn Marketplace partners to discuss the current state of staffing, how technology will impact the years ahead, and how firms can deliver incredible experiences for their candidates and clients.
In 2022, we challenged Engage attendees to meet the moment. This year, we celebrated those who are making it happen, from implementing innovative technology strategies to navigating change and future-proofing their businesses.
Read on for highlights and actionable insights you can implement immediately. 
And if you want to relive your favorite moments or catch up on any content you missed, check out our Engage Boston 2023 Content Hub.
Make it happen
While this past year has brought challenges and uncertainties for many staffing firms, it's also been a year of innovation. Art Papas, Bullhorn's Founder and CEO, kicked off Engage Boston 2023 with a spotlight on automation, AI, and how technology will shape the future of staffing.
It's no secret that generative AI tools have seen a rise in popularity in recent months. Although the use cases are diverse (from generating album art, as Art showed, to writing content and designing graphics), one thing is certain: these types of technological advancements have the potential to help create new jobs and maybe even build new industries.
"When new technology comes around, new jobs are created. Consider inventions like the automobile and computers. These technologies created jobs that we wouldn't have imagined," Art added.
Did you know that 60% of workers today are employed in occupations that did not exist in 1940? This means that 85% of employment growth over the last 80 years was created by technological innovations. But what does this mean for the staffing industry?
While AI will transform many aspects of a recruiter's job, it won't replace recruiters entirely.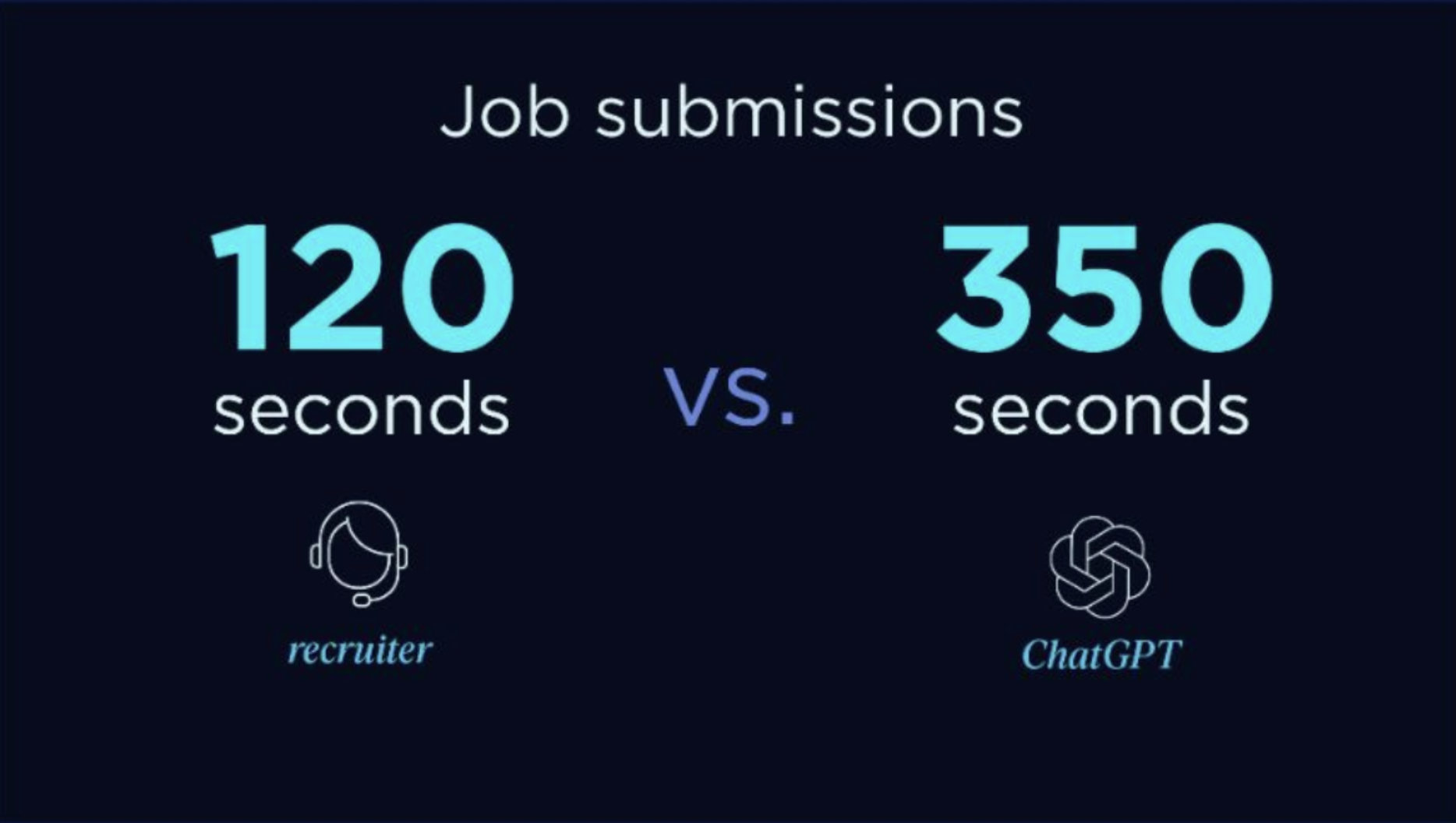 Art put it simply: "AI can make the people who are less experienced almost as good as the people who are [experienced]. And if you can automate the process, you can do something really interesting."
The real change will happen when recruiters combine their relationship-building skills with the power of AI to expedite things like writing draft messages that recruiters can then send out themselves.
Despite the growth of automation and AI in recent months, we're still in the early days of wide-scale transformation. Bullhorn's 2023 Industry Trends Report shows that only 19% of staffing companies fully use automation. Compare that to the 100% of retail companies using it, and it's clear the opportunity is there for staffing firms to leverage this technology further.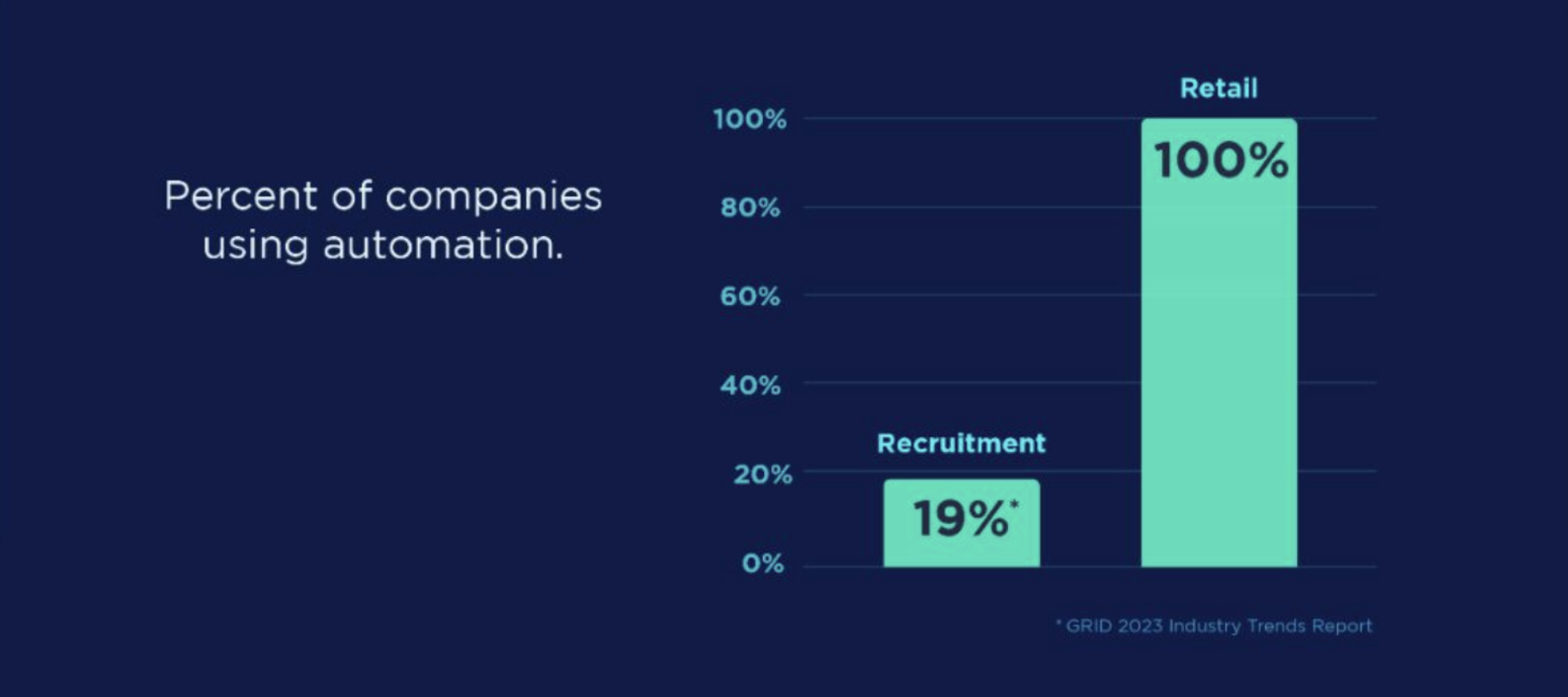 But there are staffing firms already adopting automation and seeing incredible results. Ascent Group is making 85% of placements using candidates already in their database and seeing an 89% higher placement rate with candidates they've engaged with via automation.
Art closed out his keynote by acknowledging the current economic uncertainty and offered his advice for navigating the uncharted waters ahead: "It's all about being ready for the [economic] snapback and differentiating so your company stands out. If we combine AI with automation, there's a huge opportunity for everyone."
In order to make it happen in the months and years ahead, staffing firms must build strategies around talent and client experience, data, and, of course, automation and AI. Firms that combine business strategy with automation and AI are best positioned to differentiate themselves in the market and maximize performance.
To continue the conversation around differentiation via technology and strategy, Bullhorn's Matt Fischer, President and COO, and Jason Heilman, SVP, Product, took to the stage to emphasize the changing landscape of talent and client expectations and how staffing firms can rise to meet them where they are.
"Talent priorities are changing. What makes them want to work with agencies? You need to have the right jobs. Staffing firms think having relationships with candidates was a top priority, but for talent, they care more about reputation," Jason explained. These changing expectations and motivations present a new set of challenges for staffing firms, particularly when it comes to margin pressure.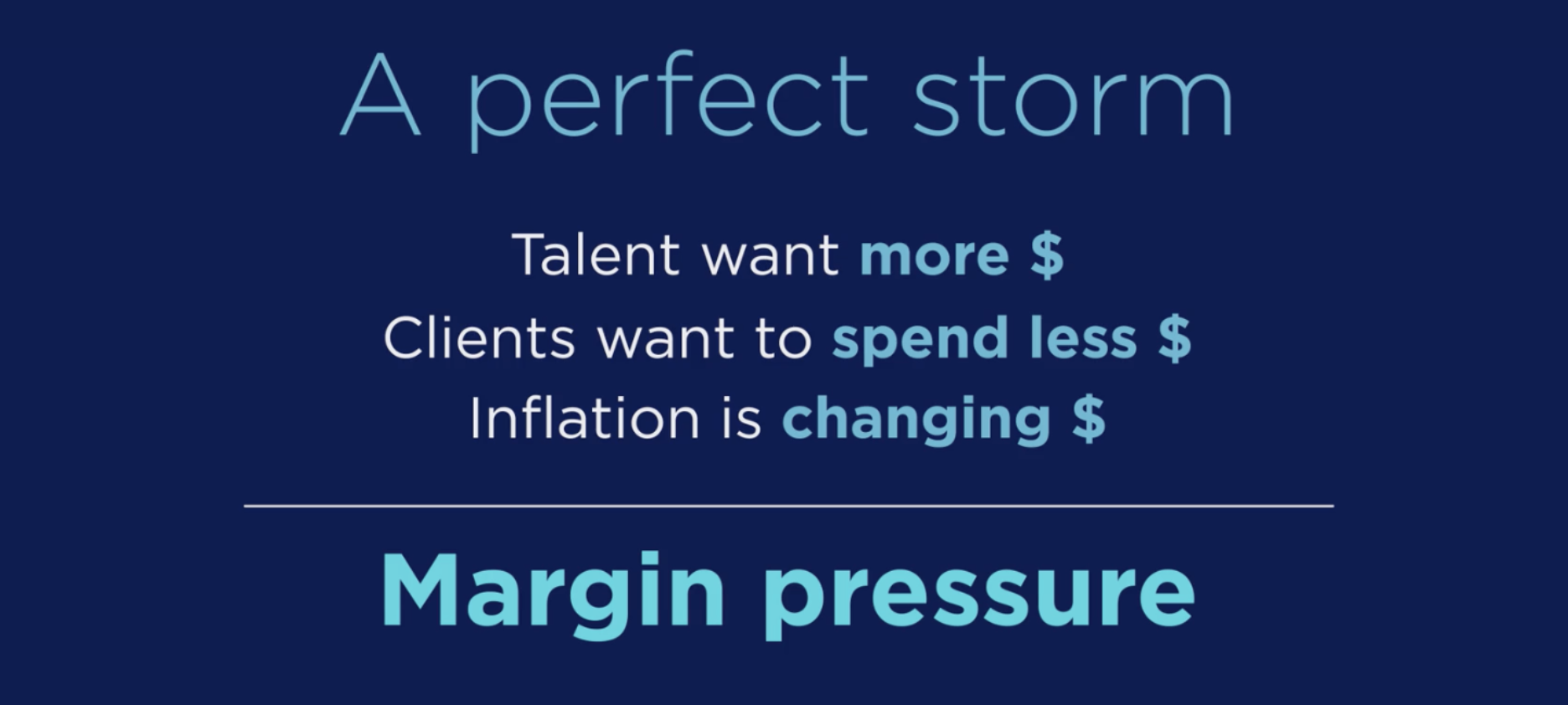 The answer? Speed, quality, and flexibility – all made possible by organizational alignment, robust technology, and the power of AI. "Digitize everything, automate everything, and empower your candidates and clients with self-service," Matt concluded.
Looking for more insights on automation, AI, and the future of staffing? Check out the Engage Boston 2023 Content Hub.
Increase internal efficiency and make the most of your tech investments
A successful staffing firm is built on a foundation of internal alignment and a solid tech strategy. At Engage Boston 2023, we explored how firms are empowering their teams with technology, doubling down on data, and navigating the digital transformation journey.
Bridget Weber, CEO of CrossMed Healthcare, shared that their tech stack has been a key driver of growth for her firm:
"Our tech stack has been a big part of our growth. It's helped us scale without needing to hire more people."
Kathryn Krueger, COO of DeWinter Group, explained how they transformed the client invoicing process by implementing Bullhorn One:
"We're able to better manage client requests with invoices, whatever they are. Our clients get what they want without a lot of headaches."
Kyle Allen, Executive Vice President, Sales and Recruiting for Vaco, emphasized the importance of using data to nurture client relationships:
"Consider the low-hanging fruit. Use data to identify previous big buyers and re-engage them. Don't over-engineer it. Get in front of your clients and build those relationships."
Vinnie Devoe, Director of Business Applications at Dexian (formerly known as DISYS & Signature Consultants), discussed how his team uses journey mapping as a core component of the digital transformation process:
"One of our key priorities is looking at the candidate, client, and internal employee journey. We're looking at those experiences, evaluating our tech stack, identifying gaps, and looking at new technologies to improve the experience across the board."
Provide exceptional talent experiences and unlock new value from your candidate pool
It's no secret that the staffing firm is currently dealing with tight talent pools and changing expectations from candidates. From using self-service technologies to streamlining the talent lifecycle, speakers at Engage Boston shared best practices for attracting talent in innovative ways and making the most of their candidate databases.
Aaron Grossman, CEO of TalentLaunch, explained his approach to optimizing the talent experience: 
"It absolutely takes practice, and there's change management first and foremost. Most firms that have been around 35-40 years have habits and haven't had to peel back the layers to understand the why. Getting buy-in around this can be a process, but once you get that, the performance follows."
Lindsey Ruth, Global Head of Marketing at LHH, shared how they take a proactive approach to talent acquisition rather than a reactive one:
"What we're seeing in terms of attracting candidates is you have to be omnichannel, and you have to get in front of them before they come to you."
Billy Davis, Enterprise Customer Success – Automation, AI, and Talent Platform at Bullhorn, stressed the importance of using automation to get more value from your database:
"81% of candidates in your database are constantly out of date if you are not automating your engagement."
Amy Reed, VP Operational Strategy at CHG Healthcare, provided straightforward advice on winning the race for talent:
"Don't focus on perfection. Focus on learning and iterating."
Grow your business by winning new clients and building stronger relationships
With change comes opportunity, and one message that permeated almost every conversation at Engage was that staffing firms must differentiate themselves from their competitors through a combination of technology and organizational strategy.
Leaders from staffing firms of all sizes shared actionable ways to use technology to meet clients where they are and build stronger relationships.
Tom Gimbel, CEO of LaSalle Network, encouraged attendees to focus on employee development and retention, particularly when it comes to salespeople:
"Sales management is undervalued in staffing. It's important to develop your producers into managers and retain your staff. If you invest as much money in developing your people as you do in marketing or technology, you'll be better off."
Allegra Highsmith, VP of Recruiting at Goodwin Recruiting, emphasized the importance of combining personalization with automation:
"When you're communicating with prospects, you need to think about what each unique industry looks like. You would speak to someone in healthcare, hospitality, or IT differently, so consider that when building automation content and campaigns."
John Gulnac, CEO of NSC Technologies, shared his approach to adjusting your business model:
"We dedicated ourselves to training and upskilling a workforce for a niche market. But we wouldn't have done that without the relationship with clients. You have to decide if something can and will be a long-term relationship. Don't just react to a bubble."
Nick Gust, COO of Salo, discussed why experience, technology, and people all play a role in business growth:
"If we build up this big team and have this engine working, everything will fall flat if people have a bad experience. We worked hard on the tech and people to make sure we could support the business as we grew."
Thank you to all of the attendees, speakers, and sponsors who made Engage Boston an incredible and unforgettable experience. We can't wait to join you next year for Engage 2024!
Check out more Engage highlights and resources on our Engage Boston Content Hub.
Subscribe to the Staffing Blog
Subscribe for trends, tips, and insights delivered straight to your inbox.