Reduce Your Employee Turnover Rate with Insights from New Staffing Industry Research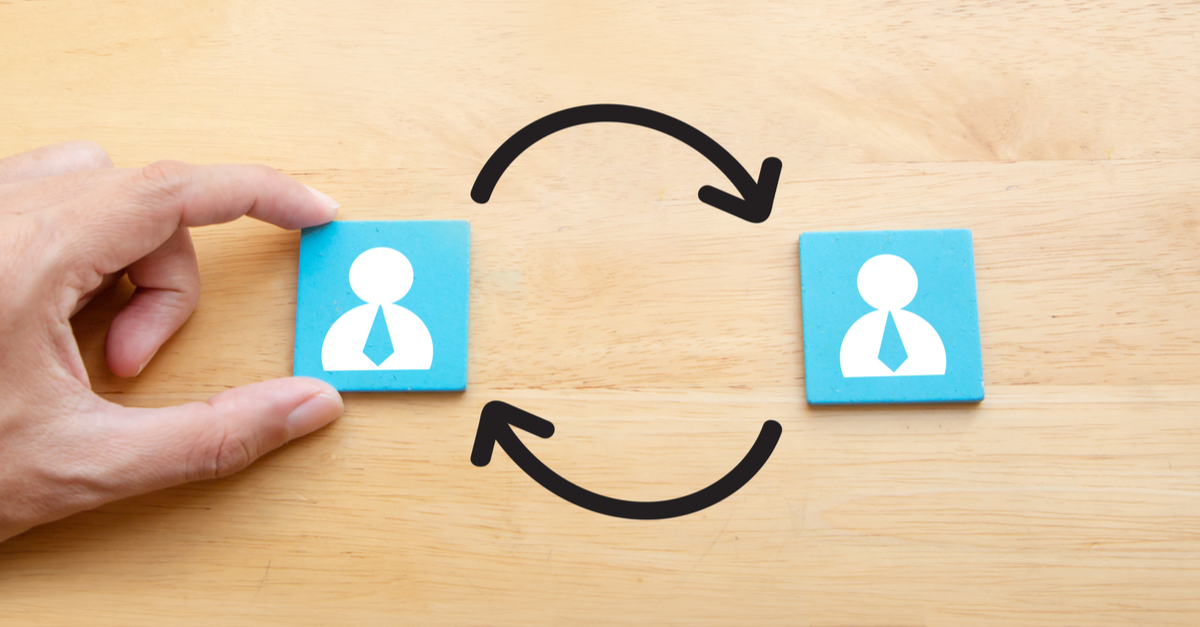 In the staffing industry, focusing on client and talent satisfaction has long been the norm. 
With full-featured platforms like Bullhorn—along with the endless options and integrations available for the rest of your software stack—it's never been easier to measure, track, and improve the service you provide to your clients and placed talent. 
But why stop there? 
Everything we've learned about service excellence for our clients and talent can be applied to our internal employees as well, and the investment into your workforce's satisfaction can have a huge impact on your firm's reputation, your employees' engagement, and ultimately your bottom line.
We Know Measuring Client and Talent Satisfaction Makes a Difference
Drawing on over a decade of staffing industry research, we can see that this industry-wide investment in the client and talent experience has paid off. After many years of decreasing satisfaction, the industry's reputation has begun to improve.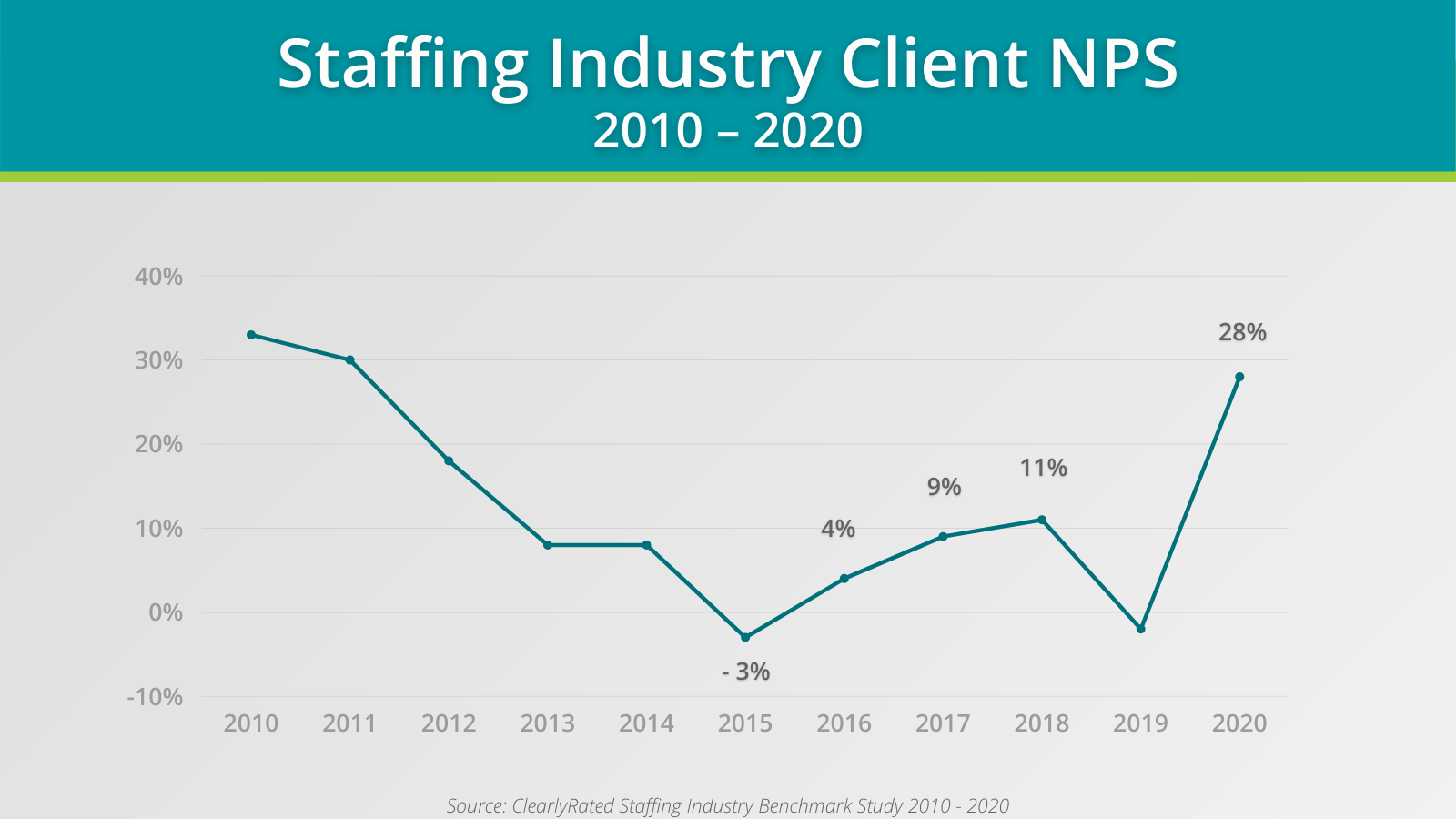 In 2020, industry-wide client NPS® is 28%, higher than it has been since 2011. 
And while the industry-wide NPS for placed talent has hovered around the mid-20s during that same time, Best of Staffing® firms who win for talent satisfaction have regularly earned world-class Net Promoter® Scores at or above 70%.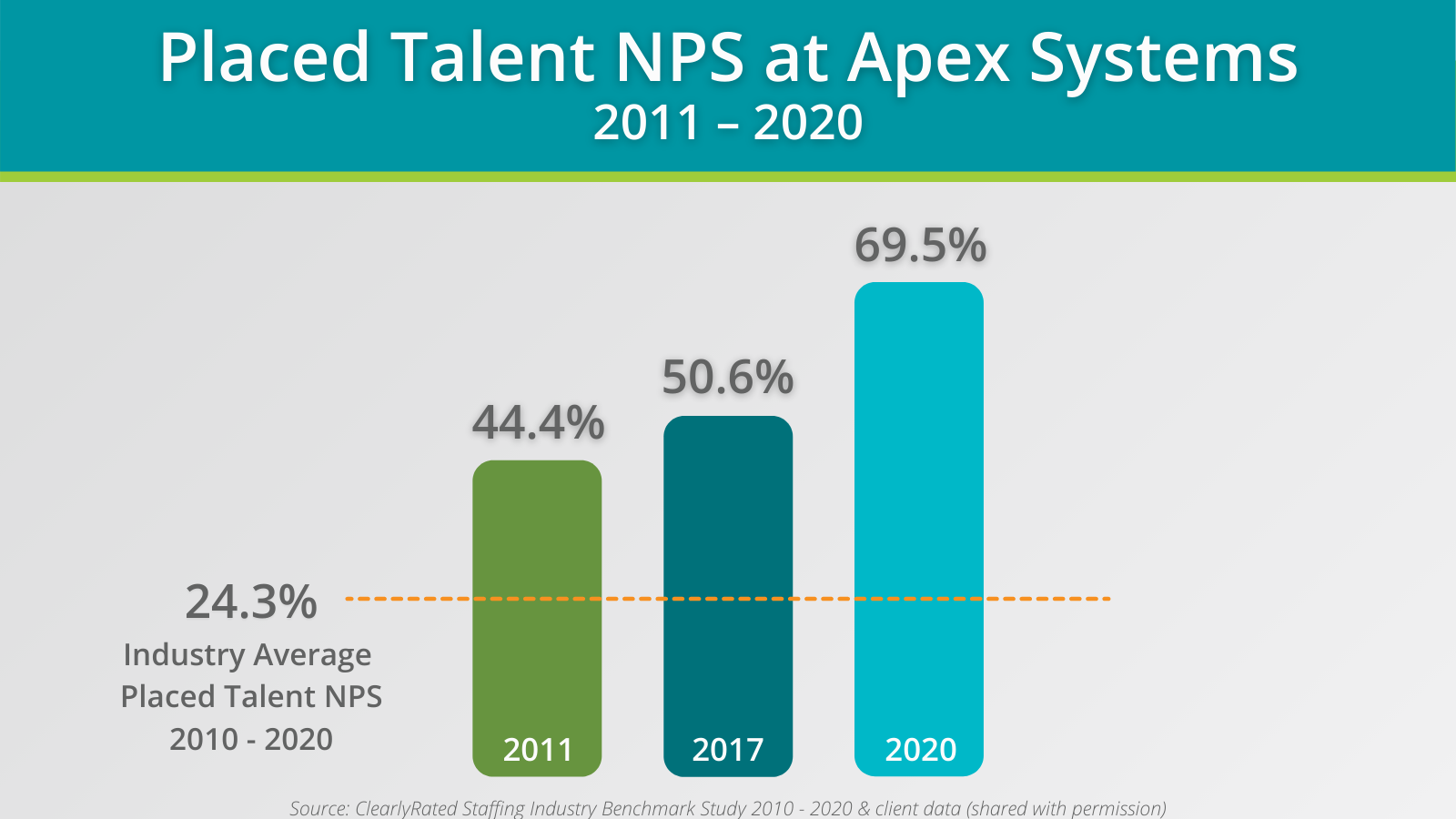 Your Employees are the Foundation of your Service Excellence
As the primary relationship holders within your organization, employee engagement, retention, and satisfaction are critical to a positive client and talent experience. 
Our industry research—and our internal employee survey program—can help you understand how to make sure you're getting the best value from your internal workforce and hone in on the next best steps to ensure employee satisfaction at your firm.
Turnover in Staffing is Higher than the National Average
According to Compdata research available at Salary.com, the annual U.S. turnover rate in 2018 was 19.3% for all industries, up from 15.7% in 2014. Globally, the average turnover was 10.9% in 2018, as calculated by LinkedIn.
But in the staffing industry, research indicates that the median annual turnover rate was 25% in 2019.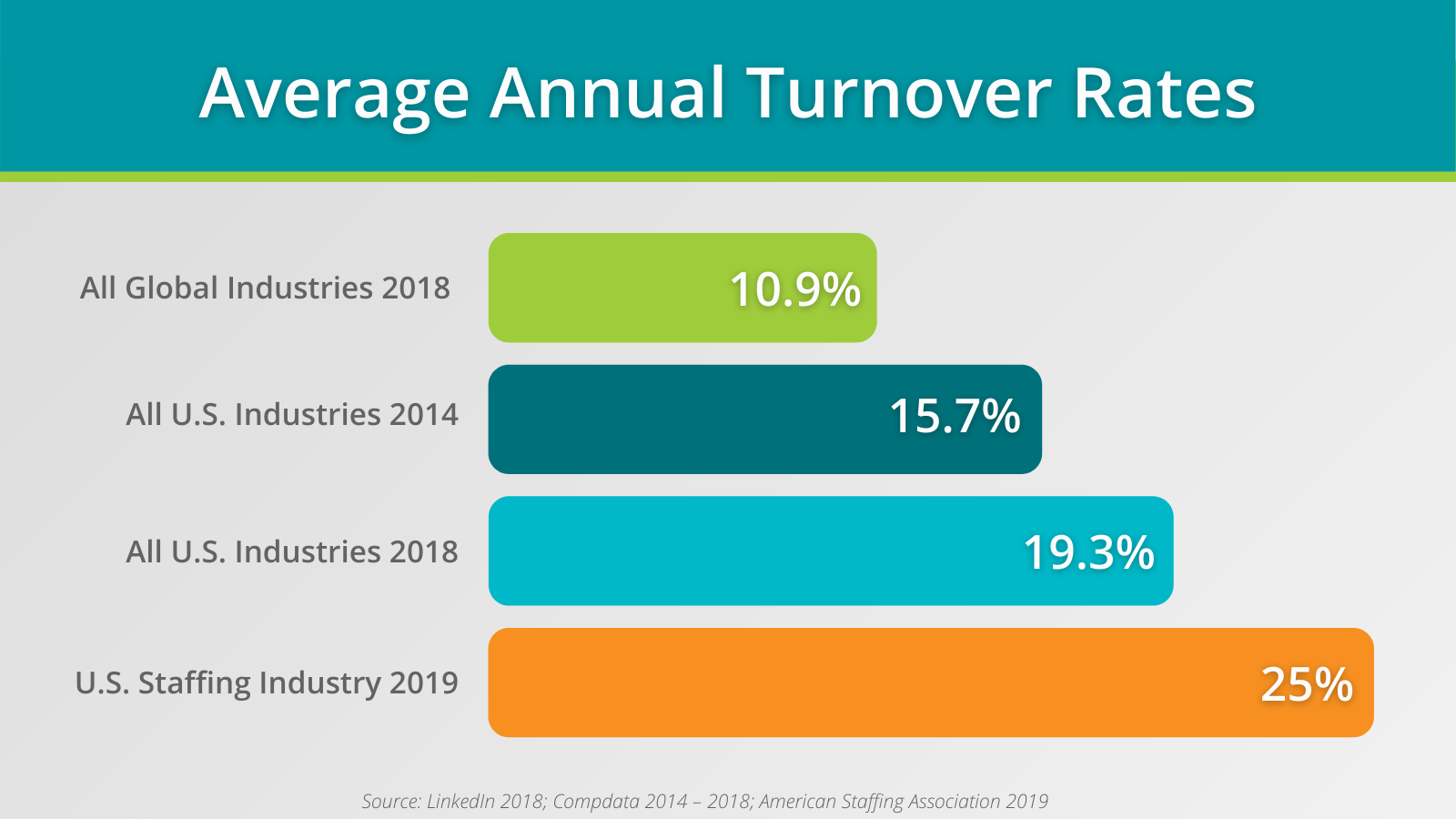 That's 1 out of every 4 internal employees who are leaving their staffing firm each year.
Calculating the Real-Dollar Cost of Employee Turnover
When an employee leaves your organization, that disruption impacts the bottom line in a multitude of ways. 
After accounting for the difference in production between a new hire and a fully ramped employee, the cost of onboarding, and lost revenue while that position goes unfilled, the cost to your organization could be in the hundreds of thousands each time an employee leaves your firm—not to mention the loss of institutional knowledge, client relationships, and other qualitative factors. 
In fact, for a position that contributes $75,000 of revenue to their employer's top-line on a monthly basis, total lost revenue from a single turnover event can be estimated at $241,250.
Learn more about how we calculated that number here.
Considering the impact of that figure in the context of 25% of your internal workforce is daunting.
Our Industry Research Offers Five Clues to Reducing Turnover
By soliciting feedback from hundreds of staffing professionals every year, we've learned what truly matters when it comes to developing an engaged workforce at all levels of your organization. 
Below are some key takeaways from our 2020 State of the Staffing Professional Study, fielded in collaboration with CareerBuilder and the American Staffing Association:
Your NPS score can help you identify your firm's risk of turnover.
Our research indicates that employee NPS is highly correlated with a commitment to their firm.
Detractors are at greater risk for turnover: only 12% report being committed to their firms, while 29% of Detractors are actively looking to leave.
On the other hand, Promoters are much more likely to be engaged employees: only 27% indicated openness to other opportunities. No Promoters were actively pursuing other options.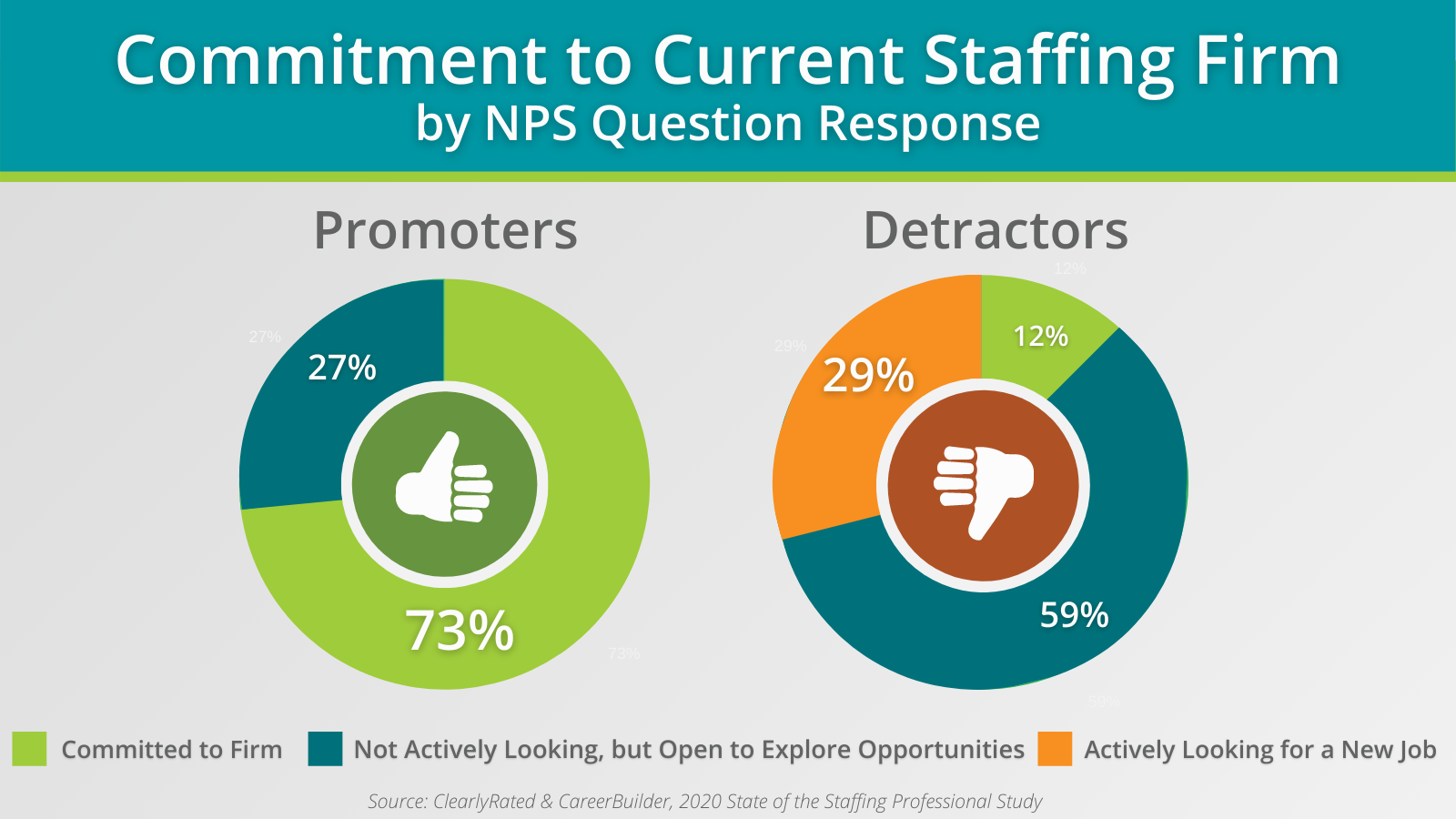 An attractive internal culture helps firms attract and retain employees.
A firm's culture matters to prospective and current employees more than anything else. 
Culture was the top reason employees were attracted to their firm and the top reason they've stayed;  this reason was more compelling than compensation, job security, management, and benefits.
Culture alone cannot overcome insufficient compensation in motivating employees to stay. 
Poor compensation growth, lack of opportunities for advancement, and overwork are all strong contributors to employee dissatisfaction—and good culture alone cannot compensate. 
But concerns about poor culture are still a contributing factor to employee dissatisfaction, and we found them to be more impactful than concerns about schedule flexibility, managerial conflict, access to benefits, and job security.
Employee satisfaction impacts the industry's ability to retain experienced talent. 
The majority of staffing professionals who are open to new employment opportunities wish to leave the industry altogether. And it's not just field employees—this trend is true for both recruiters and leadership. 
As a result, industry-wide diffusion of the talent pool due to employee dissatisfaction has the potential to impact your ability to find tenured talent at all levels of your organization.
Focusing on the needs and perceptions of your diverse workforce could have an outsized impact on turnover.

While industry averages are compelling, they sometimes mask nuanced differences in perception and satisfaction among demographic subgroups within your organization.
Our preliminary DEI findings indicate a significant response variation across demographic subgroups. Many of these differences are directly related to the risk of turnover.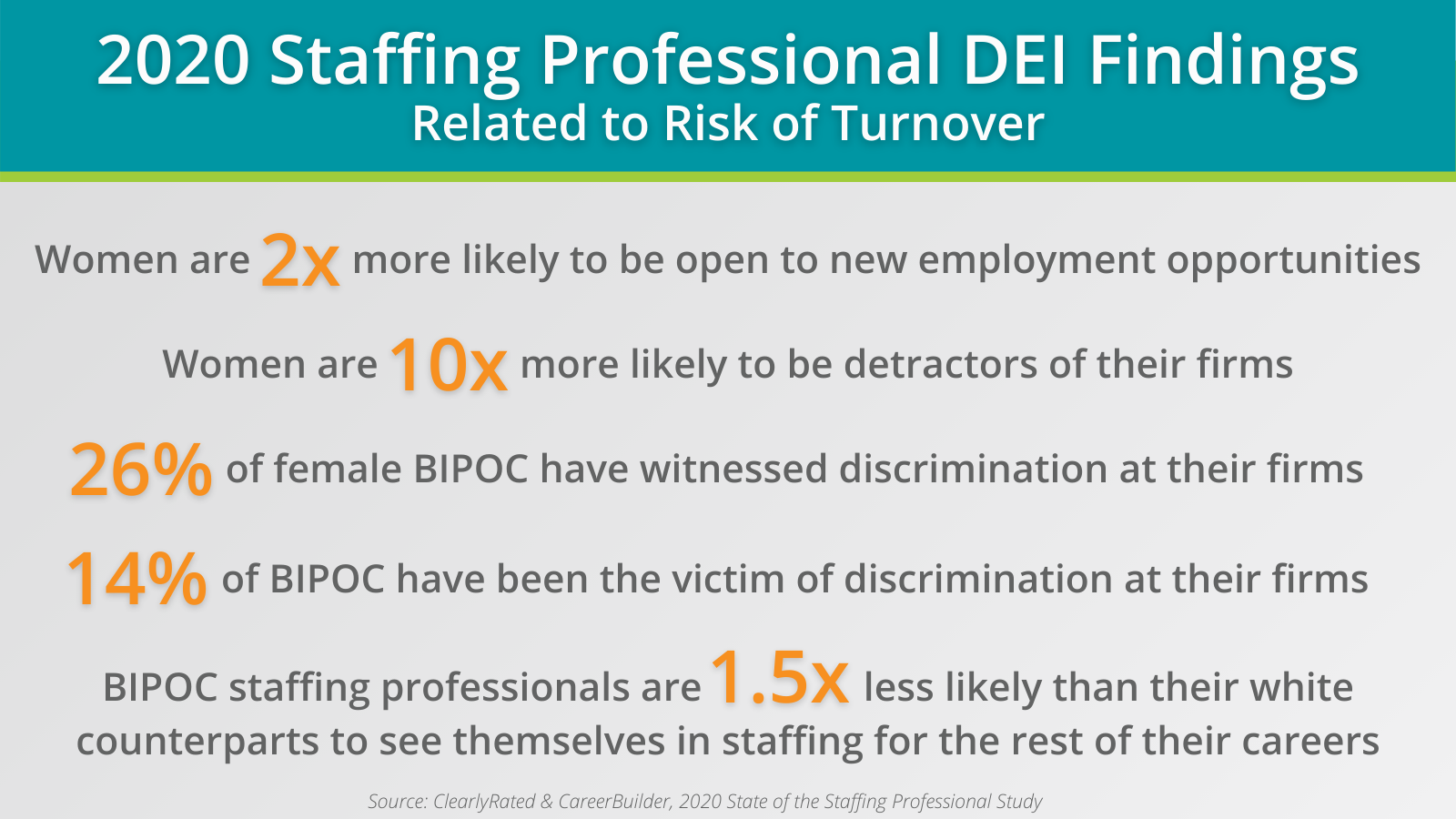 By focusing on the needs, experiences, perceptions, and challenges of all demographic subgroups within your organization, you're not just improving DEI metrics—you have the potential to improve employee retention at your firm and the lived experience of each member of your workforce.
Identify the Risk of Turnover at your Firm With One Simple Question
By soliciting one single metric from your workforce—NPS—you can understand the risk of turnover at your organization. But while NPS is a great place to start your inquiry, it doesn't have to end there. 
When you add a complement of questions designed to draw out specific perceptions and sentiment from your staff, you're not only learning how many employees are likely to feel disengaged, you're learning why they feel that way to begin with. 
That knowledge is crucial for identifying and taking action on the source of that disengagement, allowing you to understand exactly what you need to do to change it.
A Ready-Made Solution Based on 12 Years of Industry Research
We've learned that survey programs yield the most impactful results when you follow the 80/20 rule: spend 20% of your effort designing and implementing the survey, and 80% of your time responding to what you've learned.
Our internal employee survey has been designed to help you follow that best practice, freeing up your internal resources to respond to what you learn. We've used our industry research to identify and craft 20 simple questions that will get your firm the most meaningful results for the least amount of effort.
What you learn can allow you to create an operational road map for your organization, helping you measure trends, improve employee satisfaction, reduce turnover, and avoid costly disruptions to your bottom line.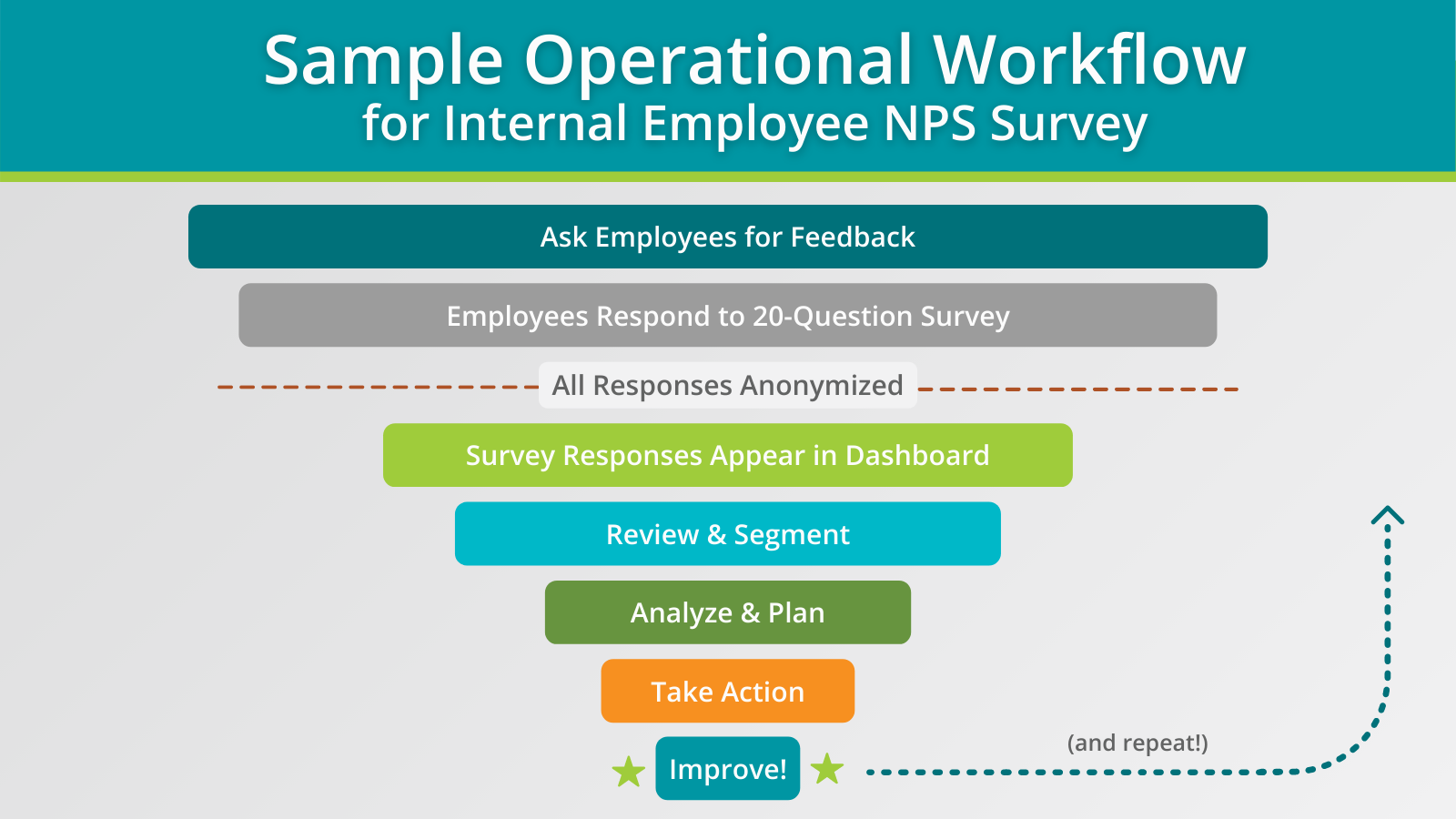 Plus, surveying your internal employees with ClearlyRated in 2020 allows you to be considered for the inaugural Best of Staffing in Employee Satisfaction, helping you convincingly communicate your commitment to the internal culture at your organization—one of the factors that prospective and existing employees care about the most.
The Bottom Line
Whether you use a simple internal questionnaire or invest in a full-service survey program like the internal employee survey at ClearlyRated, our research shows that asking your employees for feedback is critical to understanding your risk of turnover, improving employee satisfaction, and avoiding the high real-dollar cost of industry-standard turnover rates. 
---
If you'd like to learn more about ClearlyRated and the survey programs we offer: explore our staffing industry research, our internal employee survey, or our Best of Staffing award program.
If you'd like to invest in measuring and growing client and talent satisfaction at your firm—with the additional option to prove your commitment to your workforce with compelling third-party proof of excellence in the form of the Best of Staffing Employee Satisfaction Award—get in touch.
Subscribe to the Staffing Blog
Subscribe for trends, tips, and insights delivered straight to your inbox.