Running a Successful Legal Staffing Firm: Insights from Michael Reichwald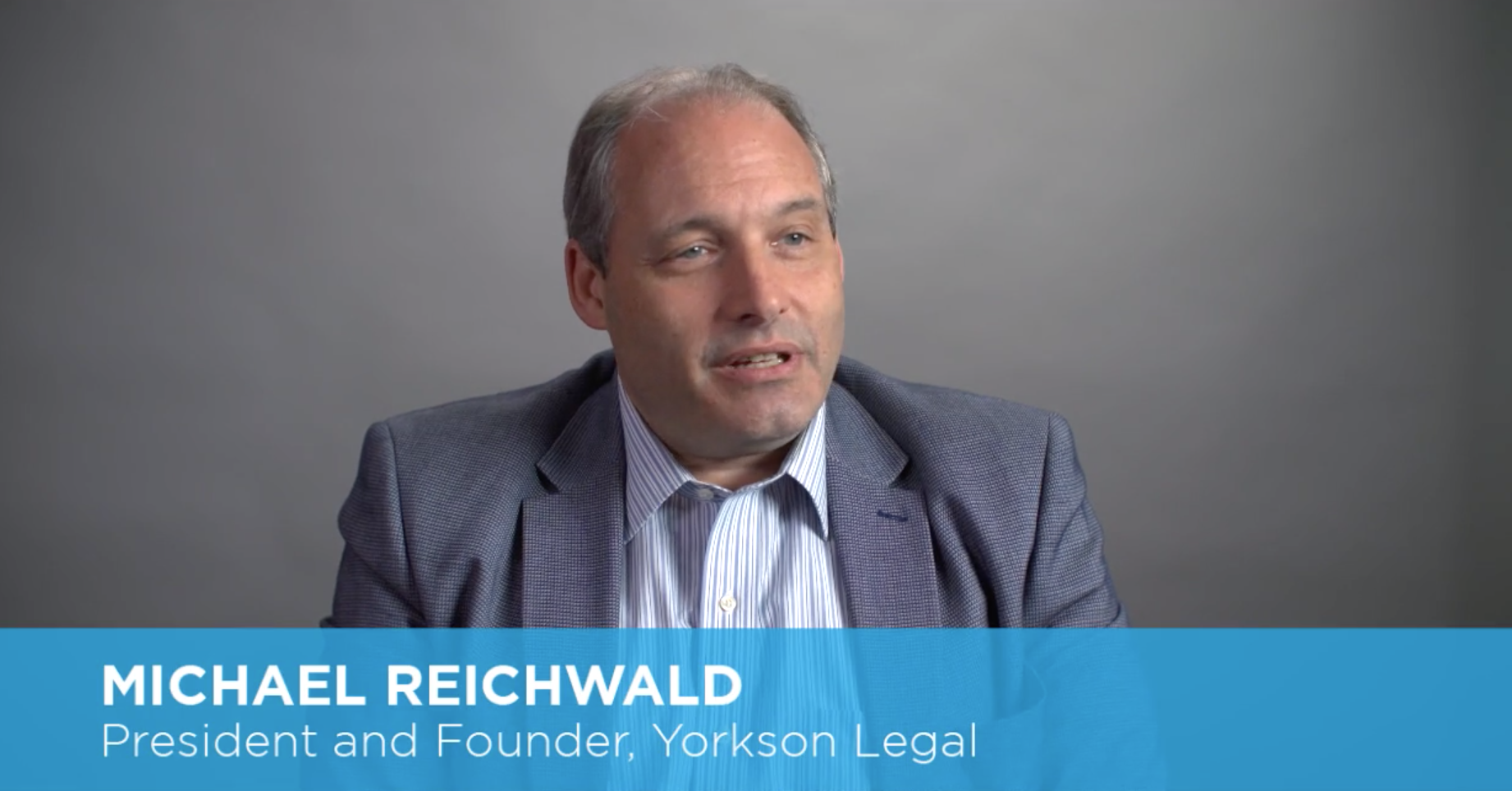 How can you run a successful legal staffing firm? What are some of the unique obstacles and opportunities firms have when it comes to placing legal professionals? I recently spoke with Michael Reichwald, President and Founder at Yorkson Legal, about these topics and more as part of our Staffing Speaks Out conversation series. In part one of this three-part interview, Michael shared his thoughts on the current landscape for legal staffing firms and the importance of building a winning culture. Read on or watch the interview below.
Running a Legal Staffing Firm: An Interview with Michael Reichwald
Katie Tierney [KT]: Tell me a little about your company and what you do in the staffing industry.
Michael Reichwald [MR]: Yorkson Legal was founded in 2003. We specialize only in legal. We place attorneys, paralegals, legal professionals, and other support positions on a contract basis.
KT: What are some of the particular challenges in legal staffing that may not be apparent in other staffing business models?
MR: Finding the best talent is a real challenge in legal staffing right now. Some of the best attorneys are employed full-time. But for at least the last 10 years, and maybe even from the beginning of Yorkson Legal, the fact is that there's a lot of great talent that isn't employed full-time. We're able to find talent that isn't employed and get that talent into offices and into jobs.
But evaluating that talent can be hard. We need lawyers to be able to speak with them and talk with them and interview them. We do a lot of higher-end substantive work, rather than lower-end legal work.
KT:  How do you go about developing your company culture? How do you build a winning team?
MR: Culture is probably the most important thing. We hire people who we feel will fit with the personalities of other people at the firm. It's very, very important. There are a lot of lawyers that want to become recruiters. There are a lot of people who are interested in the legal industry. And they're very often attracted not to practicing law, but working at a Yorkson Legal, working around law.
It's important for us to have a culture that makes people enjoy coming into the office. It's important that they enjoy working, getting jobs for people, and placing candidates. We have at least one to two meetings a week and at least one or two lunches a month. For a small firm of 12 people, we work very hard to keep that culture a big part of our environment.
Watch more interviews with staffing leaders at Staffing Speaks Out!
KT: What types of roles are you finding hardest to fill right now?
MR: It depends on the practice area for us in law. If there's a lot of hiring going on in real estate, we may have a hard time with real estate paralegals because they're in great demand. In fact, quite often, it's harder to fill a paralegal role than an attorney role. Right now there are more good attorneys available than there are good paralegals. Many of them are swept up and it's hard to find a very good paralegal in certain practice areas.
KT: Is there a particular placement that stands out to you that's pretty memorable?
MR: We've been asked by a client to place six Mandarin-fluent attorneys with PhDs in the biosciences. That was a particularly hard one and they came to us because it was hard. They were not a regular client at the time and we managed to fill it. 
We were able to fill it because we tend to look at the resumes of a candidate's background. In this case, many of the attorneys we ended up placing for the assignment had been practicing law, but not necessarily in the sciences. But if you look at their backgrounds, you find they may have had a PhD or Master's Degree in the sciences. That's something we track in Bullhorn, so we were able to easily find those candidates. It took maybe a week. And they stayed on billing for several months, which is a long time. I was particularly proud of that.
Another memorable placement was for a big case between a large Japanese company and a Korean company. The two law firms called us up, they needed 11 Korean-fluent attorneys on one end and 11 on the other side. Because we're not a law firm, we were able to provide candidates on both sides of the case. We provided 22 attorneys for this case. We checked conflicts, which is important in law. Everything worked out and it was a fantastic project. We're very proud of that one.
Whatever industry you work in, engaging clients, candidates, and your staff is critical to running a successful staffing firm. Next week, I chat with Michael about some of the general challenges and opportunities facing staffing firms, as well as some tips for starting your own staffing firm. 
---
Would you like to learn from staffing experts, leaders, and innovators? Staffing Speaks Out is a hub devoted to conversations with the best and brightest in the staffing and recruitment industry.
Subscribe to the Staffing Blog
Subscribe for trends, tips, and insights delivered straight to your inbox.