Uplevel your credentialing: Insights from from industry experts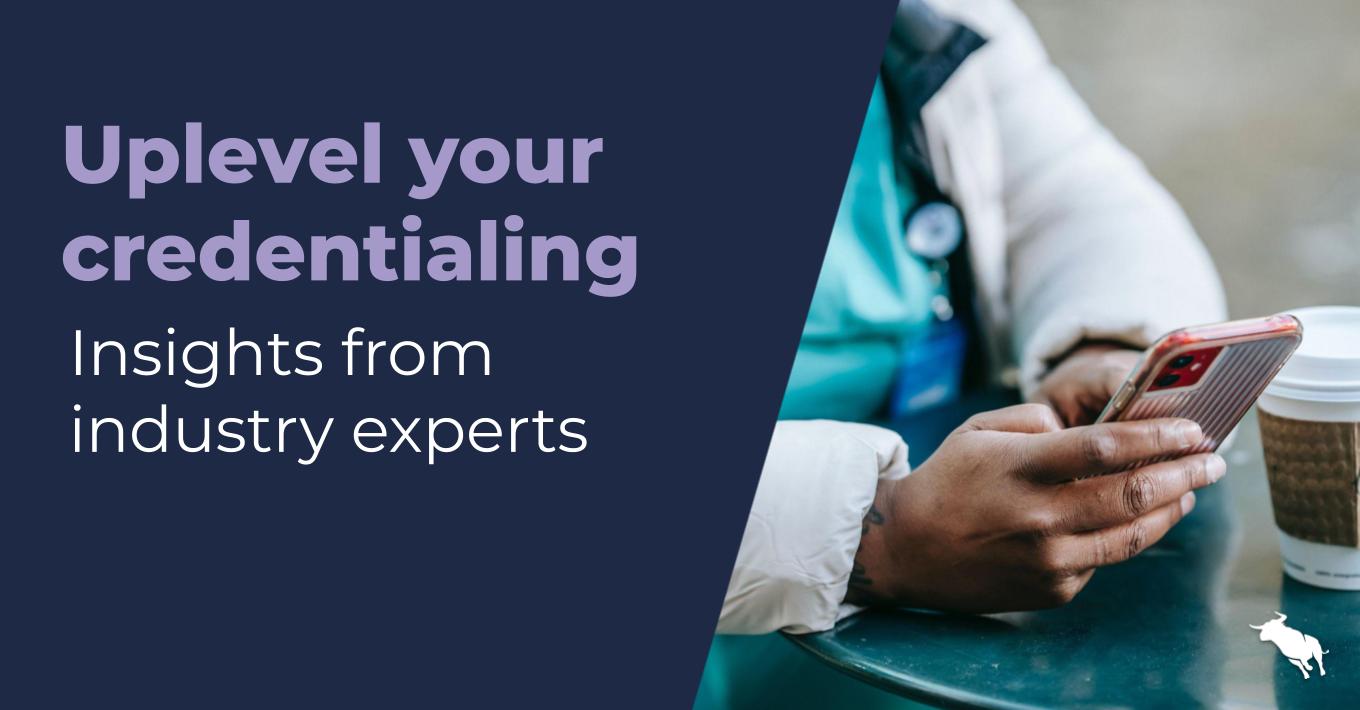 In healthcare staffing, every minute counts, so having a seamless and efficient credentialing process can make all the difference. In a survey of over 240 healthcare staffing firms, over one-third of respondents reported that the credentialing process is too time-consuming, and many also said they lacked the technology for efficient operations when collecting and maintaining credentials. Firms that elevate their credentialing process have an opportunity to provide a candidate and provider experience that stands above the rest.
To shed light on how they upleveled their credentialing process, we sat down with industry experts Latisha Turner, Director at RN Network, and Cecilia Merrill, Director of Operations at CrossMed Healthcare. Check out a recording of their conversation or read our recap for their insights on boosting efficiency, driving compliance, and supercharging your credentialing process.
Centralizing credentialing for efficiency
Healthcare staffing has come a long way from managing credentials through faxed documents and emails. The advent of Compliance Manager has centralized the entire process, providing credential specialists with a unified platform. Having all information in one spot simplifies tasks and allows Merrill's and Turner's teams to focus on critical aspects of the credentialing process.
Enhancing provider experience
Healthcare is 24/7. Why not provide a self-service credentialing solution that meets providers where they are, any time of day? Bullhorn's Compliance Manager acts as a one-stop shop for providers, allowing them to upload documents, certifications, and even images directly. "From a provider standpoint, it offers a better experience because they have 24/7 access," Turner said. This user-focused approach saves providers valuable time and ensures that they remain compliant with ease.
Automating expiration reminders
Ensure your providers' credentials never expire again. Both RN Network and CrossMed are gearing up to automate expiration reminders, a feature that ensures timely renewals. By sending automated alerts 30, 60, or 90 days before expiration dates, staffing agencies can proactively manage credentials, reducing the risk of last-minute cancellations and ensuring seamless placements.
Exceeding your clients' expectations
Streamlining the credentialing process has a direct correlation with improving client relationships. With Compliance Manager, agencies can offer clients a reliable and efficient service. The ability to deliver compliant professionals promptly has led to improved client satisfaction scores. 
CrossMed, for instance, saw a significant rise in its clearance rate from 79% to 91% since adopting their new credentialing system. "We've cleared a lot more people on time by using credentialing in Bullhorn," Merrill said. "We're able to get our travelers to the clients a lot quicker."
Implementing one step at a time
When it comes to adopting new credentialing processes, both Turner and Merrill advised firms to be open to change – and to start small. Implementing incremental changes allows teams to adapt gradually, ensuring a smoother transition. Merrill also highlighted the significance of integrating vendors into Bullhorn, enabling teams to work within a single unified ecosystem.
Upleveling your credentialing process isn't about adopting the latest technology; it's about transforming your approach to compliance and client satisfaction. By centralizing, automating, and focusing on user experience, staffing agencies can not only meet industry standards but also exceed client expectations.  Embracing innovative solutions like Compliance Manager paves the way for a future where credentialing is more than a requirement – it's a strategic advantage.
Subscribe to the Staffing Blog
Subscribe for trends, tips, and insights delivered straight to your inbox.