Where Have All the Candidates Gone?
The talent shortage is widely recognized as the biggest challenge in recruitment right now. A combination of high job vacancies and low levels of candidates has caused a massive headache for recruiters up and down the country.
A study by Appcast found that in 2021, the average Cost Per Application (CPA) rose by 43%, and the average Cost Per Click (CPC) rose by 54%. 
This article will look at what's driven the talent shortage and explore what techniques recruiters can use to stay ahead of their competition and attract the best talent.
Increased Job Vacancies
The number of vacancies in the U.S. has increased rapidly as businesses look to grow following the height of the COVID-19 pandemic. There are approximately four million more vacancies in the U.S. than before the pandemic (Jan-22 v Jan-20).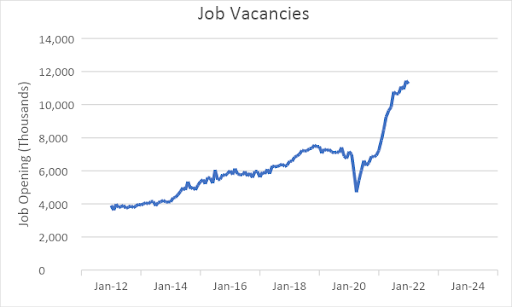 U.S. Job Vacancies Jan 2012 to Jan 2022 – U.S. Bureau of Labour Statistics
Fewer Jobseekers
Conversely to the job volume increase, the unemployment rate has dropped, resulting in fewer candidates taking those new jobs. As of February 2022, unemployment is at 3.8%, and some analysts predict it could fall below 3% by the end of 2022.
Whilst many job applicants will already be employed, the unemployment rate is a key indicator as this represents the available candidates to fill the surplus of roles.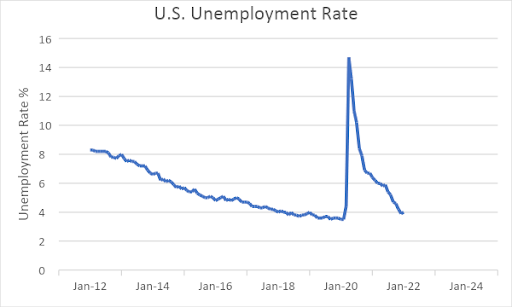 U.S. Unemployment Rate Jan 2012 to Jan 2022 – U.S. Bureau of Labour Statistics
With fewer people actively looking for a new role, recruiters must employ different techniques to tap into passive candidates (or admit defeat to growing CPAs & CPCs).
How to Find Talent
Source Candidates
Use an online resume database such as Resume-Library to search through millions of resumes. Use tools such as 'Invite to Apply' to contact candidates on mass and encourage them to apply to your roles. 
Top tip: look for candidates who registered two to four years ago and target these candidates to see if they are ready for a change.
Thought Leadership
Engage with passive candidates by being seen in forums and promoting thought leadership articles on social media platforms such as LinkedIn and Facebook.

Top tip: Identify groups that contain the candidates you're targeting and share content that will be interesting to them. Don't just post links to job adverts! Find a way to engage your audience and then subtly incorporate job vacancies.
Brand Sponsoring
Showcase your brand and your 'work for us' messaging in sponsored posts on social platforms that your target audience uses. Think the likes of TikTok, Instagram, Facebook, LinkedIn, Twitter, and YouTube.
Top tip: Use targeting to make sure your sponsored posts appear to your key market. Targeting capabilities differ by platform, but filters commonly include location, demographics, or interests.
Re-engage Your Internal Talent Pool
Reach out to candidates in your talent pool to see if they are ready for a change and interested in new opportunities. Ensure you're adhering to any relevant legislation around data retention (CCPA, GDPR). Use your CRM/ATS to re-engage candidates.

Top tip: Keep in mind that the job someone was doing when you spoke to them last is unlikely to represent what they currently do now, as they are likely to have progressed their career. The Marketing Consultant you placed seven years ago might be a great fit for a Head of Marketing you are currently trying to place!
---
Bullhorn seamlessly integrates with online candidate databases (including Resume-Library.com), so you can import candidates straight into your talent pool with 1-click. Bullhorn users can Meet The Moment with 14 days of free access to Resume-Library, including 50 free resume downloads.
Subscribe to the Staffing Blog
Subscribe for trends, tips, and insights delivered straight to your inbox.