9 Simple Staffing Tips that Can Lead to Agency Success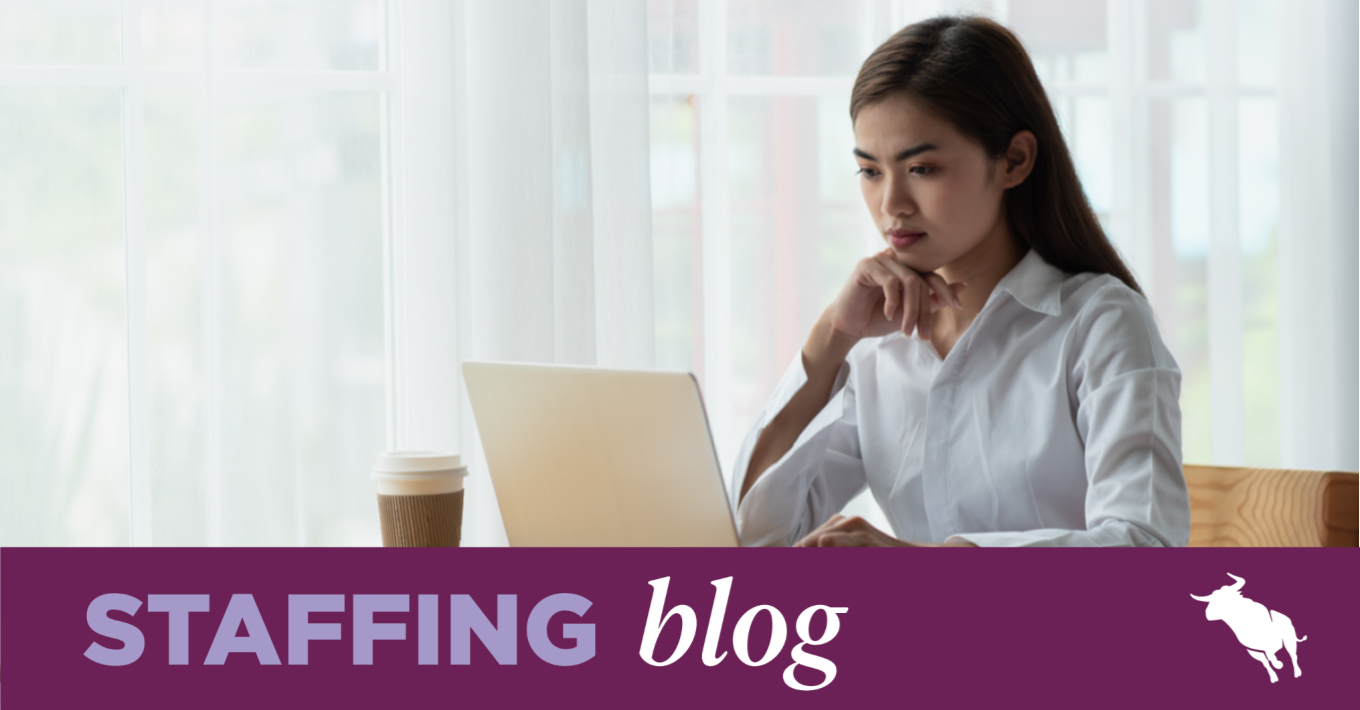 Between sourcing and placing candidates, juggling the needs of clients, and generating revenue in an increasingly competitive ecosystem, the world of recruitment is a complicated one. But as complex as the staffing industry is, you don't need to follow convoluted staffing tips to get ahead. After all, the best solutions are most often the simplest ones. With just a few easy tweaks, you can deliver an incredible experience to all your stakeholders, empower your team to perform at its most efficient, and ultimately find success for your staffing agency.
1. Get specific
Start your recruitment journey off on the right foot. In our survey of more than 2,000 perm, freelance, and temp workers in North America and the UK, held in conjunction with our research site, GRID (Global Recruitment Insights & Data), we found that the main factors behind a poor experience with recruiters were improper expectation-setting or a company and/or role mismatch. Knowing exactly what role you're seeking to fill – and communicating the specifics to your candidate – can help you proactively close the expectation gap and help you find just the right crop for the job.
Before you begin to look for candidates, ask your client for clarification on the position (or positions!) you're recruiting for. What does the day-to-day look like for this role? What skills and qualifications is your client looking for? What is your client's budget and timetable? The feedback candidates look for from their recruitment agency varies widely, but narrowing at least a few of these specifics down from the start can save you valuable time and effort.
2. Diversify your sourcing
In a talent-short market, sourcing is more important now than ever before. Of the top recruitment lifestyle hurdles, 4,000+ global recruitment industry professionals surveyed in this year's GRID report listed sourcing as their most difficult challenge. It's time to diversify your sourcing and use other avenues for expanding your talent pool.
We recently asked over 1,400 staffing professionals worldwide to rank the most effective sources for identifying qualified candidates. The top choice for finding new candidates was, unsurprisingly, social media. LinkedIn is any good recruiter's bread and butter, but other social media networks may prove just as valuable. It's worth exploring the best practices for finding and reaching out to other candidates on all major social media networks. Even if a conversation with a prospective candidate doesn't fill that role straight away, you're still expanding your network, learning more, and engaging with your community on the road to finding that perfect fit.
But sourcing doesn't begin and end with social media. You never know which path will lead you to the right candidate, from job fairs to career site listings, direct calls and emails, to networking and referrals.
3. Engage with your candidates
Once you place your candidate, your job isn't over. It's crucial to continue to foster a relationship with your contractors throughout their placement. According to our GRID Talent Survey, talent – whether they're perm, temp, or freelance – still highly value human interaction while working with a staffing firm. 
Even a quick email or text goes a long way. Checking in with your contractors mid-placement makes sure they feel valued and helps you stay abreast of any potential issues before they arise. And if it's been a while since their last placement, it's always helpful to reach out and rebuild that connection.
4. Ask for feedback
When it comes to engaging with your candidates, one of the most effective ways to connect with them is to ask for feedback. Not only does feedback help you stay engaged and strengthen your relationships, but it also helps find areas for you and recruiters to improve and grow. Even a simple NPS survey is enough information to get started.
Plus, feedback isn't just for candidates and contractors. Reach out to your clients to gauge how you're serving them.
5. Re-Deploy
60% of contractors are not deployed into their next role by the same agency. You've spent valuable energy, effort, and cost on recruiting your candidates – why put it to waste placing them in only one role? You already have their details, qualifications, and skills and know what roles out there might be a good fit. Instead of expanding your network and acquiring new candidates, look to your own database for your next candidate. After all, sometimes the question isn't "How do we find more candidates?" but rather "How do we better utilize the candidates we already know?"
6. Know where to grow
In a highly competitive market like ours, you need to be able to measure your efforts. Having reporting and metrics at your fingertips is key to seeing where your agency is succeeding and where it has room to grow.
Key statistics to track are those that keep an eye on productivity and important figures like job fill rate. In a candidate-short market, it's also essential to look at candidate placement rates to ensure you're making the most of your job pool.
In addition to having metrics that report on how you've done, it's worth investigating implementing predictive analytics. Predictive analytics show you both where you've been and where you're going. Actionable insights, which provide tailored tasks for your recruiters based on real-time data and reports, give your team a target to aim for, so they know precisely how to close any gaps to achieve their goals – and keep your agency on a path to highly scalable growth. 
7. Digitize your database
Of course, you can't have accurate analytics without accurate data. Gone is the time of spreadsheets and sticky notes; it's time to digitize your database. Industry-wide adoption of digital transformation strategies increased by 95% from last year. 
Using a digital solution like an applicant tracking system (ATS) captures activity from (and information about) your candidates and organizes it, automatically collecting data that would otherwise require your employees to log manually. Digitizing your database into a single source of truth, with updates in real-time and features to help you find the perfect candidate in just a few clicks, can help your recruiters work more quickly and efficiently.
Going digital isn't limited to candidate data, either. You and your team can input client data into a customer relationship management software, or CRM, to have the most accurate, up-to-date information on your clients and their needs.
After all, you're only as good as your data. 
8. Automate your processes
Once you're digitized, you're ready to take the next step: automation.
Nearly every part of the recruitment journey – even those that staffing professionals report are most challenging – can be automated, from candidate sourcing to interview scheduling to background checks. Automation isn't here to replace the essential work of recruiters but rather to help them do their jobs the best they can. With automation working in the background to, for example, respond automatically to job applications, update your data fields, or even remind you when to reach out to candidates, you and your team can focus on building talent relationships.
On average, recruitment automation saves 12.75 hours per person per week. The numbers don't lie; with automation, you can empower your team to make better placements faster.
9. Empower your candidates
For those that have already digitized and automated, the time is ripe to put that tech to use and empower your candidates.
In our GRID Talent Survey, nearly half of candidates reported that they apply for jobs primarily through their phone. More than half cited the ability to apply on their phone as an essential offering when applying for jobs online.
For an increasingly on-the-go workforce, the ability for candidates to take the reins of their staffing journey with a self-service, mobile experience is essential. Creating a streamlined user experience with an intuitive, mobile-friendly interface enables your candidates to suit their search to their own needs. Empower your candidates with their own tailored recruitment experience and put their future in their own hands.
It's a new world out there, full of endless challenges and bumps in the road. Taking advantage of even just a few of these staffing tips can help you and your agency go a long way towards finding success.
---
Make sure you're subscribed to our staffing blog for more staffing tips, trends, and insights.
Subscribe to the Staffing Blog
Subscribe for trends, tips, and insights delivered straight to your inbox.