What is an AI recruiting tool?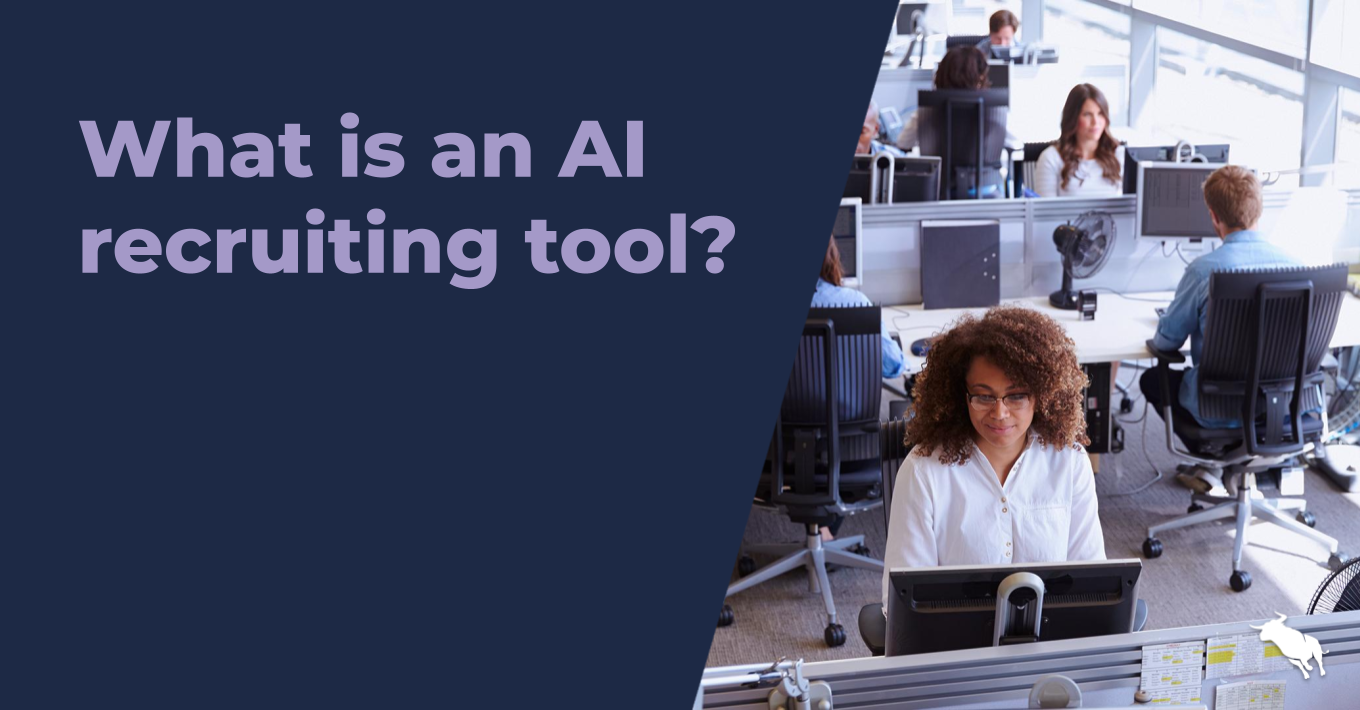 In today's ever-changing staffing landscape, where talent acquisition is both an art and a science, the role of technology has become increasingly pivotal. Enter the AI recruiting tool, the latest innovation that could change the game in the staffing industry.
AI recruiting tools can help streamline and optimize the recruitment process. These tools augment other recruitment automation processes and leverage intelligent algorithms to help recruiters make data-driven decisions. By analyzing datasets, including candidate profiles, AI recruiting platforms help identify suitable applicants, making the initial selection process quicker and more efficient. Artificial intelligence technology brings a new level of efficiency to the recruitment industry, allowing staffing professionals to focus their efforts on more strategic parts of the recruitment process.
AI recruiting tools, paired with automation, have redefined how organizations identify, engage with, and hire top talent. Read on for a deep dive into how AI recruiting tools impact the recruitment process and how staffing and talent acquisition teams can incorporate artificial intelligence throughout the talent pipeline.
Benefits of an AI recruiting tool
AI recruiting tools significantly increase efficiency by reducing manual labor required for time-intensive tasks, such as candidate sourcing and screening. They can fit seamlessly into your recruitment tech stack alongside your applicant tracking system (ATS) or candidate relationship management system (CRM) to create a streamlined, integrated platform.
Combining an AI recruiting tool with automation also leads to an improved candidate experience, as applicants receive quicker responses and more personalized communications.
The benefits of AI recruiting tools can be found throughout the talent lifecycle, from helping recruiters connect with potential candidates to improving the candidate screening process. AI tools can reduce costs associated with the hiring process, improve accuracy in candidate selection, and enhance diversity by minimizing unconscious biases. By enabling recruiters and recruitment agencies to make more informed hiring decisions, teams also get more value from their database.
Connecting with potential candidates
Establishing meaningful connections with candidates is the bedrock of a successful recruiting process. AI recruiting platforms play a key role in this by facilitating more efficient and personalized interactions while helping recruiters keep their talent pool full of qualified candidates.
Finding suitable candidates
AI recruiting tools help recruiters and HR managers find suitable candidates for interviews in a sea of applications. With the ability to quickly process large volumes of data, AI tools save valuable time by automating manual tasks like sorting through applications. 
They also pair with recruitment automation to streamline essential steps in the talent lifecycle, like candidate screening, scoring, and appointment scheduling. By quickly moving candidates through the early stages of the talent lifecycle, recruiters can provide better candidate and client experiences and get more value from their recruitment platforms and tech stack.
Identifying qualified candidates
To efficiently identify qualified candidates, AI recruiting software can assist with engagement scoring (helping recruiters understand which candidates to reach out to), zero-click sourcing (creating a list of potential candidates in little to no clicks), and candidate screening (automating initial questions to determine skills and availability).
These recruitment tools reduce time to fill and aid in finding relevant candidates who align with the organization's culture. They save time by automating time-consuming processes, like intelligent messaging, so recruiters can easily send the right communications at the right time.
Evaluating potential employees
Evaluating potential employees is a critical phase in the recruiting process because it's when recruiters start to match candidates to specific roles. Providing clients with a pool of potential employees on time helps recruitment firms stand out from the competition and fill more job postings.
AI recruiting software can help reduce hiring bias by providing objective-based results to enable recruiters to match the ideal candidate to the right role. With the right design and considerations in place, AI tools learn from past behavior models and intelligently conceal information that might lead to biased decision-making, ensuring a fair and inclusive recruiting process.
Improving the candidate screening processes
Streamlining the candidate screening processes is another key strength of AI recruiting tools. Leveraging automation, these tools seamlessly screen candidates, enhance communication through automated text messages or emails, and some even offer on-demand video screening.
Features like these significantly enhance the efficiency of recruiting efforts, saving both time and effort. With an optimized candidate screening process, recruiters can focus more on building candidate and client relationships.
Automation of repetitive tasks
AI recruiting tools are most effective when paired with automation. Automating repetitive tasks helps staffing firms reduce time spent on manual aspects of the recruiting process and instead focus on revenue-generating activities. 
Automating the hiring process
AI recruiting tools can be transformative in automating the hiring process. They streamline tasks like candidate sourcing, application screening, interview scheduling, and communication management. 
Use AI to streamline tasks like summarizing important candidate details, formatting resumes, or building candidate communications. By combining the power of AI with automation, recruiters can increase efficiency and reduce time-to-hire. 
Optimizing communication with candidates
Effective communication with quality candidates is paramount for the overall success of any staffing firm. AI recruiting tools optimize candidate communication by helping recruiters build automated messaging systems and create personalized interactions at scale in just a few clicks.
Using AI recruiting tools and automation to optimize communication with candidates helps recruiting teams improve response times, send targeted messaging, and enhance candidate engagement. A more engaged candidate pool helps staffing firms place more candidates and meet more client requests.
Enhancing candidate engagement and experience
AI recruiting tools, such as chatbots and other automated tools, can send personalized bulk texts or emails. They also can help with candidate engagement scoring, enable zero-click sourcing, and send intelligent messaging.
These features not only enhance the candidate experience but also increase engagement levels; candidates and clients benefit from a speedy hiring process, and recruiters benefit from saved time. AI recruiting solutions also enable screening and communication outside traditional working hours, so staffing firms can meet potential job candidates where they are and continuously build their candidate pool.
Streamlining talent acquisition processes
Talent acquisition is the cornerstone of any successful recruiting process. AI recruiting tools streamline this process by optimizing talent pool creation through sourcing automation and job matching. AI tools also speed up hiring by helping recruiters discover applicants with the right skills and diverse working experiences and automatically matching those candidates to the right open jobs.
By streamlining talent acquisition processes using AI tools, staffing firms can place more candidates, win more clients, and build more lasting relationships without adding headcount.
Data-driven insights and informed decisions
Data-driven insights empower recruiters to make more informed decisions and get more from their valuable candidate and client information. AI recruiting tools use data to provide these insights in real time, optimizing the decision-making process for recruiters.
Leveraging natural language processing (NLP)
Natural language processing (NLP) refers to the ability of a computer to understand human language as it is written or spoken. AI recruiting tools leverage NLP to understand and process a candidate's questions and intentions and help the recruiter respond with dynamic content at the right time. 
This technology also helps fuel personalized communication and automated messaging, enhancing the candidate experience. By utilizing natural language processing, recruiters can tailor job descriptions and the talent acquisition process to each candidate, make better matches, and fill more job orders.
Generating real-time data-driven insights
It's no secret that staffing firms dedicate valuable time and resources to building and maintaining data. It's crucial that firms have strong data hygiene strategies in place so that AI recruiting software and automation platforms can be effective at candidate data analysis to help inform the hiring process.
Using real-time data-driven insights, recruiters can make more informed decisions based on recruitment metrics, including how to spend their time, which candidates would be the right fit, and which clients have the highest ROI.
Click here to learn more about how an AI recruiting tool can accelerate your business with the power of AI.
Subscribe to the Staffing Blog
Subscribe for trends, tips, and insights delivered straight to your inbox.