Engage Day One Recap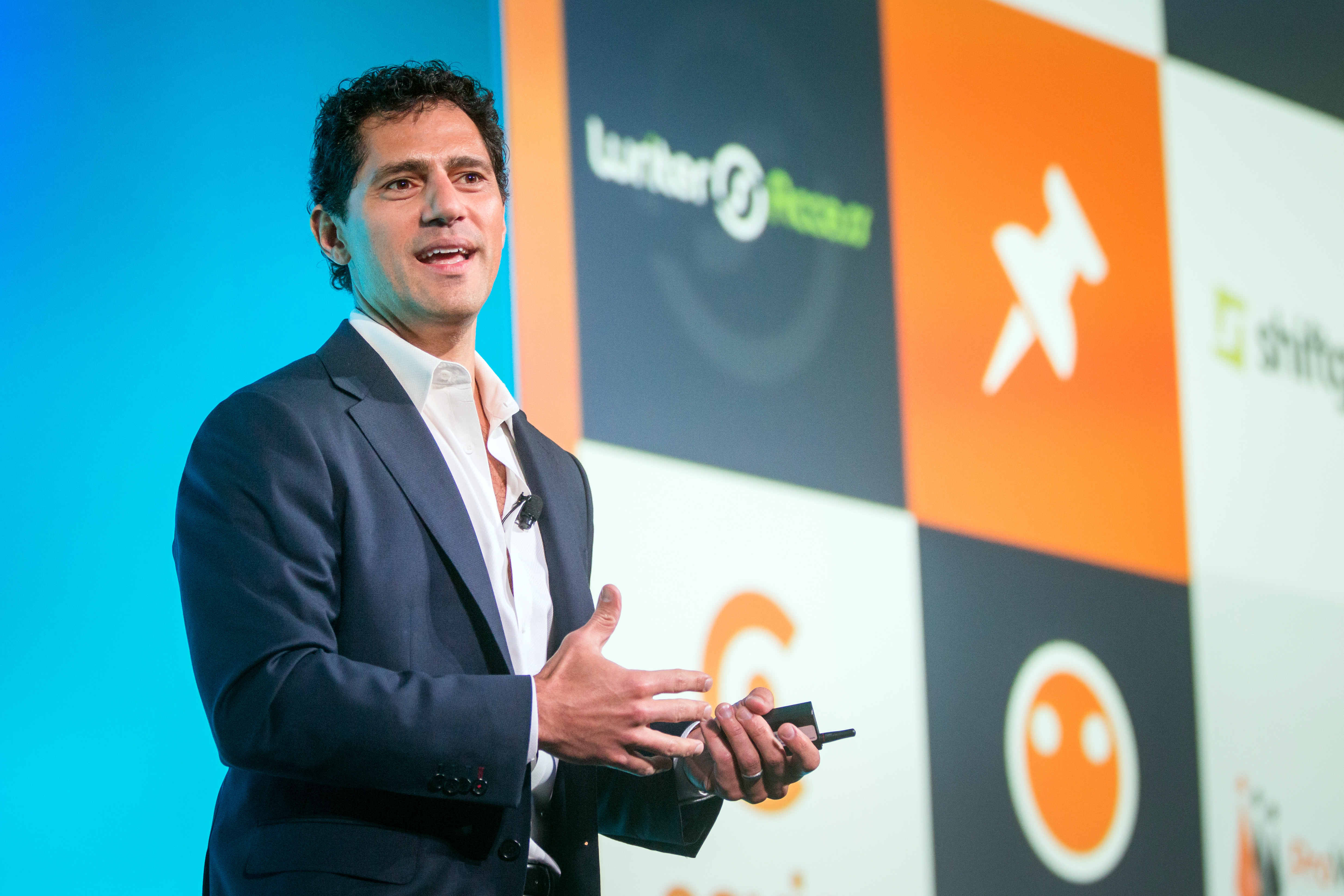 We had a great first full day at Engage 2017! If you missed any of today's keynotes, keep reading for a recap of the big ideas from day one at Engage.
Steven Levitt: The Power of Little Ideas
Steven Levitt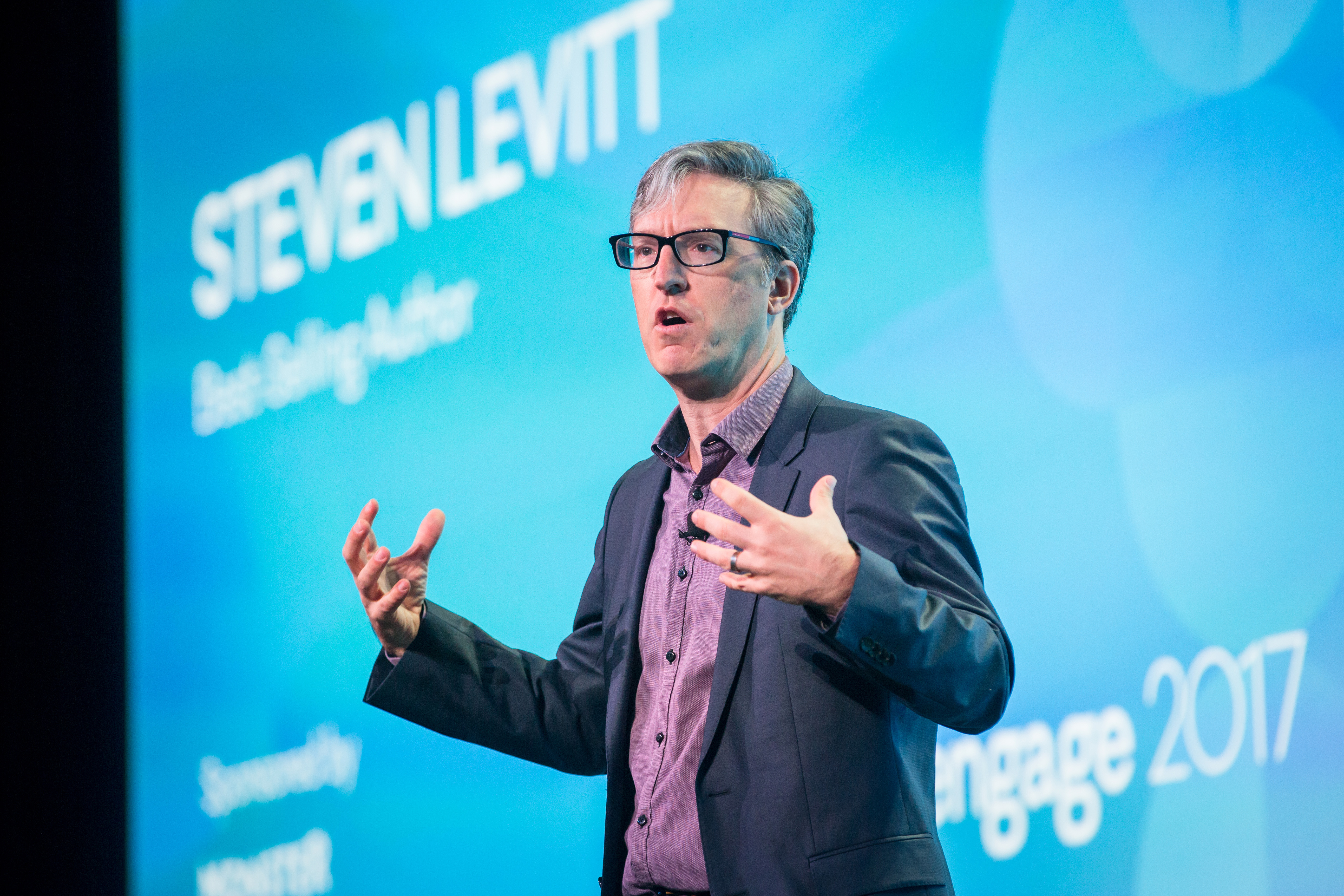 is the author of 4 New York Times bestsellers, including Freakonomics and his latest book, Think Like a Freak. He's an economics professor at the University of Chicago and has built a career on what he calls "little, weird ideas."
He says that most successful firms are based on one or two little ideas, and his lesson for the 1,000 staffing professionals in the room was simple: Dedicate some time every week to exploring new ideas. Don't be afraid to take risks on new ideas. Our fast-changing, competitive world is exactly the kind of environment where good ideas can be powerful.
Try to come up w/1-2 good ideas each year. – @StevenLevitt @Freakonomics #BullhornEngage

— Jeff Asselin (@jeffasselin) June 8, 2017
Levitt told stories from his research to illustrate the impact one little idea can make. He described John Szilagyi, an IRS employee who spent his days poring over tax returns. He started to get angry about all of the ridiculous children's names he saw on 1040 tax forms. One day, a name finally pushed him over the edge: "Fluffy." He had an idea and took it to his boss: Update the forms to ask for each dependent's social security number in addition to their name.
But his managers at the IRS weren't interested — because Levitt says they didn't have incentives to put in the time and effort to make the change. Everyone continued with their work. Then, a few years later, the IRS asked employees to share their best ideas. Szilagyi submitted his social security number idea, and it was chosen and implemented in 1987. That tax year, 7 million "children" vanished overnight. One tenth of American children (as reported on previous years' tax forms) were gone —and the IRS saved an estimated $20 billion over time — all because of one little idea by John Szilagyi.
Never underestimate the power of incentives. #BullhornEngage @Freakonomics #staffing pic.twitter.com/IQIjjA71d5

— Bullhorn (@Bullhorn) June 8, 2017
The IRS story underlines the power of simple ideas, but it also shows what people care about at work. Szilagyi ended up getting a bonus for his idea ($25,000, finally paid to him five years after the idea was implemented). But he didn't care about the money. He wanted his colleagues to celebrate him. He wanted a standing ovation in the lunchroom and his picture on the wall. Szilagyi's story teaches us "the extent to which firms are social organizations. They're not just financial. They're made up of people, relationships, and rewards. Money never buys loyalty; loyalty comes from somewhere different. And loyalty is at the heart of what makes firms work."
As an economist, Levitt is interested in data, and he predicts a big revolution coming to HR in the next few years. "There's no place in business that has better, more powerful data than HR. And yet my experience is that firms are resistant to using that data. There will come a time when firms open up to using their data, and it will be transformational," he says. You might be sitting on a treasure trove of good ideas. His advice: Start paying attention to your data. Look at your recruiting tests and forms, look at predictors of productivity and satisfaction, and find ways to learn from the information you're already gathering. "The data know more than people. Real leaders find ways to ask questions of their data," he says.
"In the modern world, data knows more than leaders. Smart leaders know how to ask questions of the data." @Bullhorn #BullhornEngage

— VOLT (@AllVoltJobs) June 8, 2017
His closing advice to staffing leaders: Try something new. Take risks. And believe in the power of little ideas.
"Taking risks when others won't helps you carve out a place to differentiate. Embrace power of ideas." @StevenLevitt #BullhornEngage

— Leah McKelvey (@LMcKelvey) June 8, 2017
Art Papas, Bullhorn CEO: Three Decisions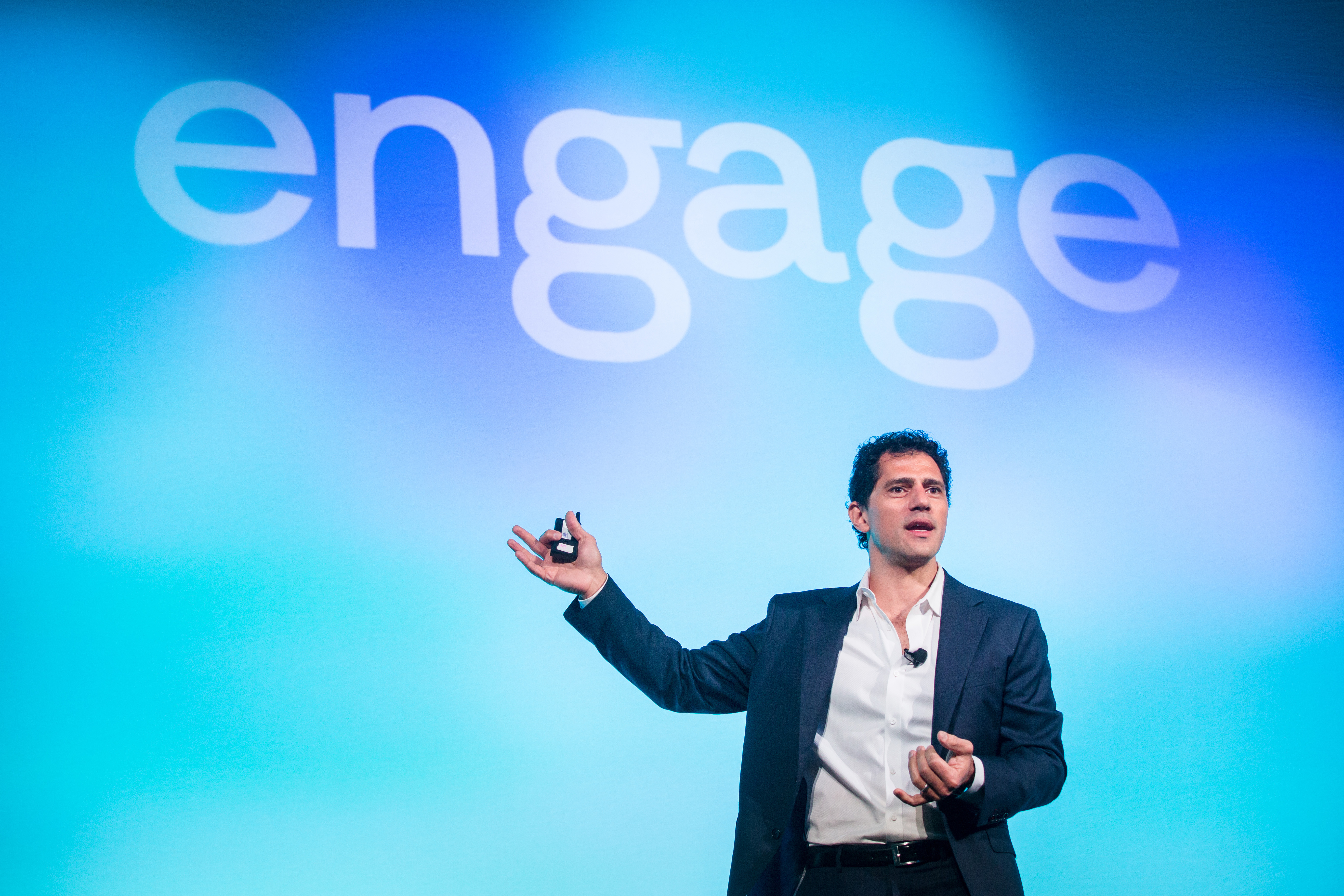 Bullhorn Founder and CEO Art Papas asked the Engage audience to help him understand the state of the marketplace by voting on three crucial decisions facing staffing businesses:
Build or Buy
Friend or Foe
Promote or Replace
Your competition has already thought about these decisions, Papas says. Companies who address these issues now will have an advantage.
Build or Buy
Do you want to build your company organically or grow by acquiring new companies?
In 2016, there were 122 transactions in the staffing industry, with 109 different buyers.
The pace of M&A in staffing is accelerating right now because of private equity and cheap debt. "Private equity loves the staffing industry right now," he says.
If buying companies doesn't sound appealing to you, versus building your own, Papas laid out a scenario to consider. Let's say you have one competitor who drives you crazy (and most of us do). Imagine that competitor merges with another competitor who drives you crazy. You meet with a customer, and tell them "I do IT and accounting." The customer just met with your new, bigger competitor, who does IT and accounting, too — plus a ton of new offerings. They now have an advantage. "There's a real business benefit to putting two organizations together," Papas says. "You can create a combined organization that's ready to disrupt the industry. That's why you're seeing all this M&A activity in staffing."
In the live poll, 69% of Engage attendees said they'd prefer to BUILD their organization. A surprisingly high 31% said they'd prefer to BUY.
Friend or Foe
Next, Papas asked: Are digital staffing platforms (like UpWork and Shiftgig) your friends or foes? Should you be partnering with them? Or should you fight them off, since they're trying to steal your business?
Your answer is important. Online staffing platforms are growing and here to stay. In 2016, businesses spent $1 billion on freelance labor through Upwork alone. Other platforms are popping up to serve specific groups: Catalant competes with traditional management consulting firms, 99 Designs provides flexible graphic design talent, and TaskRabbit delivers workers to assemble Ikea furniture and handle other quick tasks.
Papas doesn't think the platforms are popular just because they're self-service. He thinks customers want to reduce their costs, find more affordable contractors, and eventually find opportunities to downsize their physical office space. But, while people are comfortable hiring people online to do work, Papas doesn't think most clients want to deal with posting an ad, shifting through the responses, and managing any fallout if the project doesn't go as planned. Clients choose these platforms because they have one huge differentiator: price.
If you think of talent platforms as your friend, you can partner with them and project manage the process. You act as the customer's concierge, doing all the selection and managing deliverables — and clients would pay a premium for that help.
Or, if you think of talent platforms as a foe, you go in the other direction. You could decide they're your direct competition, going after your customers, and decide to fight back.
In the live poll, 57% of Engage attendees said they see online talent platforms as a FRIEND. 43% said talent platforms are a FOE.
Promote or Replace
Are you going to promote your staff or replace them with artificial intelligence?
We're all familiar with AI, since most of us know about Amazon's Alexa. Alexa is getting smarter, very fast. A year ago, Alexa had 2,000 skills. But Alexa is acquiring new skills, just like a human does. Its skills have grown exponentially, and now it has 10,000 skills, from telling you the weather to getting you an Uber. "At some point, we're all going to spend part of our days talking to a hockey puck," he says. "It's easier to talk than type."
Natural language processing has progressed to the point that we can talk to our devices and they know what we want. We're going to be talking more to our computers — and it's going to be great. We're going to get more tasks done, with less busywork and more time for building relationships with customers. Bullhorn already has customers using chatbots to quickly screen candidates.
With more menial tasks managed by computers, we'll all be able to promote our staff to higher-level work. Right? Not necessarily, he says. Some companies find their employees aren't good at those higher-level tasks. They're not actually promotable.
Papas sees two routes:
Low cost ("replace"): Use technology to build the most efficient business possible, and lower your prices.
High quality ("promote"): Build an efficient business, but focus on quality. Use your new efficiency to unencumber staff of menial tasks, and push them to build unbelievable relationships and focus on more strategic conversations.
In the live poll, 69% of Engage attendees said they will focus on high quality and PROMOTE their people. 31% said they will drive to a lower price point and REPLACE talent with technology.
It's nearly impossible to take a middle ground on this question and offer both high quality and low price, Papas says. He points to 2016 music sales. Digital streaming spiked, because streaming music is incredibly easy and cheap. Vinyl record sales also, surprisingly, saw a resurgence, because while records and the equipment needed to play them are expensive, the sound quality is unmatched. Hanging out in the middle are CD sales, which declined in 2016. CDs are neither the best quality nor the lowest cost. Papas' message: Be vinyl or streaming. Don't be CDs.
You can't do both well. You either have to go one way or the other. – @artpapas #BullhornEngage pic.twitter.com/CkATaq5yhm

— Nicole Plant (@nicolemplant) June 8, 2017
Every staffing business has to make a clear decision:
Build or buy.
Partner or fight (friend or foe).
Promote or replace.
~1000 staffing pros weigh in: build vs buy your co., online staffing friend vs foe, promote ppl or replace w/AI #BullhornEngage pic.twitter.com/nxc7XR80Cd

— Glen Cathey (@GlenCathey) June 8, 2017
Bullhorn's Vision for Innovation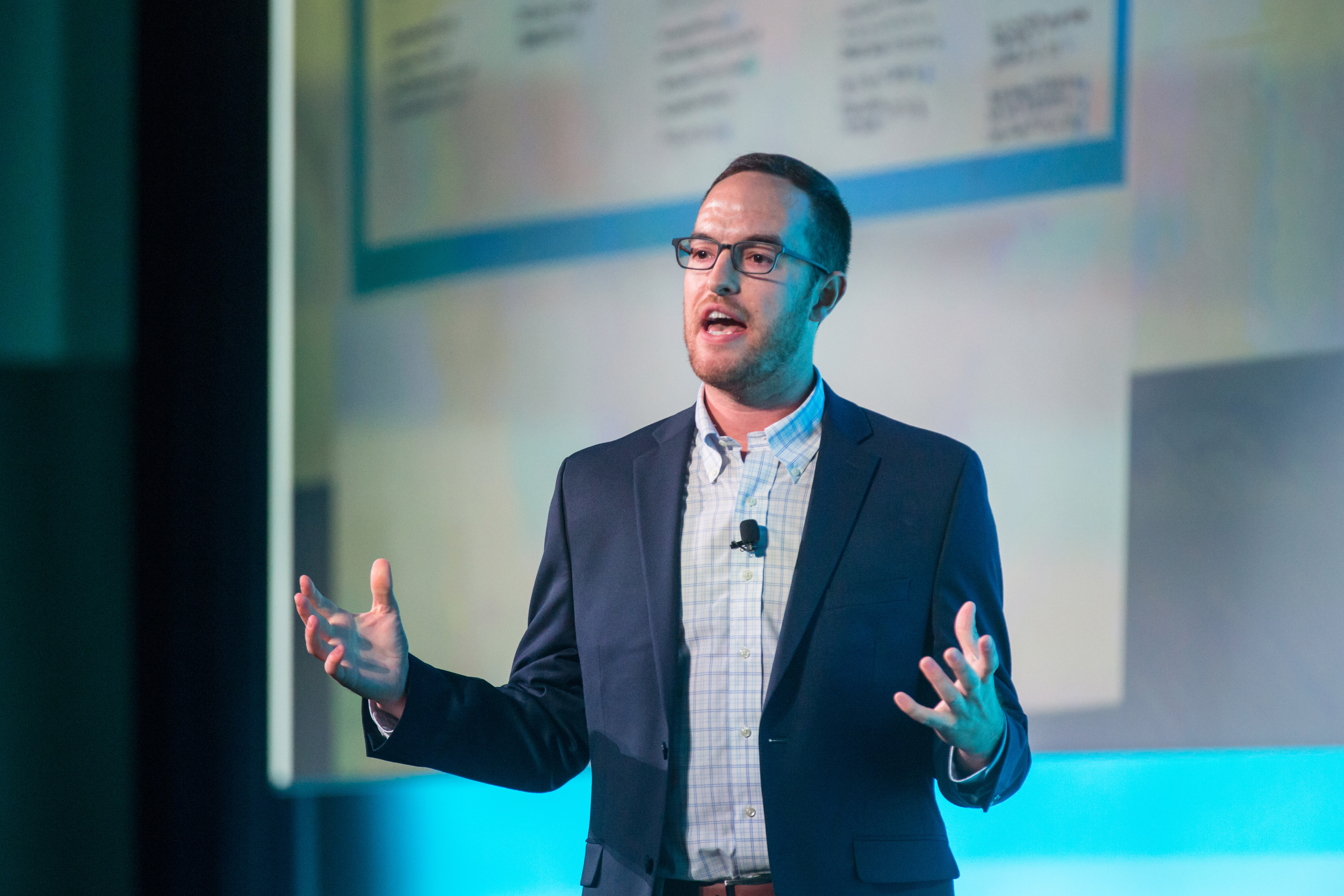 Bullhorn's Matt Fischer (President and CTO) and Bryan Roy (Director of Product Design and User Research) unveiled big Bullhorn product changes to an enthusiastic crowd of Bullhorn users.
Bullhorn is releasing a brand-new UI, called Novo. Here are the Novo product upgrades that got the biggest cheers from the Engage audience:
Bullhorn is now completely globalized, with language parsing in 30 languages.

New multi-tasking functionality means you can leave notes directly on a resume without navigating away from the resume.

A smarter search functionality remembers what you've recently worked on.

Bullhorn now guards against lost information by auto-saving notes and helping you restore accidentally closed tabs.

Novo is a completely mobile experience, with a native mobile app that will be available on the App Store and Google Play.
Trouble reading that? Global Bullhorn in Chinese. #BullhornEngage pic.twitter.com/OeXmuQXoTl

— Tim Cavins (@tpcavins) June 8, 2017
Plus, Bullhorn has been working on big new features inside Novo:
Document Editor: Edit, format, customize, and send resumes right inside Bullhorn.
Boost:

Quickly find ideal candidates for new jobs, based on their past placements.

Whiteboard:

Pull out the most important candidates, clients, and jobs to discuss at team meetings, and identify obvious gaps in the workflow (like too few candidates submitted to a high-profile job) that may slow down the process.

Calendar:

Manage your interview schedule inside Bullhorn, and view interviews across teams and regions.

Back Office:

Bullhorn Back Office will be a streamlined experience with Bullhorn, and will run on Novo. New reporting improvements mean users will be able to run reports based on back-end information like gross profits.

Bullhorn Healthcare Edition:

The Bullhorn has designed a recruiting solution specifically for healthcare, including travel nurses, per-diem nurses, locum tenens physicians, and allied health professionals. The new edition helps healthcare recruiters manage complicated job requirements and complex billing components.
interesting demo of Bullhorn Boost and Whiteboard products and how @Bullhorn is applying #ai to improve staffing success. #BullhornEngage

— Brent Leary (@BrentLeary) June 8, 2017
Finally, the team announced a future project that has the Bullhorn office buzzing: Bullhorn's own AI platform, Cleo. Bullhorn users will be able to talk to Cleo to get help setting reminders, creating tasks, and finding out important information on the go.
"Bullhorn, fill my order." The future of ATS technology! So exciting! @therealbhcto @bryanjroy #BullhornEngage #cleokillsalexa

— Lauren B. Jones (@lbuffjones) June 8, 2017
General Ann E. Dunwoody: Leadership Strategies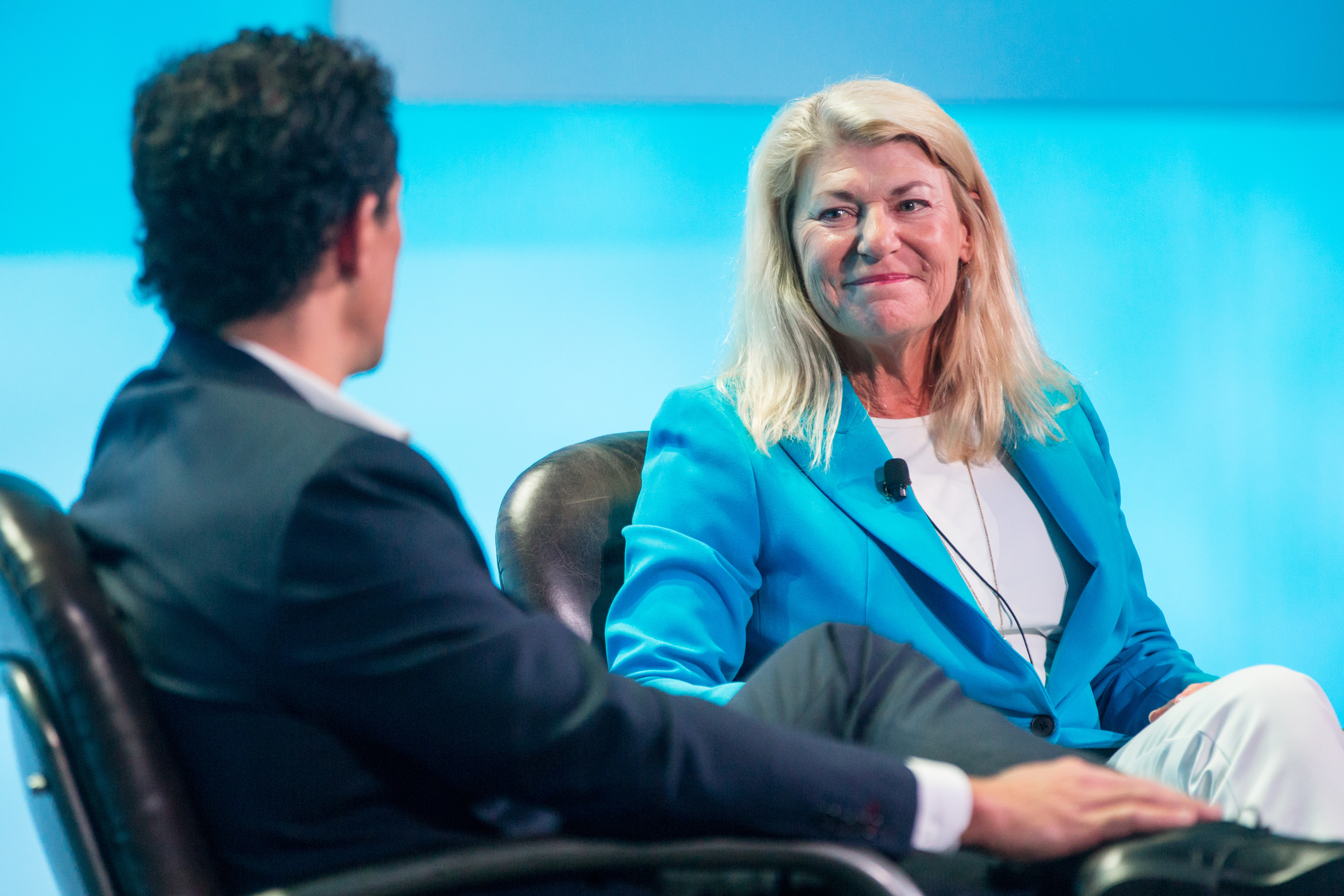 General Ann E. Dunwoody is the U.S. military's first female four-star general. She was commanding general of the U.S. Army Material Command, one of the Army's largest divisions. She has been in command of over 69,000 people and wrote a book about her four decades of leadership lessons: A Higher Standard: Leadership Strategies from America's First Female Four-Star General. In a fireside-chat-style conversation, Art Papas asked Dunwoody to share her story.
Dunwoody says she never planned on joining the military. She'd always wanted to be a coach and P.E. teacher. But in 1974, after the Vietnam War, the military was giving college seniors a $500/month stipend to attract new recruits. She signed up for a two-year commitment, and started what would become a 38-year military career. She was promoted ten times, from second lieutenant to four-star general, and at each promotion she asked herself: Do I like enjoy I'm doing, and can I make a difference? Each time, when she was able to answer yes to those questions, she stayed in.
Reflecting on her career, she says she did fulfill her childhood dream of being a coach; she just did it in a different kind of classroom. Her advice for others: Keep doors open for yourself. You might think you know what you want to be or do, but if you have an opportunity and you don't take it, you'll never know what could have happened.
In her book, Dunwoody tells several stories about breaking the chain of command — once when she needed to report a parachute shortage that her boss wanted to hide, and another time when she was fighting to implement an expensive but critical software system. "Sometimes when you believe in something, you have to go against the grain," she says. "In any profession, when you really believe in something, have to do the right thing for the right reason. Any decision that requires personal courage is a difficult decision."
One of her guiding leadership principles is "never walk by a mistake." "If you walk by a mistake, you just set a new lower standard for that person, and acknowledged that what they're doing is okay," she says. "It's a slippery slope." She holds people accountable to a higher standard because every leader she's respected in her career exceeded what was expected of them. "If you have a team of C students, who are just meeting the standards, you have an average team. But if you have a team of A students, you have a high-performing team. Everyone wants to be part of a high-performing team."
She says that correcting mistakes isn't about chewing people out or making people risk-averse. Correcting a mistake can be a positive, educational experience that actually makes people feel good: "You did a great job yesterday and we need you to do it again today." Recognize and reward the people who are doing great work, and correct the people who aren't. Anyone who falls somewhere in the middle will want to be more like the top performers.
Her closing advice: Know that even though you're a leader, you're not invincible. Everyone's human, and we all need to take care of ourselves and pay attention when life goes off track. And finally, don't let others define what "having it all" means. Define it for yourself.
Don't let society define what having it all means. I didn't let it and you shouldn't either – @AnnDunwoody #BullhornEngage

— Nicole Plant (@nicolemplant) June 8, 2017
Get more pictures, videos and sound bites from day one by following #BullhornEngage. Watch for more highlights during day two at Engage:
At the Innovation Throwdown, we'll unveil what's next for Bullhorn technology.
The Bullseye Awards, sponsored by ClearEdge Marketing and Bullhorn, will honor the people and organizations in staffing who have transformed their businesses through innovation and excellence in sales, recruiting, operations, and technology.
Tim Sanders will close out Engage 2017 with a keynote on how to win business and influence people.
Subscribe to the Staffing Blog
Subscribe for trends, tips, and insights delivered straight to your inbox.