Leading through economic uncertainty: Optimize your processes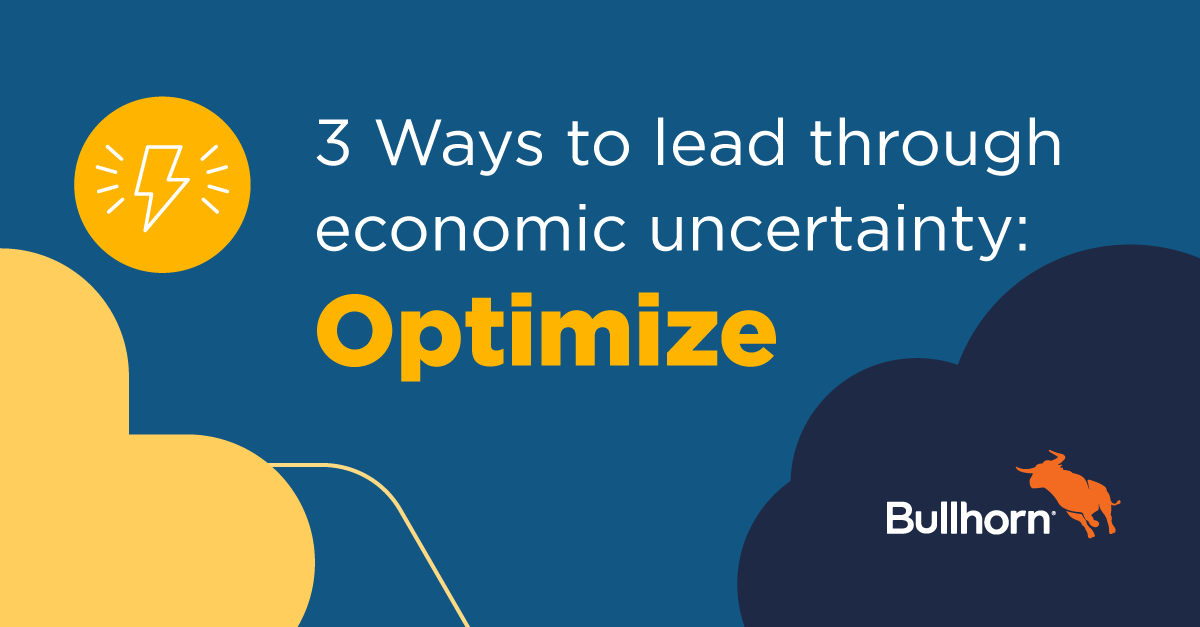 It's no secret that the staffing industry is facing economic changes. According to the SIA | Bullhorn Staffing Indicator, staffing hours have dipped 16% year-over-year as of July 2023. Meanwhile, rising interest rates are driving up costs, throwing significant financial decisions into question. How can staffing businesses set themselves up for success, regardless of these headwinds?
Harvard Business Review conducted a study of 4,700 companies before, during, and after a recession and uncovered some valuable insights:
17% of companies don't survive a recession.

80% that survive don't return to pre-recession sales and profit growth rates even three years afterward.

9% flourish post-recession.
The organizations that flourished weren't those that battened the hatches and weathered the storm; they were forward-looking and took a progressive approach. What do they do differently from their competition?
Operate efficiently

to reduce costs permanently.

Stay closely connected to customers

to win market share.

Invest strategically in tools

to respond faster to a future rise in demand.
With these strategies, these businesses outperformed their peers by at least 10% in sales and profit growth. In this three-part blog series, we'll take a deeper look at this progressive approach and unpack how you can set your firm up for both short-term and long-term success.
To talk about best approaches to economic uncertainty, Bullhorn's Joe Wertz spoke with three best-in-class industry consultants who bring more than 70 combined years of experience to the table – Lauren Jones, Founder of Leap Consulting Solutions, Maurice Fuller, Founder of StaffingTec, and Tom Erb, President at Tallann Resources – to unpack how organizations can optimize their existing processes and run a more efficient business.
Read on for their thoughts on documenting processes, streamlining workflows with automation, and the Metrics That Matter, or check out a recording of their conversation.
Understanding your business
It all begins with your mission, vision, and values. Have a clear idea of who you are as an organization and wrap everything you do, including technology and process, around that, said Jones. As you clarify your vision, remember your three key stakeholders: your candidates, clients, and colleagues. 
Once that's established, it's time to take stock of your processes. Staffing firms have a surprisingly large amount of processes, said Fuller. Documenting these company-wide processes is foundational to begin optimizing your business. He advised that if you don't have the time and resources to document all of them, focus on those that you want to improve upon, especially those tied to the Metrics That Matter. Accessing insights into how your business is operating, even in just a few key areas, can drive real financial results while working within limited resources.
"If you don't have process in place, you're winging it," added Erb. When your competition is slowing down to weather the storm, that's the perfect time to evaluate and document your workflows and gain a competitive edge.
Leveraging data and technology
Once you have an understanding of your process and workflows, it's time to evaluate the tools at your disposal: your data and your tech. Understanding your data is the key to remaining both agile and competitive, said Jones. Wertz echoed this, noting that data hygiene and health go a long way. 
When you have all of your processes aligned and your data organized, it's clear where tech can do the heavy lifting. "Process is only as good as its implementation," said Erb. He added that most staffing technology already has best practices in place. There's no need to reinvent the wheel; refer to and implement these best practices as they relate to your existing workflows, even if you need to modify them to suit your organization's needs.
This is especially true for automation, said Jones. Her organization's mantra: "Automation on repetition, people on relationships." What work is repetitive? Where do you need to focus on relationships? Fuller suggests building an inventory of how recruiters and sales reps use the bulk of their time to decide where to focus automations to optimize processes. "Automation won't be your biggest investment, but it moves endless amounts of metrics," Jones added.
Your success with tools like automation will be limited if your data isn't clean. Without clean data, it's difficult to properly evaluate your metrics and find where to grow. 
Automation can help build connections with your candidates and clients by keeping you visible, and your people can shore up those connections by building meaningful relationships. After all, candidates, clients, and even colleagues want to feel connected above all. If you leverage tech to optimize your processes and build connections, you can't go wrong.
For more on building connections to lead through uncertainty, check out the second part of our blog series.

Subscribe to the Staffing Blog
Subscribe for trends, tips, and insights delivered straight to your inbox.