So, how exactly do we define staffing software?
Staffing software is a broad category of tools that helps professional staffing firms source talent, manage candidate and client relationships and track applicants throughout the hiring process.
There are large buckets that most of these tools fall into with the most popular being ATS (applicant tracking system), job distribution, candidate sourcing, candidate engagement and onboarding.
In most cases the ATS is seen as the system of record and the other tools integrate directly with it. This is because the candidate and client relationships are all managed in the ATS, making it a mission critical recruiting software tool.
Why is staffing software important to my business?
The staffing industry has undergone some changes in the past several years. First, the mobility of the workforce and potential candidates has become harder to track. Second, the new millennium brought the 'savior' of an industry – job boards. Third, market dynamics have changed how recruiting firms source talent and source new work, resulting in a sharp increase for contract labor.
As you can imagine, modern recruiting workflows require modern recruiting tools. Relying on spreadsheets and disparate systems just doesn't scream optimal efficiency. Can you imagine tracking every candidate via spreadsheets, posting every job manually or trying to remember who's on contract and who's not? The best staffing technology helps streamline all of the above and more.
Bottom line: The landscape of staffing has changed – it's more nimble and there are more moving parts than 10 years ago. With the right staffing software mix, you can automate mundane tasks and get back to the core job of helping companies find great candidates for their empty roles.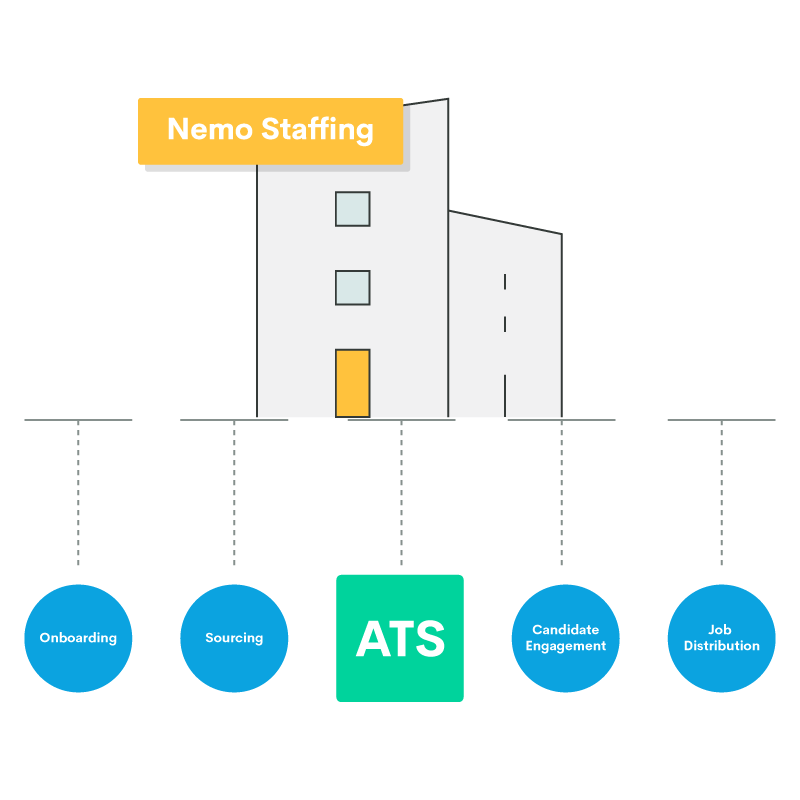 How can staffing software help my business?
First of all, if you're here then you likely use software to manage your business already. It may not be ideal or may be lacking, but in some capacity you're leveraging tools to help you be more or less efficient.
Today's staffing solutions can help in all the facets we mentioned earlier, but here are some scenarios to consider:
Using a job distribution tool to send your new openings to major and niche job boards simultaneously.
Leverage a VMS to pull down new client reqs and push up matching candidates in minutes.
Automate email marketing and transactional tasks like text messaging with a candidate engagement solution.
Use an ATS that's mobile friendly, configurable to your business and integrates with the options above to save you time, money and drive revenue.
Bottom line: Start by choosing an ATS that is configurable and has a lot of integration options. This will allow you to try new tools (like Herefish) and build a system that fits your specific business needs.
Staffing Software Considerations
Platform vs. application vs…
This may sound like the same thing, but a platform is different than an application. To confuse things even more, an application can also act as a platform in the sense it allows multiple integrations and also has it's own unique purpose. An example would be Salesforce; by itself it's a CRM application but can integrate with thousands of other applications to build a unique solution for your business.
In staffing, the ATS typically is the software that acts as the platform but also has a unique purpose – to track candidates throughout the hiring and placement process. With a modern staffing workflow, it's important to consider the platform and the available integrations to fit within your own needs.
For example, a light industrial staffing firm may require a scheduling and simple on-boarding application to integrate with it's core ATS. Whereas a company placing software engineers needs candidate engagement, job posting and redeployment options.
Bottom line: In today's world, the platform is the most flexible choice for building out a staffing software suite that fits your unique business needs.
Thinking about today and tomorrow
Business needs and market dynamics force staffing firms to change course. When a once-thriving industry starts to become stale, moving into new markets may make strategic sense (U.S. based manufacturing for example).
The point is, your needs as a staffing agency may change in the future, so your software decision today could have ramifications in the future. Implementing a new staffing solution is time-intensive and carries an expense, so thinking about it strategically rather than impulsively is advised.
If you currently place executives in permanent roles but are considering creating a business unit focused on short-term contract software engineers, then you should factor this in during your evaluation process. Does your current solution allow VMS access? Can you add a VOIP phone system for quick calling and activity tracking? All things to consider.
Bottom line: Strategically think about your business needs today and tomorrow when choosing a new platform; implementing new software is time-consuming and expensive, so make it count.