Announcing the First (of Many) Engage 2018 Speakers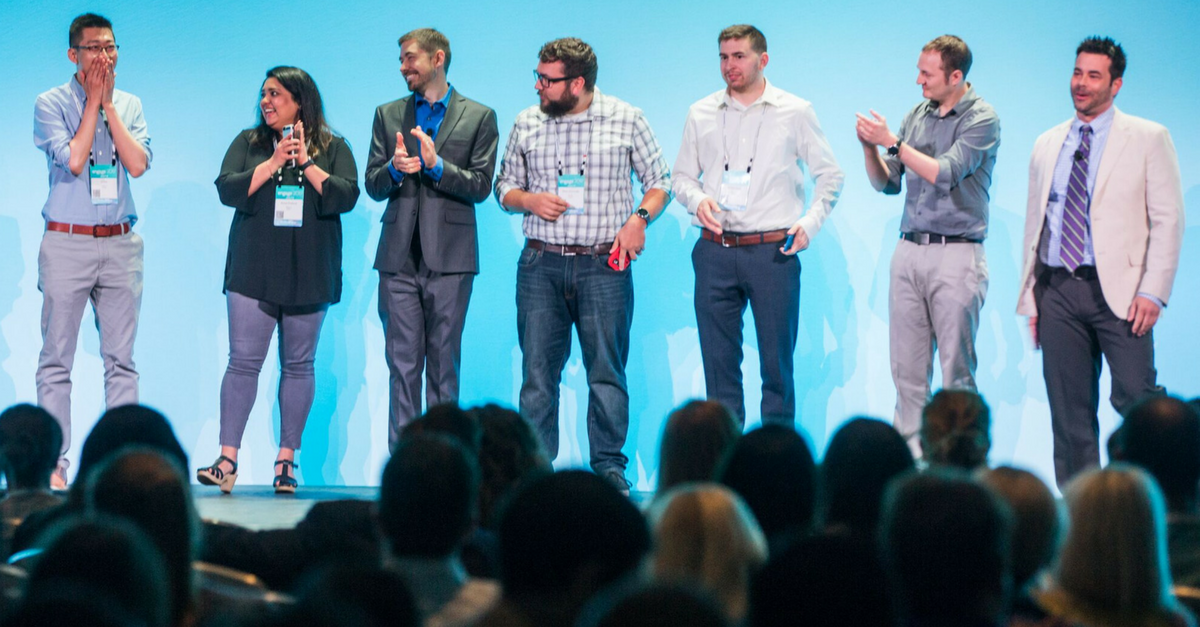 It's hard to believe, but Engage 2018 is only 6 months away. And before the year ends, we want to introduce you to the first of our many exceptional speakers.
Attendees raved about Engage 2017 sessions and speakers, rating them an impressive 4.7 out of 5 stars. This year we are inviting a select few of these top speakers back plus bringing in a crew of new industry leaders with innovative and fresh perspectives.
We've searched high and low for the best-of-the-best, the crème-de-la-crème, and we're proud to report that these speakers are sure to inspire and enlighten. I could say more, but I'll let these extraordinary individuals and their expertise speak for themselves!
Jackye Clayton
Follow Jackye on Twitter
Follow Jackye on LinkedIn

Nowadays, there's a plethora of information on hiring diverse talent and recruiting diverse candidates. But is it time to move past surface-level conversations about diversity in the workplace? Is diversity for diversity's sake really enough?
At Engage, we will explore what it means to think beyond the obvious when it comes to diversity and inclusion in a provocative session led by Jackye Clayton, the Director of Customer Success for HiringSolved. "Because race and sex is a diverse group that is 'visually obvious', those seem to be the first types of diversity candidates sought. It seems the easiest group to search for. It's time to move beyond the obvious." says Jackye.
Through her unique sense of humor and deep understanding of recruiting and human resources, Jackye will bring unexpected ideas and fresh perspectives to the diversity conversation.
Eric Gilpin
Follow Eric on Twitter
As the talent supply chain rapidly changes, larger companies and SMBs alike are turning to freelance platforms to find talent. In fact, enterprise companies are the platform's fastest-growing user base including 20% of the Fortune 100 according to Eric Gilpin, Upwork SVP of Enterprise.
At Engage, Eric and a panel of leading gig economy experts will explore the challenges, changes, and solutions available to today's gig workers and staffing firms.
Eric is passionate about talent engagement and workforce hiring trends.  His unique perspective on the evolution of the industry has been featured in The Wall Street Journal, CNBC, Forbes and at industry-leading conferences including SIA's Executive Forum and ASA's Staffing World. We're thrilled to have Eric at Engage!
Geno Cutolo
Follow Geno on Twitter
Follow Geno on LinkedIn
With the stress of long workdays in our always-connected world, we strive for a balance that feels always just out of reach. But is work-life balance really enough? Eugene Cutolo says no.
Eugene "Geno" Cutolo is the President and CEO of both Staffmark and Advantage Resourcing America, two of the largest staffing companies in the US, a father of five, dedicated husband, and loving pet-parent. It's safe to say he is well acquainted with trying to balance seemingly conflicting facets of our lives.
At Engage, Geno will share how to find true balance by putting family first because "our life is our life, and our life includes our family and our jobs…. When you put family first you will be much happier, productive, and loyal and we will have a better environment in our company".
Preview Geno's three philosophies on prioritization in "The Experts" video series presented by Recruitment Innovation Exchange (RIX).
Mark Nussbaum
Follow Mark on Twitter
Follow Mark on LinkedIn
After leading the highest attended session at Engage 2017, Mark Nussbaum returns to Engage in 2018 to share the latest insights on effective leadership.
Leaders are constantly making tough decisions and rallying people to work together toward a common vision. As the COO at Signature Consultants, Mark knows intimately understands how employees' and leaders' beliefs affect how they act and ultimately how they lead.
At Engage, Mark will discuss how beliefs form and evolve and why you, as a leader, must choose wisely in order to move your organization forward. See the slides from his popular 2017 session here.
Leslie Vickrey
Follow Leslie on Twitter
Follow Leslie on LinkedIn
Are you or someone you know doing exciting things in the world of staffing? The Bullseye Awards is your chance to tell us about it. Leslie Vickrey, CEO and Founder of ClearEdge Marketing, joins us at Engage to present the 2018 Bullseye Awards.
The Bullseye Awards, sponsored by ClearEdge Marketing and Bullhorn, honor the people and organizations in staffing who have transformed their businesses through innovation and excellence in sales, recruiting, operations, and technology. Now in its second year, the Bullseye Awards promise to be an even bigger celebration of the best of the best in the staffing industry.
Bullseye Awards will open for submissions in January, 2018.
Art Papas
Follow Art on Twitter
Follow Art on LinkedIn
"When I founded Bullhorn, I wanted to build a company that delighted customers, challenged and rewarded employees, and improved its local community in truly meaningful ways" says Art Papas, Founder and CEO of Bullhorn. Art has now successfully led the company through 15 years of consecutive growth guided by that mission to deliver an incredible customer experience.
At Engage 2018, Art will deliver the opening keynote address on Thursday, the first full day of staffing industry thought leadership. His keynote will explore the themes of engage including how to build a successful organization guided by mission and purpose, navigate the impact of technology on staffing, and recruit and retain top talent through strong business relationships.
You can watch Art's full  2017 keynote address here where he asked the audience to make three key decisions as a group, pick a side, and vote in real time. The results surprised even us!
Barry Asin
Follow Barry on Twitter
Follow Barry on LinkedIn
When talking about the leadership habits of top-performing staffing firms, who better to look to than the president of Staffing Industry Analysts (SIA) Barry Asin?
As President of SIA since 2010, Barry leads the team responsible for SIA's award-winning research and content. He drives innovative research on the fastest growing staffing firms and what makes them so successful. Prior to his tenure at SIA, Barry spent 12 years as a senior executive at global staffing leader Adecco SA
As a leading authority on the staffing industry, contingent labor, and contingent labor management issues, Barry will bring true expertise to the topic of leadership at Engage.
Wes Gay
Follow Wes on Twitter
Follow Wes on LinkedIn
Gone are the days where we discuss tired old myths about Millennials – they're greedy, they're flighty, they're disloyal. None of that is true. Wes Gay, an entrepreneur, writer, TEDx speaker, and Forbes contributor who writes extensively about Millennial leadership, has a refreshing perspective different than what you may be accustomed to hearing.
Tied for the prestigious position as the top-rated breakout session speaker at Engage 2017, Wes will bring new ideas gleaned over the past year to his 2018 session. He will help Engage attendees come to grips with reality – we'll all be working for Millennials one day so we better learn how to cope.
Mark Roberts
Follow Mark on Twitter
Follow Mark on LinkedIn
What are high-performing IT and Engineering staffing firms doing to be so successful? In a presentation on macro trends in the tech sector, Mark Roberts, CEO of TechServe Alliance, will share their latest research in the tech industry,
TechServe Alliance is the national trade association for the IT and Engineering staffing industry. Their latest research digs deep into the impact of immigration on the talent pool and the impact of technology on this industry specifically.
---
More about Engage
Discover how to more effectively engage talent, leadership, and the future of staffing at Engage, the leading staffing and recruiting conference in North America. Over three full days, recruitment leaders and practitioners will come together for unparalleled industry insights and tactical Bullhorn product training. With more than 1,000 attendees, Engage is the best event to make new connections and learn from the brightest minds in the field but is still intimate enough that you'll see some of your favorite staffing friends. Register now.
Subscribe to the Staffing Blog
Subscribe for trends, tips, and insights delivered straight to your inbox.