Meet the First (of Many) Engage Boston 2019 Speakers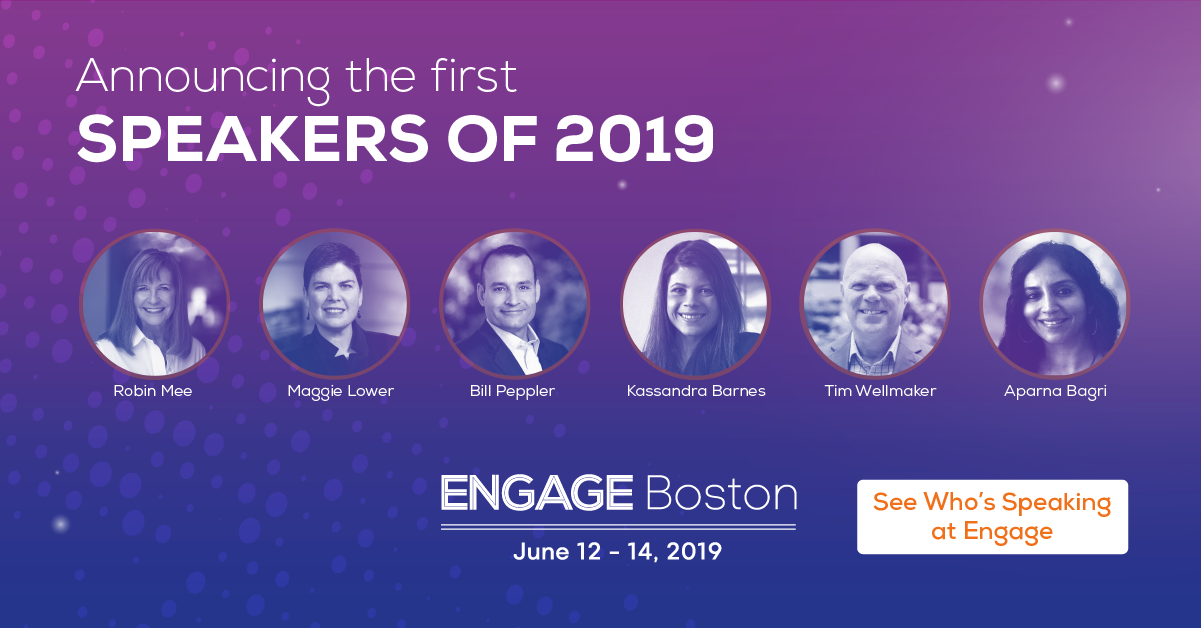 It's hard to believe, but Engage Boston 2019 is only 5 months away. And what would Engage be without an all-star lineup of incredible speakers?
Across three incredible days, you'll hear from an incredible assortment of speakers who will help you learn how to transform our industry, your business, and peoples' lives through the power of people and technology. Attendees raved about Engage Boston 2018 speakers, rating them an impressive 4.7 out of 5 stars! This year we invited a select few top speakers back and brought in a crew of fresh industry leaders with innovative perspectives!
Here are the first announced speakers for Engage Boston 2019.
Robin Mee
Follow Robin on Twitter
Follow Robin on LinkedIn

Robin Mee is founder and president of Mee Derby, a leading executive search firm for staffing and workforce solutions. Mee Derby is proud to be celebrating their 30 year anniversary, having placed thousands of staffing professionals in leadership roles with companies ranging from startups to the global giants.
As an industry leader, Robin is a regular speaker at conferences and has been recognized multiple times with honors from both Staffing Industry Analysts and the American Staffing Association. Mee Derby is an eight-time winner of Inavero's Best of Staffing Client Award.

Robin Mee will be reflecting on her years of leadership experience to provide staffing professionals with actionable tips for growing talent pools.
Bill Peppler 
Follow Bill on Twitter
Follow Bill on LinkedIn
The road to candidate and client satisfaction is through innovation. Bill Peppler, COO at Kavaliro, knows a thing or two about innovation and the staffing industry. He has been recognized as an employment expert in such publications as CNN Money, Bloomberg BusinessWeek, Inc Magazine, Fortune Magazine, Orlando Business Journal and The Orlando Sentinel among others. Kavaliro has been named to the Inc. 5000 for seven consecutive years and has brought about technical innovation that provides custom-tailored solutions.
Bill Peppler has also leveraged tools like automation to become profitable with VMS business.
At Engage Boston, Bill Peppler will share his insights and experience to help you take an innovative approach to running your staffing business.
Maggie Lower
Follow Maggie on Twitter
Follow Maggie on LinkedIn
The staffing industry is not known historically for marketing innovation—three out of five staffing firms don't have a senior marketing executive. This is changing rapidly, however as leading firms are increasingly prioritizing the value of innovative marketing leaders.
Maggie joined TrueBlue in 2018 as Chief Marketing Officer, bringing with her years of experience managing complex client relationships and implementing innovative go-to-market models.
Maggie will take her innovative approach to the talent track at Engage in the session, On-Demand Platform or Concierge Service? Why Not Both: A Disruptive Case Study.
Kassandra Barnes
Follow Kassandra on Twitter
Follow Kassandra on LinkedIn
Kassandra Barnes is the Senior Director of Marketing at PeopleReady, part of the TrueBlue, Inc. family. She leads customer and associate acquisition and retention efforts as well as leadership for the marketing of PeopleReady's mobile app, JobStack.
Barnes has worked for nearly a decade in the human capital and staffing space, previously at Paycor, a national payroll provider and CareerBuilder. Her expertise is focused on leading product marketing, digital marketing, and market research teams. She'll co-present with Maggie Lower in the session, On-Demand Platform or Concierge Service? Why Not Both: A Disruptive Case Study.
Kyle Power
Follow Kyle on Twitter
Follow Kyle on LinkedIn
Technology is changing the staffing industry, and with it, firms need to evolve their approach to candidate engagement. With the talent shortage at all-time highs, and the unemployment rate at historic lows, firms need to be innovative to effectively engage candidates.
Kyle Power is the Sr. Director of Interactive Marketing at CHG Healthcare Services, one of the largest providers of healthcare staffing in the United States and encompasses a family of five staffing companies. 
Kyle has been key in introducing a testing culture at CHG to increase the efficiency of its marketing spend and channel allocations. At Engage, he'll share tips that help you take a forward-thinking approach to candidate engagement.
Brendan Flood
Follow Staffing 360 Solutions on Twitter
Follow Brendan on LinkedIn
Scaling your business is important, but how can you ensure that your company culture grows with it?
Brendan Flood is the Chairman & Chief Executive Officer of Staffing 360 Solutions, Inc, where he is responsible for setting the vision and strategic direction of the company, directing the leadership team, and building company culture. Brendan sold Initio International to Staffing 360 Solutions in January 2014. 
Brendan will share his considerable experience with growing businesses and M&A at the Engage panel, The M&A Joneses: Scaling Your Culture at the Pace of Your Growth.
Alicia Barker
Follow Staffing 360 Solutions on Twitter
Follow Alicia on LinkedIn
Alicia Barker is a dynamic, highly-regarded HR Executive and Certified Professional Coach. She brings 20 years of experience from a variety of fast-paced, competitive industries. She has served in leadership roles for publicly traded companies, independently-owned boutiques and international advertising agencies. Ms. Barker has managed large teams and provided professional development and executive coaching to a wide variety of professionals. 
She'll join Brendan Flood in the panel, The M&A Joneses: Scaling Your Culture at the Pace of Your Growth.
Charles Bernard
Follow Charles on Twitter
Follow Charles on LinkedIn
Charles Bernard, founder and CEO of Criteria for Success, Inc., helps CEOs bridge the gap between their vision for their company and their bottom line. Charles applies over 20 years of experience in direct sales, sales management, recruiting, and training to his growing consulting practice.
At Engage Boston, he'll share tips for taking your relationship-building to the next level. The relationships you build with your customer are valuable various; how can you make the most out of them?
Tim Wellmaker
Follow Tim on Twitter
Follow Tim on LinkedIn
Tim "Coach" Wellmaker is a 23-year veteran in the technology staffing and solutions industry. For most of Tim's career he has recruited, trained and led high-performance technology recruiting teams. The ability to changes people's lives for the better and help them achieve their maximum potential is what drives him.
He'll take that passion for bettering people to Engage, where he'll present meaningful ways for your employees to engage, as well as drive results and revenue.
Aparna Bagri
Follow MasTech Digital on Twitter
Follow Aparna on LinkedIn
Aparna Bagri, an IT professional with 20-plus years of work experience, has spent her career helping organizations solve business problems through design and use of technology. In her current role as the Manager of IT Systems at MasTech Digital,  she currently specializing in the optimization of Bullhorn.  
As a long-time customer, Mastech Digital has been leveraging the Bullhorn ecosystem since 2006, and over that time, they've run into various situations related to data accuracy, data consistency and data completeness. Join Aparna as she shares the best practices and actionable strategies used at Mastech Digital to help maximize their data integrity.
---
More about Engage
Discover how to more effectively engage talent, leadership, and the future of staffing at Engage Boston, the leading staffing and recruiting conference in North America. Over three full days, recruitment leaders and practitioners will come together for unparalleled industry insights and tactical Bullhorn product training. With more than 1,000 attendees annually, Engage is the best event to make new connections and learn from the brightest minds in the field but is still intimate enough that you'll see some of your favorite staffing friends. Register now.
Subscribe to the Staffing Blog
Subscribe for trends, tips, and insights delivered straight to your inbox.