Think like a marketer: New ways to attract talent and win business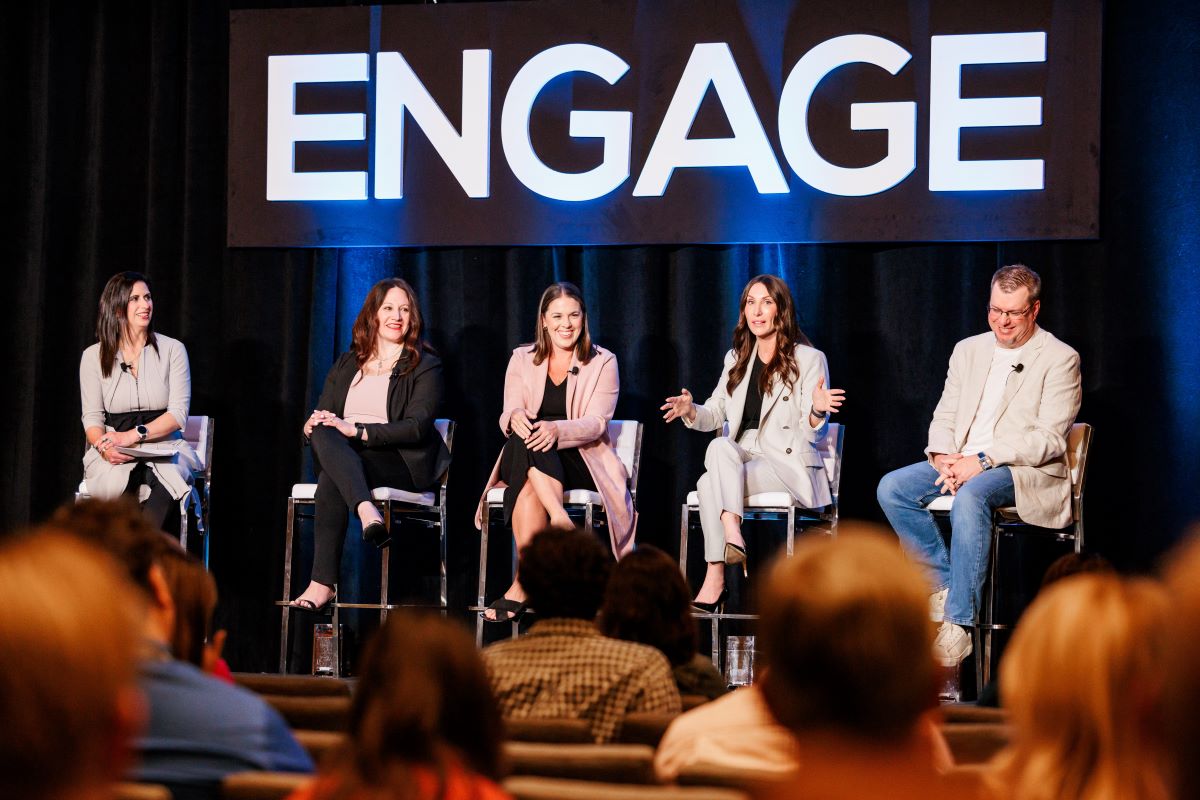 The race for talent – and new business – is on. How can you help your staffing firm cut through the noise and reach new candidates and clients in an increasingly competitive staffing market? The answer may lie in shifting your mindset and thinking like a marketer (even if you're not one).
To learn how to leverage recruitment marketing strategies to attract talent and win new business, we assembled a panel of industry experts at Engage Boston 2023, featuring: 
Leslie Vickrey

, CEO & Founder, ClearEdge

Laurie Vicente

, Senior Director of Marketing & Communications, Brilliant 

Lindsey Ruth

, Global Head of Marketing, LHH

Christina Bottis

, CMO, Medix

Rich Smith

, Co-Founder, Chief Marketing Officer, Atlas MedStaff
Below, read their key takeaways on how to build a recruitment marketing strategy, leverage SEO and automation best practices, and connect with your audience. 
For more tips from industry experts, check out our Engage Content Hub.
Understanding your audience
When attracting talent and bringing on new prospects, agencies face increasing pressure to stand out from the crowd. But the competition isn't just between staffing firms. "We're not competing against other companies; we are competing against the experience of other companies," said Bottis.
With digital tools making consumer experiences more seamless than ever before, clients and prospects expect ease and simplicity in everything they do. Firms should be focused on providing that same consumer-grade experience. This requires an understanding of your audience – their pain points, their goals, the information they need, and the channels they use. 
To begin this understanding, our panelists advised building personas both for your clients and candidates. One of the easiest ways to start is to get in touch with your current clients and candidates and ask them a few questions, said Vickrey. Where do they live? Where do they spend their time? How did they hear about your firm? Where do they apply for jobs? "Ask these basic questions, and it will help you attract the right candidates," Vickrey said.
Understanding who you're speaking to can help you better craft your messaging and create thought leadership content that appeals to your audience's pain points, goals, and preferences. "What are you creating that will give them that value add and make them want to have that emotive connection with your brand?" Ruth asked.
"We're a commodity. We're not a product," added Smith. "You have to sell yourself and meet them at that process."
Building your brand
Our panelists spoke on the importance of building a company brand to draw in new talent and business. It can be hard to cut through the noise and create a memorable brand in today's crowded staffing market, but Smith offers one piece of guidance: authenticity.
Ensuring your company brand comes from a genuine place helps you connect more deeply with your prospects and candidates, he said. It also helps ensure that your brand is integrated throughout your entire organization.
"Be a real person," Smith said. "That goes down down to your recruiter level and your compliance level. They're all real people."
Another essential component of building a brand is ensuring your message is heard. The staffing industry has evolved beyond what Ruth calls "post and pray" – posting on a social media network and hoping that your audience comes to you. 
Instead, Ruth advised, meet your candidates, clients, and prospects where they are. Utilize the channels they use the most, whether that's email, text, LinkedIn, or something else entirely. "You have to be omnichannel," she said. "You have to get in front of them before they reach out to you."
Measuring ROI and success
Knowing where you're seeing success – and where you're not – ensures you're focusing your efforts in areas that return you with results. Tracking the candidate or client journey is foundational to building out that measurement. "You have to be tracking every part of the journey," Vicente said. "I know that's a lot of times easier said than done. However, with all the new technology that we have at our fingertips, it's gotten easier."
As for specific metrics, Vicente tracks web page traffic and bounce rates, and leverages UTM parameters to track a candidate's application journey from the first visit through placements. Are your candidates seeing your postings on job boards? Which marketing initiatives are most effective? Vicente's team can see this information on Google Analytics and through Bullhorn Automation.
Once you understand which channels are most effective, you can refine how your website layout, adapt which channels you use, or adjust the timing of your automations. The important thing, though, is just to get started. After all, Bottis said, "Some data is better than no data."
Leveraging SEO
When it comes to attracting candidates or clients, SEO, or search engine optimization, needs to be part of the conversation. Think about when you start looking for information on anything. You're likely starting with a search engine, said Bottis. "Why are we paying attention to SEO? Because that's where all the decisions start," she added.
Since SEO trends change so quickly, building and executing a strategy can lead you into some murky waters. "You don't have to panic about having an expert in SEO on your team," Vickrey said. "You can outsource some of these functions." 
Bottis added that it's important to recognize that optimizing your content for search engines is a long-term play. It will take time to see the impact of incorporating SEO best practices. Given that SEO is so aligned with consumer behavior, it is essential to at least get the ball rolling.
"Ultimately, what we're trying to do here is help somebody make a decision and give them the information they need to take the next step," Bottis said.
Creating efficiencies with technology
The good news is that firms don't have to execute their marketing strategies alone. Smith spoke on the importance of working with technology partners to help expedite your processes and provide a seamless candidate and client experience.
Tracing the candidate or client journey and finding the places where you can start to automate is a great way to get started, said Ruth. A good place to start is finding those touchpoints that see a candidate or prospect drop off and using automation to fill in that gap, Smith added. Last year's GRID Talent Trends Report found that 66% of candidates say they've given up on promising opportunities because they took too long. Where can you use automation to expedite the candidate journey and shorten that delay? 
"Chatbots are one of the options of probably hundreds of ways you can automate your business," Ruth added. They can help determine who's a job seeker versus a potential prospect, qualify your leads and connect them to the right person, and even parse resumes to connect your candidates with the right jobs for them. 
No matter which touchpoints you want to streamline, there's a place for technology to power up your recruiters, marketers, and salespeople. "There are just so many options available that I think [tech] is non-negotiable at this point," added Ruth.
These strategies can ultimately pay off in the long term. Nurturing candidates and creating these incredible experiences can bring them back into your talent pool and ensure you're part of their career journey; candidates even turn into clients in the long run. An investment in your marketing strategy now ensures growth in the future. 
"Don't get overwhelmed by getting it perfect," Bottis said. "Just start."
---
Want more insights from industry experts on growing your business? Check out our new eBook on thriving during economic uncertainty.
Subscribe to the Staffing Blog
Subscribe for trends, tips, and insights delivered straight to your inbox.