Introducing the Engage Boston 2022 Platinum Sponsors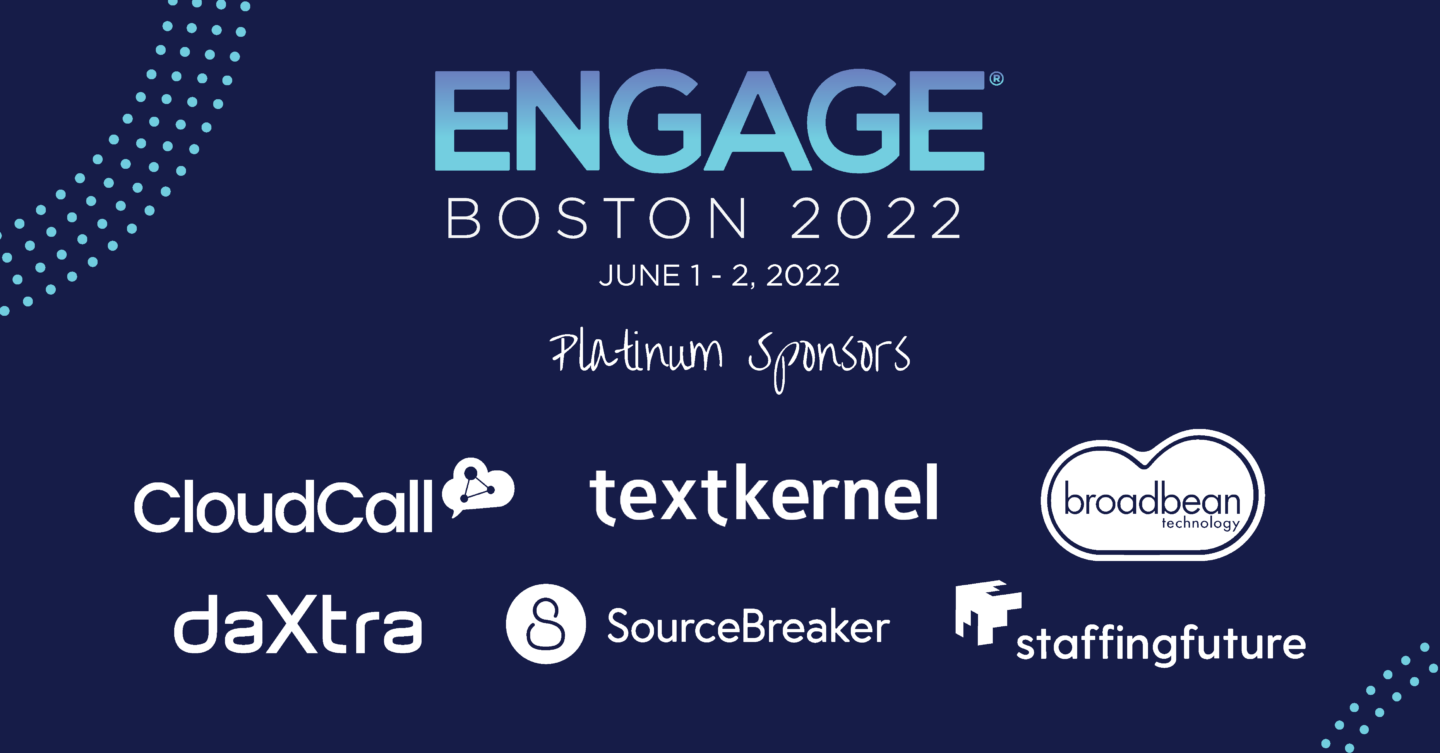 We hope you're as excited as we are for Engage Boston in just a few weeks. We're thrilled to welcome many of our Bullhorn Marketplace partners to Engage Boston 2022 and encourage attendees to meet with and learn from them while at Engage.
Register for Engage Boston Today to Meet our Marketplace Partners
A special thank you to our Platinum Sponsors for their contribution to Engage Boston 2022:
Broadbean
90% of the world's top 20 recruitment agencies and 20% of the Forbes top 100 companies trust Broadbean's global job distribution services. We offer unrivaled advertising coverage, boasting the industry's largest network of job boards and ATS/CRM integrations. We help our clients automate job distribution, candidate delivery, and source tracking, ensuring a return on investment on their hiring budget. 
CloudCall
CloudCall helps recruitment businesses turn their communications into intelligent data that enables them to make more insightful decisions, build better relationships, and get more done faster. Our communications platform integrates with CRM systems. CloudCall provides intelligence for businesses through capturing calls, chats, and collaboration to deliver a single view of multi-channel interactions with their clients and candidates. CloudCall enables recruiters to fill more roles faster.
Daxtra
Daxtra Technologies creates ground-breaking recruitment technology – leading the world in semantic search and match, aggregation, and multilingual resume and job parsing. Daxtra semantic search and match, aggregation, and job and resume parsing solutions integrate with your Bullhorn ATS giving you the ability to find relevant information quickly and intuitively.
SourceBreaker
SourceBreaker helps recruiters make more placements from their existing resources by using powerful automation technology to revolutionize productivity and increase revenue generation. Find higher-quality candidates faster, beat the competition to new sales opportunities, and leverage AI-powered opportunity matching to monetize every candidate relationship – all in one place.
Staffing Future
Staffing Future provides tech-enabled, integrated staffing websites, job search, and career portals to provide Bullhorn clients with an elite, holistic user experience throughout North America and Europe.
Textkernel
Textkernel is the global leader in candidate parsing, matching, and database enrichment technology for recruiters and talent managers looking to better acquire, assess, and manage talent. Additionally, we offer people analytics and labor market intelligence so you can anticipate future talent demand.
Thank you to all of our other Bullhorn Marketplace partners who help make Engage possible through their sponsorship! 
There's still time to register for Engage Boston – get your ticket today.
Subscribe to the Staffing Blog
Subscribe for trends, tips, and insights delivered straight to your inbox.